Patriots
There are no more absolutes for Bill Belichick and the Patriots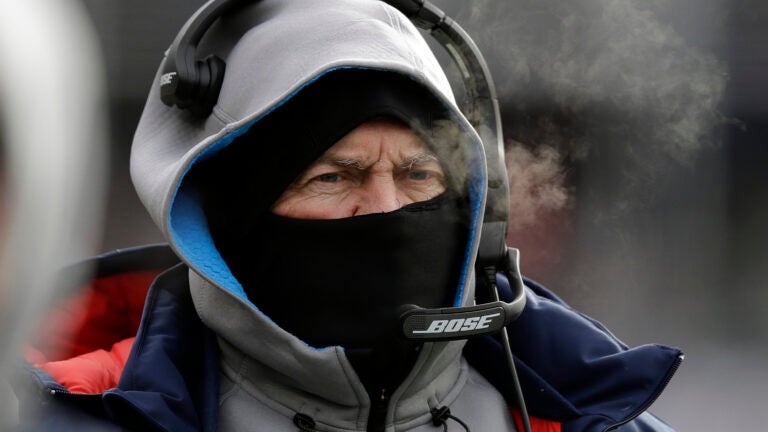 COMMENTARY
Intentions aren't definite, which makes absolutes only the theory of proposition.
So, when Bill Belichick was asked Monday if his "intention" is to "definitely" be back with the Patriots next season, New England's head coach made waves with what was almost-universally devoured as gospel.
"Absolutely," he said.
Take that, ESPN. Sit on it, Michael Felger. They hate us cuz they ain't us.
It's been a fiery few days surrounding the perceived inner workings of the New England Patriots, which must mean its playoff time. It is, after all, perceived "bombshells" like the one Seth Wickersham authored for ESPN late last week that give hope to the meek.
Indeed, maybe the fractured relationship that Wickersham details will make other teams see a light through the armored wall that stands between them and a Lombardi Trophy. Perhaps the Patriots, a team heavily favored to win yet another Super Bowl in Minnesota next month, could have enough turmoil within the ranks that the dysfunction is destined to submerge them.
At least, that's the dream.
More likely the script instead includes a shellacking of the overmatched Tennessee Titans in the divisional round of the NFL playoffs Saturday night, another entertaining showdown against the Pittsburgh Steelers a week later, and concludes with No. 6 for the Belichick-Tom Brady tandem over the first weekend in February.
Hey, after watching the dreadful Bills-Jags farce Sunday afternoon, does anybody really see anything differently based on the level of competition?
But a New England postseason rarely comes without a share of drama, and this time ESPN provided the backdrop with an article detailing how Belichick, Brady, and Patriots owner Bob Kraft seem pulling the rope in different directions; Belichick more concerned about the long-term health of the team after Brady, and Brady and Kraft seemingly willing to see how long this thing can ride out, while selling some cookbooks and $40 pom-pom hats to boot.
And nobody is wrong. Belichick should be shrewdly looking at the future, one that won't include Brady in (some) years time. Kraft should be thinking about the importance of Brady's place in franchise legacy, and wondering if moving on too soon might come back to bite him the way not allowing a coach to shop for groceries might. Brady is building an empire of some sort, and is on a clear path toward creating the roster for his post-football training cult, all grounded with science straight from the book of Dr. Nicholas Riviera M.D.
Of course, it all led Gary Myers of the New York Daily News to opine that Belichick could be a candidate to fill the opening as head coach of the New York Giants, a team and a time that Belichick talks about as if he were waxing nostalgic about the first time he heard 7800° Fahrenheit.
Really though, could Belichick's frustration over having to trade Jimmy Garoppolo — the guy who was supposed to take over for Brady come 2018 — boil over to the point that he'd find the door at the end of the season, fed up with Brady's dedication to Alex Guerrero, the shifty TB12 man whom the gullible quarterback seems to treat as father and guru in one?
"Well, first of all, I don't really know what you're talking about. I haven't read the article, so I don't know what that refers to," Belichick said on a conference call Monday referring to the article he said he didn't read, yet found jarring enough to release a joint statement with Brady and Kraft last Friday refuting its content. "We've been through this before and I know you want to report on things that are inaccurate and unattributable and I'm not really interested in responding to all of those random and, I would say in a lot of cases, baseless comments."
Belichick was later asked if there was any truth to the report from the New York Daily News that he might have interesting in possibly coaching Giants.
"Right now my interest is trying to do the best I can for our football team to get ready for Saturday night against Tennessee," he said. "That's where my total focus is."
His intention is to definitely be back with the Patriots next season?
"Absolutely."
That ends that. For those who pine for it to end, at least.
In reality, nothing Belichick said Monday assures that he's not coaching in the Meadowlands next fall, reunited with Jimmy G in the Bay Area, or floating around Nantucket Sound trying to hear Bob Socci and Scott Zolak over the lapping of the waves.
Right now, today, his intentions are absolute. How many of yours were the same while turning over the newly-minted January leaf only a week ago?
To clarify the Patriots as an internal mess is an insult to everything East or West of Cleveland, and fully inaccurate. But to put on the Patriot blinders and dedicate loyalty to everything being hunky-dory sunshine time in Foxborough is just delusional. In fact, if anything has become clearer to Belichick during the days of Guerrero, perhaps it's that Brady serves as the beginning and the end of this Patriots dynasty.
There's no Garoppolo any more. No more Jacoby Brissett. There's only Brady, his age, and his increasing financial pursuit to defy it.
In buying into Brady being able to last past 40, Belichick has had to buy into TB12 as well. And that must kill him inside.
Maybe there's a part of Belichick that not only wants to ultimately win without Brady at his side, but one that wants to see how Brady and Guerrero fare without his coaching to coincide with their holistic lifestyles. Because that might not be pretty, and Belichick's validation can only be enhanced by the Patriots' possibility of failure without him.
His intention is to return to New England. He probably will.
But there's no absolutes here anymore. For anyone in Foxborough.