Patriots
How the Patriots have historically responded to trash-talking opponents
Spoiler alert: It's usually a bad idea.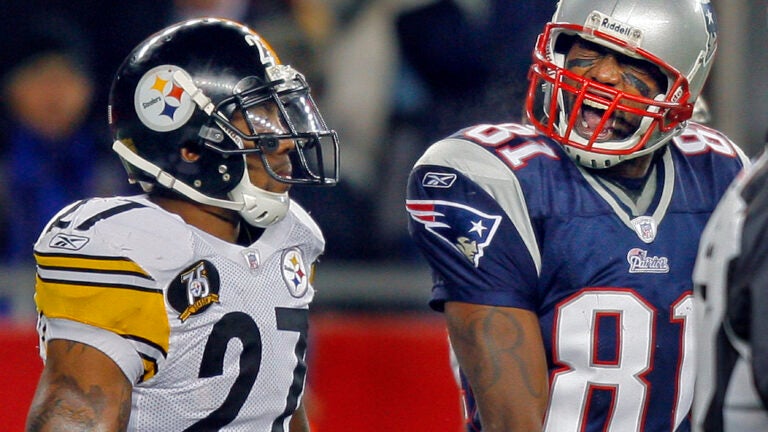 When playing the Patriots, it's never a good idea to give Bill Belichick and Tom Brady any extra motivation. Yet on countless occasions, opponents have committed this costly blunder.
History repeated itself in the buildup to the Patriots' upcoming divisional round playoff game with the Titans. Tennessee safety Kevin Byard uttered a desire to make Brady "look like Blake Bortles."
With that, Byard officially joins a long list of players who handed "bulletin board material" to the Patriots. Of course, trash-talking happens in virtually every NFL game to various extents (with the Patriots undoubtedly engaging in a good portion of it themselves). That said, some trash talk takes on greater significance or – for whatever reason – becomes more amplified. Here's a look back at some of Byard's notable predecessors who bravely talked trash the Patriots in the Belichick-Brady era:
Sept. 2002: The Pittsburgh Steelers
After the Patriots upset the Steelers in the AFC Championship game to advance to Super Bowl XXXVI, a few of Pittsburgh's players refused to acknowledge New England's superiority.
Steelers quarterback Kordell Stewart still claimed he was a member of "the better team," and safety Lee Flowers later declared that "we want New England." Providing further motivation for the Patriots was the fact that they opened the 2002 season (after winning the Super Bowl) as underdogs to the Steelers in the first game at Gillette Stadium.
Result: Patriots 30, Steelers 14. Brady threw three touchdowns while Stewart threw three interceptions in what proved a one-sided resumption of a budding Patriots-Steelers rivalry.
Jan. 2005: Mike Vanderjagt, Colts
Despite having lost to the Patriots three times in the preceding 18 months (including the 2004 AFC Championship Game), Colts kicker Mike Vanderjagt willed himself to believe that Indianapolis' 2005 divisional round matchup in New England was the game when it would change.
"I think they're ripe for the picking," Vanderjagt inexplicably speculated. He added, "I think they're not as good as the beginning of the year and not as good as last year."
Result: Patriots 20, Colts 3. Vanderjagt made his only field goal attempt of the day, but it proved to be the Colts' only points in the game. Less than ideal field conditions, plus a creative defensive scheme from Belichick slowed the Indianapolis offense, and Corey Dillon's 144 yards rushing helped propel the Patriots in yet another win over their rivals.
Jan. 2005: Freddie Mitchell, Eagles
In the lead-up to Super Bowl XXXIX, Eagles wide receiver Freddie Mitchell dismissed the Patriots' defensive backs, infamously saying he only knew their numbers (and not their names). New England had managed a return trip to the Super Bowl without starting cornerbacks Ty Law or Tyrone Poole, yet Mitchell – an underachieving first round pick – didn't value them enough to apparently learn their names.
Result: Patriots 24, Eagles 21. Mitchell was limited to just one catch for 11 yards (which proved the last catch of his NFL career). In the postgame, an unusually candid Belichick had the last word.
"All he does is talk," said Belichick following the Patriots' third Super Bowl win. "He's terrible, and you can print that. I was happy when he was in the game."
Dec. 2007: Anthony Smith, Steelers
With the Patriots navigating through an undefeated regular season, a familiar foe stood in their path in December. The Steelers, under first year head coach Mike Tomlin, were an impressive 9-3. Anthony Smith, a second year Pittsburgh defensive back, spoke up.
"Yeah, we will win," Smith asserted. While his remark was couched in a qualifier about his fellow defenders "doing what we're supposed," it was a firm pregame guarantee of victory.
Result: Patriots 34, Steelers 10. Smith was victimized by the Patriots on a trick play which resulted in a 56-yard touchdown to Jabar Gaffney, as New England easily overcame the Steelers.
"We've played against a lot better safeties than him, I'll tell you," said Belichick in the postgame. Brady finished with 399 yards passing and four touchdowns.
Nov. 2008 and 2009: Joey Porter, Dolphins
Even before he was in Miami, Porter was a fearsome (and boisterous) member of the Steelers. And he never shied away from offering his thoughts on a variety of subjects, including the Patriots. His comments hit peak trash talk first in Nov. 2008, when the prolific outside linebacker accused the Patriots of interrupting the Dolphins' warmup routine.
"They let us know how they feel about us," Porter said. "Then they start punting over our heads – like, you want the whole 100-yard field? You don't do that."
A year later, Porter was at it again:
My feeling toward New England goes back further. It goes back to my Pittsburgh days. I felt a certain way after some things came out, way back when. In Pittsburgh, some AFC championships I lost to them a couple times. Then to come to figure out some months later why we lost, so yeah, I have a natural hate for them, period. That's just going to be with me forever, so that's not ever going to change.
Result: 2008: Patriots 48, Dolphins, 28, 2009: Patriots 27, Dolphins 17. The Patriots won both games following Porter's talk. In the 2008 version, the New England offense had a more successful day (Matt Cassel threw for 415 yards and three touchdowns), but Porter recorded a sack. The next year, he was shut out of the box score entirely, failing to record even a tackle despite starting the game.
June, 2009: Rex Ryan, New York Jets
Shortly after taking the head coaching job with the Jets in 2009, Rex Ryan made a strong declaration.
"I never came here to kiss Bill Belichick's, you know, rings," Ryan told WFAN's Mike Francesa. "I came to win.  Let's just put it that way.  So we'll see what happens.  I'm certainly not intimidated by New England or anybody else."
Result: Initially, it appeared Ryan was at least partly successful. He won his first regular season game against the Patriots, 16-9. And in his only playoff game against the Patriots (in Jan. 2011), he pulled off an impressive 28-21 win at Gillette Stadium. Yet Ryan – who would make other comments about the Patriots in his stormy tenures with both the Jets and Bills – ultimately failed to unseat New England as the preeminent AFC East power.
Nov. 2010: Alphonso Smith, Lions
In the midst of a Thanksgiving Day game in Detroit, Lions cornerback Alphonso Smith trash-talked Brady to his face after making an early play. As Smith's teammate, Nate Burleson, would later recall, Brady gave Smith "just the absolute death stare."
Result: Patriots 45, Lions 24. Brady not only went back at Smith, but proceeded to throw three touchdowns on him. Smith would later acknowledge his huge mistake:
You've got to make sure who you pick a gunfight with. Tom Brady and (Bill) Belichick is not the guys that you should pick a gunfight with, especially being in your second year in this league, which means you know nothing.

I was one of those young guys that didn't know anything. Chose to get in a gunfight with John Wayne and some other famous old Western guy.
Here's Burleson explaining the episode in a clip on NFL Network:
Jan. 2011: Bart Scott, New York Jets
Linked to the aforementioned Rex Ryan tenure in New York was Bart Scott's trash talk in the 2011 postseason. Prior to the Patriots' divisional round playoff game against the Jets, New England receiver Wes Welker infamously referenced feet 11 times in his press conference as a lowbrow joke at Ryan's expense. Scott took issue with Welker's attempt at humor.
"I'll tell you what," Scott said to Newsday. "Be very careful what you say about our coach. His [Welker's] days in a uniform will be numbered. Put it like that."
Result: Jets 28, Patriots 21. Scott and the Jets (led by Ryan) pulled off a huge upset win. Though the Patriots were favored by 9.5 points, New York came away victorious in Foxborough. Welker made seven catches, but for only 57 yards and no touchdowns. Afterward, Scott engaged in a famous rant:
Oct. 2012: Richard Sherman, Seahawks
The dynamic was slightly switched in this particular case, as the definitive trash-talking moment occurred after a game between the Patriots and Seahawks in 2012, instead of beforehand. Following the Seahawks' 24-23 comeback win over the Patriots, cornerback Richard Sherman heckled Brady with the famous line, "you mad, bro?"
His now-deleted tweet went viral. And his commentary of Brady further stoked the trash-talking flames:
Me and Earl [Thomas] walked up to him and said, 'We're greater than you. We're better than you. You're just a man — we're a team.' That's the Brady Bunch; this is a defense. We've got 11 players out there to play great ball, and we're never going to let one man beat us. It's not just about one man. If they've got 11 players out there on offense, then they're one hell of a team.
Result: The Patriots and Seahawks wouldn't meet again until the momentous occasion of Super Bowl XLIX. Ironically, considering Sherman's criticism, Brady's willingness to distribute the ball across the offense (and away from Sherman) helped New England erase a 10-point second half deficit. Playing a near-flawless fourth quarter, Brady put the Patriots in the lead. And it was Sherman's facial reaction to Malcolm Butler's Super Bowl winning interception at the goal-line that went viral in the rematch: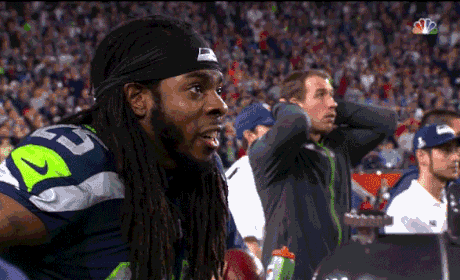 Jan. 2013: Terrell Suggs, Ravens
Given the preponderance of trash-talking that's emanated from Baltimore's Terrell Suggs over the years towards the Patriots, it's difficult to narrow it down to just one particular episode. That said, Suggs' war of words probably reached its high-water mark in the aftermath of the Ravens' win in the 2013 AFC Championship. After Baltimore beat New England 28-13 to go to the Super Bowl (where they would win), Suggs fired some shots at his rivals:
"We came. We saw. We conquered," said Suggs. "Shut them out in the second half. Tell them to have fun at the Pro Bowl. Arrogant (expletives)."
He continued:
Terrell Suggs: "These are the most arrogant pricks in the world starting with Belichick on down."

— Dan Wetzel (@DanWetzel) January 21, 2013
Though he eventually admitted the Patriots's success afforded them a "right to be arrogant," he never backed down from his comments (later doubling down in reference to the rule allegedly created in response to Brady's 2008 injury).
Result: Since that game, the Patriots haven't lost to the Ravens in three meetings. This included a 2015 playoff game where the Patriots used all kinds of trickery to rally from a two touchdown deficit. Of course, the game may have also helped to launch the Deflategate controversy.
May, 2013: Ryan Clark, Steelers
Prior to the 2013 season, yet another Steeler decided to brazenly slight Brady and the Patriots. Ryan Clark, a Steelers safety who had helped the team beat the Patriots in the 2011 season, labelled new signing Danny Amendola "fragile" in an ESPN interview. He added this about Brady:
When Tom Brady gets pressure and when you're man-to-man and bumping those guys and making it hard for him to throw, he sees ghosts. Even when guys aren't around him, even when he's not about to be sacked, when his clock goes off in his head that the ball should be out, we'll see him duck, we'll see him flinch. When you get Tom Brady doing that, the whole New England Patriots mystique goes away.
Result: The Steelers began 0-4 in 2013, but didn't meet the Patriots until November. In the first contest since Clark's comments, Brady didn't appear too rattled, throwing for 432 yards and four touchdowns. "Fragile" Danny Amendola caught four passes for 122 yards and a touchdown. The Patriots led for nearly the entire game, winning 55-31.
Jan. 2016: Antonio Smith, Broncos
Prior to the AFC Championship Game against the Broncos, defensive lineman Antonio Smith was asked if he saw Brady as a "crybaby":
That would be an accurate statement. I've never seen any quarterback look to the referee right after he gets sacked more than Brady," Antonio Smith said with a smile. "Every time he gets sacked he looks at the ref like, 'You see him sack me? Was that supposed to happen? He did it a little hard. Please throw a 15-yard penalty on him. Get him fined.'
Result: While Smith himself was a non-factor, the Broncos defense proved itself capable of handling Brady and the Patriots. Winning 20-18, Denver went on to achieve a Super Bowl victory over the Panthers.