Patriots
Tom Brady sheds light on the challenges of juggling family and football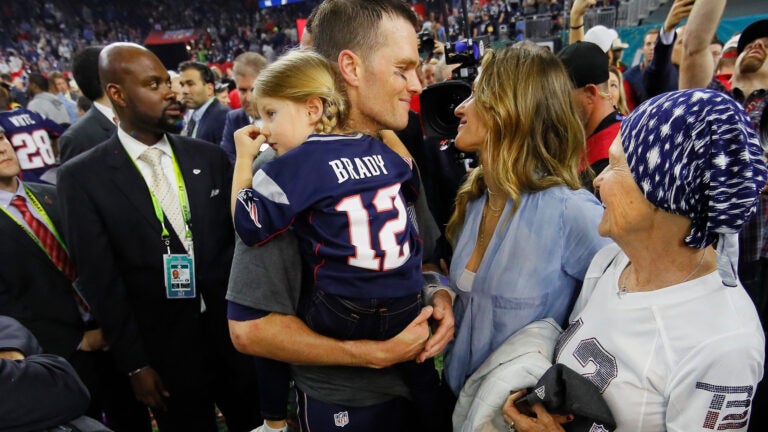 Tom Brady's Instagram offers a well-balanced look at two of the biggest elements of his life: family and football.
But as picture-perfect as his high-profile life might seem online, Brady shared on WEEI's "Kirk and Callahan" Tuesday morning that allocating his time between those two loves has proven to be difficult at times.
"There's a lot of things that get pushed aside for the sport," he said on the radio program. "The time is really not your own because you've already committed it to another place for so many days. During the season, it's basically seven days a week for seven or eight months."
More of how Brady manages that balance will be shown in his new Facebook Watch docu-series, "Tom vs. Time," but the father of three briefly opened up on some of the challenges with co-hosts Kirk Minihane and Gerry Callahan. While Brady said he doesn't feel guilty for how things have worked out, he undoubtedly recognizes the sacrifice that his wife, Gisele Bündchen, and kids have had to make.
"I think everybody kind of changes their schedule for you," Brady said. "I think it's all about your life and your game, like 'Oh, we can't do that because it's a Monday night. Oh, we can't do that because it's Sunday night. Oh, we can't do that because it's practice.' There's a lot of great things that go along with it — and I'm very fortunate because I love what I do — but my family gets the short end of the stick a lot."
The decision to film "Tom vs. Time," which includes several scenes with his family, was a "personal" one for Brady. Along with filmmaker Gotham Chopra, the 40-year-old documented much of his most recent offseason to share an inside look with fans. According to Brady, most of the footage is from March through the beginning of July because once OTAs and minicamp started, his focus shifted.
"When football season comes along, I think everybody in my life knows where my focus needs to be," he said. "That's not to say everything in my life stops, but it's just my participation in a lot of things turns to where it needs to be, which is football, and getting ready to be the best quarterback I can be for our team."
Brady said he doesn't have a timetable regarding the remainder of his NFL career, but he plans to continue playing as long as he can play at a "great level." Sustaining peak performance at an older age has been a point of great emphasis for the quarterback as well as the subject of his book, The TB12 Method.
"When I can't play at a great level, when I can't help a team win, then I don't want to be a part of a team," he said. "I think you're doing a team a real disservice if you're taking up space and not playing at a championship level."
Until then, Brady said he continues to have the support from his wife while looking to prolong his playing career. As for how he continues to put off retirement?
Callahan asked: "Do you tell your family just give me a couple more years and then I'll be here every day and you'll be sick of seeing me? Just let me play as long as I can, and then I'll be here to coach, I'll be here to help you with your homework, just give me a little bit more time?
"It's like you have a conversation in my house," Brady said. "That's a daily conversation."