Patriots
In a Patriots playoff run desperate for intrigue, here's grasping at Tom Coughlin
No disrespect to the Jacksonville Jaguars, but it might be the only chance they've got.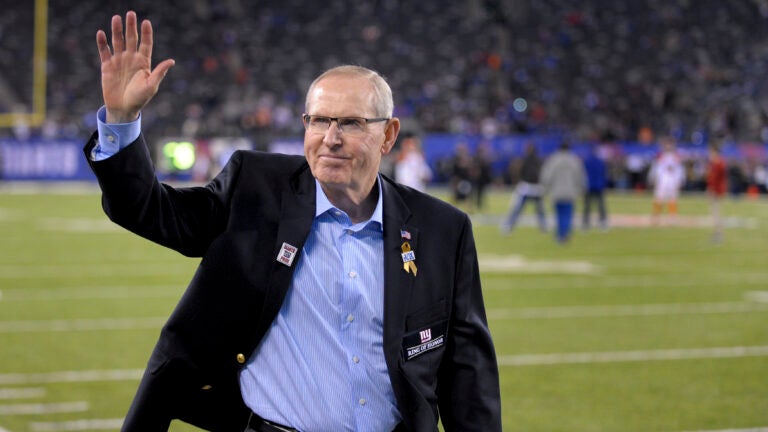 COMMENTARY
It's a perfectly legitimate exercise to try and apply lipstick on the hogwash that stands in the way of the New England Patriots and a sixth Super Bowl title.
Gone is the fascination of an AFC Championship rematch with the boneheaded Pittsburgh Steelers. Our hopes for a Drew Brees-Tom Brady Super Bowl have vanished in a Marcus Williams dive to nowhere. The Patriots couldn't even get to pay the Kansas City Chiefs back for their season-opening loss during this playoff run.
Which all sort of just makes Tom Coughlin the blush on this swine of an NFL postseason.
The Patriots are going to win a second-straight Super Bowl for the first time in over a decade thanks to a competitive field that looks like something out of a Harlem Globetrotters script. Alas, the most fear Patriots fans might have had this month took place in falling behind, 7-0, to the hapless Tennessee Titans during Saturday night's divisional round. It was a laboring six or seven minutes for most of us.
It probably won't be much different this Sunday in the rematch that pretty much nobody really (I mean, really?) wanted. Alas, instead of getting a sequel to last month's nail-biter against the Keystone Cop Steelers, we're subjected to an AFC title showdown 21 years in the making when the Patriots and Jacksonville Jaguars once again face off for the esteemed Lamar Hunt trophy.
This is the second time the Patriots will host the Jaguars in the conference championship. That's one fewer time than they've played the likes of Pittsburgh, or as many as they've faced Indianapolis. Somehow, the Jacksonville Jaguars have become laced into the important landmarks in Patriots history, which is kind of like still considering Connecticut part of New England. Nobody wants to admit it, but the two are forever tied together.
We expected Pittsburgh and the storied history of that rivalry, and instead get Jacksonville, where they once attempted to make "Jaguaring" a thing.
Neat.
But with Coughlin in Jacksonville as the Jaguars' executive vice president of football operations, there is at least one hurdle in front of the Patriots' quest for a Duck Boat brigade.
You might remember Coughlin as the architect of the two greatest disappointments in Patriots history, Super Bowls XLII and XLVI, demoralizing losses that spoke more to the mistakes the Patriots made in key situations rather than the miracles that Coughlin apparently (Tyree, Manningham, TWO titles for Eli) was able to conjure out of thin air. But both times, Coughlin was there, on the sideline, the mojo to magnificence that should be a Super Bowl tally of seven going on eight for Brady and Bill Belichick.
Now, it's going to take until 2020 to build up that amount of Lombardi Trophies in Foxborough.
Nonetheless, it's an interesting dynamic, seeing how Coughlin and Bill were both born from the Bill Parcells coaching tree, sharing the same bedrocks in terms if preparation, attention to detail, and "Do Your Job" mentality. It's given Belichick five rings of his own. It's given Coughlin a pair that he managed to swipe from his old partner in crime with the New York Giants.
No disrespect to the Jacksonville Jaguars, but it might be the only chance they've got.
Coughlin's fingerprints may be all over the Jaguars, whose much-ballyhooed defense aims to replicate what the coach's Giants teams managed during two Super Bowl showdowns. It was on Media Day, after all, back in 2008, when Brady scoffed at Plaxico Burress' assessment that the 18-0 Patriots with a record-setting offense would score only 17 points against them. Brady and company eventually did manage 17 points…four years later in their second-straight Super Bowl loss to New York. It managed to be only 14 the first time around.
Despite allowing 42 points to the Steelers last Sunday, we're supposed to make no mistake about the ferocity of this Jacksonville defense. The Jaguars allowed an average of 16.8 points per game during the regular season, second only to the Minnesota Vikings. Both could be playing in the Super Bowl in two weeks' time, which makes the lineup on Food Network all the more compelling that evening.
Hold the Patriots to a score like that by constantly getting after Brady, and they have a shot at Jaguaring in all of our faces.
Maybe. But it would seat itself among the biggest surprises in football history, right up there with the 1993 announcement that Yee-Ha Jacksonville was getting itself a professional sports franchise in the first place.
There's nothing to see here but false bravado directed toward Jacksonville's greatest asset.
Their defense. And Coughlin.
Try selling the argument that Blake Bortles is going to best Tom Brady for the right to go to the Super Bowl. Imagine the uproar if Malcolm Butler and Stephon Gilmore help allow the Jaguars quarterback to go deep early and often on them. Ask Leonard Fournette how his run game is going to go after watching Derrick Henry scrape up some meaningless yards in the divisional round last weekend.
None of it is going to happen. The Patriots are headed back to the Super Bowl. Again.
Sorry to be ho-hum about it, but this is the NFL, where parity has helped deliver a final foursome of mostly mediocrity. Yuck.
At least Coughlin's name makes it sexy. It is a scent of lavender in the barn.
Off to Minnesota. Parade on Feb. 6.