Patriots
Gotham Chopra describes what it's like to make a docu-series about Tom Brady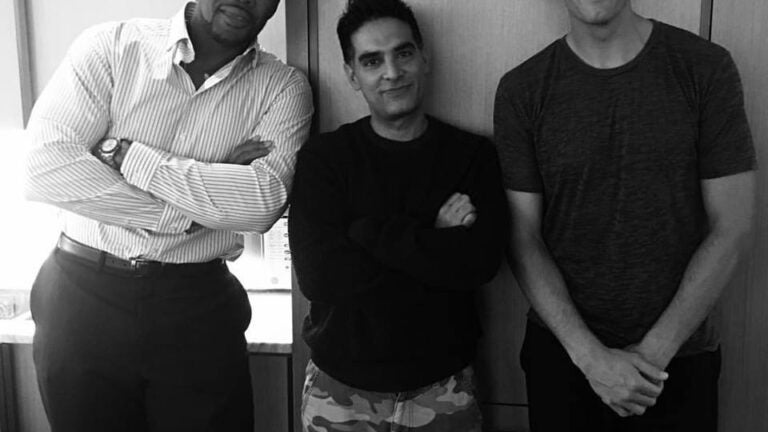 Filmmaker Gotham Chopra — the man behind Tom Brady's new docu-series, "Tom vs. Time" — describes himself as a "diehard" Patriots fan.
"Even in an era when they sucked, to be frank," he told Boston.com. "I remember those days."
Chopra, who grew up in Lincoln, remembers a time before Brady, before Bill Belichick, and before the Super Bowl rings. He remembers watching Steve Grogan, Tony Eason, and the array of other quarterbacks New England started in the late 80's and early 90's. He remembers when the Patriots had a losing record for five straight seasons, including their dismal 1-15 mark from 1990.
Things certainly improved once Drew Bledsoe and Bill Parcells arrived, but little did Chopra — or any Patriots fan — know that Bledsoe's season-ending injury would prove to be the catalyst for the team's championship dynasty.
"Drew Bledsoe was the savior of the organization with Bill Parcells," Chopra said. "I think most people at that time thought he was going to get his job back."
But Bledsoe never did. After Brady took over in September 2001, he led the Patriots to the franchise's first-ever Super Bowl title and the four that followed. Over the course of his 18 seasons and counting, Brady evolved from a perpetual underdog to a New England sports hero.
"I certainly didn't see that coming," Chopra said of Brady's initial rise. "Tom certainly came out of nowhere."
Brady's story reminds Chopra of just how fragile fan allegiances are. The player who Chopra once esteemed for his role in turning around the team had been tossed to the side in favor of a younger up-and-coming passer. And the uncertainty surrounding quarterback role — albeit short-lived — was just the start of the "interesting soap operas and sub-stories" surrounding the Patriots.
Amidst the drama, there's no denying the magnitude of Brady's achievements. At age 40, he's still breaking records. He's still topping leaderboards. He's still putting up numbers worthy of the league's MVP award. But Brady has grown beyond a name on the back of a jersey. He's become a brand.
In September 2013, Brady and his trainer Alex Guerrero opened the TB12 Sports Therapy Center at Patriot Place. And in September of last year, he published a self-help guide, The TB12 Method. He's making a concerted effort to share how he is able to sustain peak performance as he gets older.
"Tom vs. Time" is the next step in that ongoing process. After putting the idea off for a few years, Brady felt turning 40 was the right time to put the project together.
"How does a 40-year-old athlete train to continue to perform at an elite level?" Chopra said. "That was the intention."
The two collaborated during the offseason, from April through training camp, to document a behind-the-scenes look at what goes into Brady's weekly game-day preparations while balancing his family and personal obligations. The docu-series aims to not only provide a never-before-seen look into Brady's life, but also put Brady's season, and career, in perspective.
"Physical training is just one component," Chopra said. "Tom has a mental approach to the game that's as intense. There's an emotional component: How do you manage all the stuff that's going on with your family in your private, personal life with your desire to stay on top? How do you relate to your teammates? There are all these other aspects, and they are all going to happen at the same time, so you have to manage them."
The key to Chopra's project was its authenticity. The filmmaker wanted to show viewers that Brady's not "just some perfect robot." He's constantly managing, compartmentalizing, and working — all in service of football. Throughout production, Chopra said Brady was an "open canvas," which helped facilitate not only their close relationship, but also their final product.
"While he might be a god on the football field, off the field, he's kind of a normal guy, so a lot of the communication was not just about football, but about parenting, having parents that are getting older, and stuff like that," Chopra said.
Chopra doesn't want Brady's amiable personality to take away from the undeniable physical aspects of the sport, however. While he was in Montana with Brady and his teammates, Chopra said he recognized the rugged nature of Brady's day-to-day.
"Tom's a guy, he's a dad, he's a son, he's a husband, he's all of these things that make him human," Chopra said. "But he's also a real football player. He's a tough guy."
Chopra said he never filmed in the Gillette Stadium tunnels of the locker rooms, as he wanted to be respectful of the Patriots' culture. He noted the team is aware of the project and has been very supportive, but he still tries to be "very careful to not get in the way."
"Tom is really amazing at how he eliminates distractions, particularly emotional distractions," Chopra said. "He's just like, 'I don't want to give energy to things right now while I'm trying to win more football game and Super Bowls.'"
"Tom vs. Time" is by no means Chopra's first film. He also directed and executive produced "Muse," a documentary of retired Lakers guard Kobe Bryant. While Chopra drew a number of similarities between the two — their relentless devotion, their discipline, their commitment, their desire to be the best, their willingness to put in the work — he also noticed a stark contrast.
"Kobe is combative, that's not a criticism," he said. "That's a reality, and I think something he would embrace. He feeds off of conflict with the teammates, with the coaches, in his personal life. It's sort of what drives him. Tom is the opposite. He's about peace and love and playing the game of joy. He avoids conflict. In some ways, that's what motivates him. He just enjoys playing the game, he enjoys the relationships that come from the game."
Chopra said there's no denying the two athletes are genetically gifted and extremely talented, but at the same time, both have committed, and sacrificed, a substantial amount of time to be able to compete at this level while getting older: "Every aspect of their lives is focused on this one thing."
Thanks to Brady's willingness to open up his life, Chopra says his relationship with the quarterback is stronger than that of any with his fellow former subjects. Despite their closeness, however, there are times the storyteller feels like he's just "his eight-year-old self living out his fantasies" as a diehard Patriots fan.
"Sometimes I have to pinch myself."