Patriots
Your guide to Super Bowl LII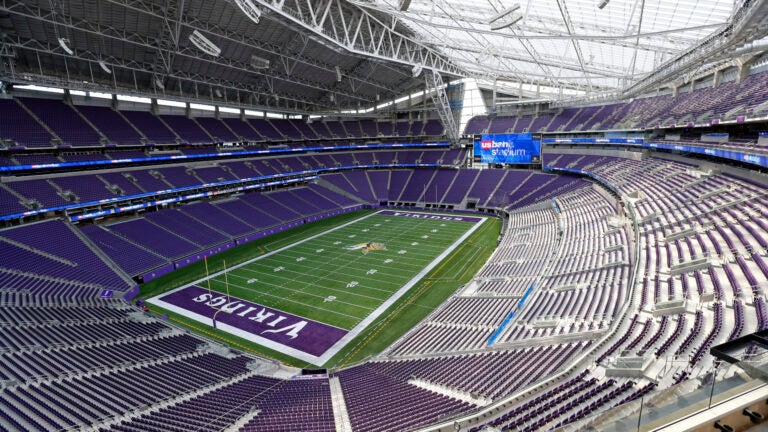 It's the AFC champion Patriots vs. the NFC champion Eagles in Super Bowl LII. Here are details about the game.
Date: Sunday, Feb. 4
Kickoff time: 6:30 p.m.
TV: NBC
Location: US Bank Stadium, Minneapolis
Home team: New England Patriots
Away team: Philadelphia Eagles
Super payoff: Each member of the winning team receives $112,000. Losing team members receive $56,000.
Halftime entertainer: Justin Timberlake
National anthem: P!nk
How they got here
AFC champion: The Patriots defeated the Titans in the divisional round and Jaguars in the AFC Championship.
NFC champion: The Eagles defeated the Falcons in the divisional round and Vikings in the NFC Championship.
Notable
■ New England will play in its second consecutive Super Bowl, third in four years, and 10th overall with a chance to tie the Pittsburgh Steelers for most Lombardi Trophies.
■ Tom Brady and Bill Belichick will be making their eighth Super Bowl appearance as a quarterback-coach duo.
Super Bowl officials
Gene Steratore, referee; Roy Ellison umpire; Jerry Bergman, down judge; Byron Boston, line judge; Tom Hill, field judge; Scott Edwards, side judge; Perry Paganelli, back judge; Paul Weidner, replay official.
Of note: This is Steratore's first Super Bowl assignment … Officials must be rated in the top tier at their position to be eligible for the Super Bowl. They must have at least five years of NFL experience and previous playoff assignments.
Last Super Bowl appearance and records
■ The Patriots defeated the Falcons in Super Bowl LI last season. New England is 5-4 in the Super Bowl.
■ The Eagles lost Super Bowl XXXIX to the Patriots after the 2004 season. Philadelphia is 0-2 in the Super Bowl.
Events at the Super Bowl
Super Bowl Opening Night: Formerly known as media day, this features each team making all personnel available to the media on Monday, Jan. 29 at the Xcel Energy Center in St. Paul. One team attends at 7:10 p.m., the other at 9 p.m.
Super Bowl Experience: An interactive theme park at the Minneapolis Convention Center opens Saturday, Jan. 27 and is open Jan. 28, 29, and 31 and Feb. 1-3.
Pro Football Hall of Fame display: At the Super Bowl Experience, this will include eight bronzed busts that will be temporarily removed from The Hall of Fame Gallery: Bud Grant, Alan Page, Cris Carter, Brett Favre, Vince Lombardi, Curly Lambeau, Bart Starr, and Reggie White.
Super Bowl Live: At the Nicollet Mall in downtown Minneapolis, this is a free festival featuring music performances, food, and other attractions. Runs Jan. 26 to Feb. 3.
Other events: A complete listing of Super Bowl events in Minneapolis is available on the Minneapolis Super Bowl website.
Player and coach press conferences
Jan. 30: 11 a.m. and 12:30 p.m.
Jan. 31: 8 a.m. and 10:15 a.m., or 4 p.m.
Feb. 1: 8 a.m. and 10:15 a.m., or 4 p.m.
Feb. 6: Winning coach and MVP, 8:30 a.m.
About the Lombardi Trophy
From the NFL: The winning team receives permanent possession of the Vince Lombardi Trophy, a sterling silver trophy created by Tiffany & Co. and presented annually to the winner of the Super Bowl. The trophy was named for the late Vince Lombardi before Super Bowl V.
The trophy is a regulation-size silver football mounted in a kicking position on a pyramid-like stand of three concave sides. The trophy stands 20.75 inches tall, weighs 107.3 ounces, and is valued in excess of $25,000. The words Vince Lombardi and Super Bowl LI are engraved on the base along with the NFL shield.
Future Super Bowls
2019 (LIII): Atlanta
2020 (LIV): Miami
2021 (LV): Tampa
2022 (LVI): Los Angeles