Patriots
Inside the all-nighter to print the Patriots' official AFC Championship T-shirts
When the game ended Sunday night, the work was just beginning for this Massachusetts company.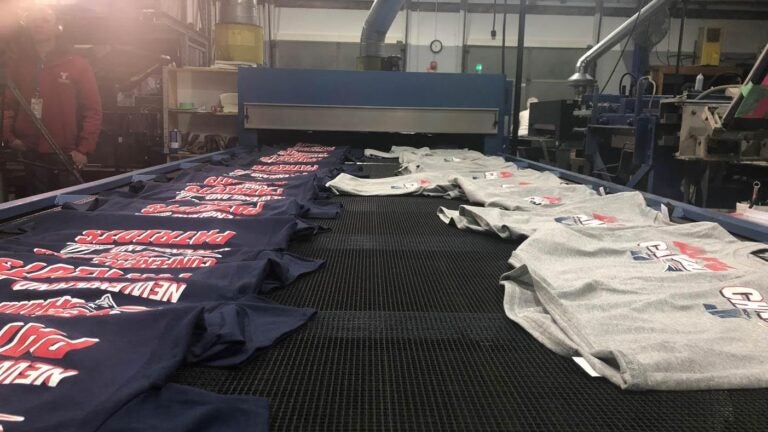 Jonathan Fine hasn't caught a wink of sleep since early Sunday morning. But at this point he's used to the routine.
"You learn to never count them out," Fine told Boston.com Monday afternoon.
"Them," of course, being the New England Patriots.
As the vice president of sales and marketing for Pop Tops Sportswear in South Easton, Fine and his crew of 15 employees have the job of printing the team's official AFC Championship T-shirts as quickly as possible. Once Dion Lewis sealed the Patriots' win with his first-down rush in the final minute, that's when their night began, Fine said.
Between that moment and roughly 4 a.m. Monday morning, Pop Tops printed tens of thousands of NFL-licensed shirts to be immediately shipped to stores across New England, including the Patriots ProShop at Gillette Stadium.
The shirts are printed for Fanatics, the NFL's official merchandiser. They include the same design as the tees worn by Patriots players in the locker room after Sunday's victory.
Pop Tops has been in business for more than four-and-a-half decades and, with the Patriots' recent unprecedented run of success, Fine says such all-nighters have become almost normal. The facility has also printed shirts for other New England championships.
"We've been doing this so long, we really have it down," Fine said. But as Patriots fans, the night is still filled with adrenaline.
"Especially towards the end of the game," he said. "We wait for the call and as soon as they say 'go,' everyone gets excited and we start rolling [the shirts] out."
Fine and his employees left work during the wee hours of Monday morning as exhausted, happy Patriots fans. They plan to return in two weeks during the third quarter of Super Bowl LII to again wait to that call.