Patriots
How the NFL concussion protocol works and what it means for Rob Gronkowski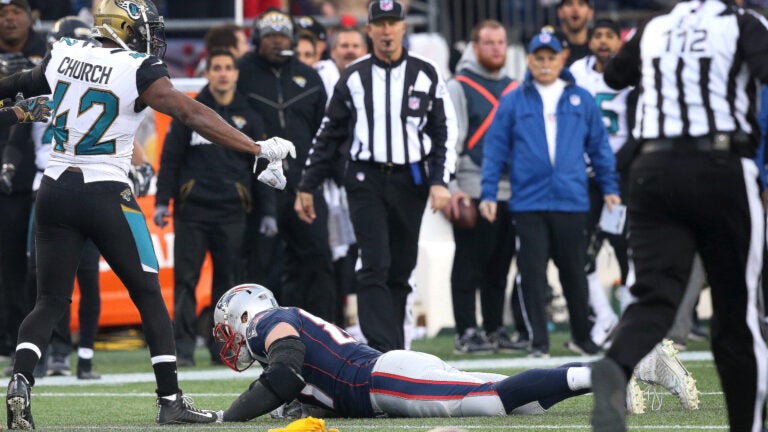 Update: The Patriots released their first practice report of Super Bowl bye week, which revealed Rob Gronkowski officially has a concussion. The team did not practice Wednesday, but if they had, Gronkowski would not have participated.
#Patriots TE Rob Gronkowski (concussion) would not have practiced if the team had worked out today, per their practice report.

— Ian Rapoport (@RapSheet) January 24, 2018
Rob Gronkowski did not return to Sunday's AFC Championship game, and according to multiple reports, has entered the league's concussion protocol.
The Patriots tight end suffered a helmet-to-helmet blow from Jaguars safety Barry Church in the final minutes of the first half and was immediately taken to the locker room for medical evaluation. Sportscaster Tracy Wolfson reported on the CBS broadcast that both an independent neurologist and team doctors treated Gronkowski during that time.
He was initially listed as "questionable" before getting downgraded to "out."
Here's a look at the hit that might've concussed Gronk pic.twitter.com/c7LGmSQYHh

— Pete Blackburn (@PeteBlackburn) January 21, 2018
Captain Matthew Slater was asked about his teammate during a press conference Monday afternoon and relayed Gronkowski was "in pretty good spirits" when they spoke. The Patriots have not released an official update on Gronkowski's status, but are reportedly hopeful the 28-year-old will return for Super Bowl LII against the Philadelphia Eagles on Feb. 4.
Here's what you need to know about Gronkowski's recovery process:
How concussions are evaluated
A player must be removed from the game if he shows or reports any symptoms of a concussion. According to the league, there are eight "observable" signs: loss of consciousness, getting up slowly following a hit to the head, lack of balance or motor coordination, a blank look, disorientation, amnesia, clutching one's head after contact, and a visible face injury in conjunction with any of the other factors.
The NFL states, however, the list is not exhaustive. Some of the other self-reported signs include headache, dizziness, nausea, and light or sound sensitivity.
Once the player has been removed from the game, both a team doctor and an "unaffiliated neurotrauma consultant" will assess for a potential concussion. The evaluation typically includes video review of the play and administration of the NFL Sideline Concussion Assessment. The results of the examination can be compared to the player's baseline results from preseason testing.
A player must be escorted to the locker room if he is diagnosed with a concussion, as laid out by the Madden Rule. Per the league, "the Madden Rule is intended to protect the players by providing a quiet environment, with appropriate medical supervision, to permit the player time to recover without distraction."
The NFL also states the player is "not permitted to meet or talk to the press until he is medically cleared."
How players can return to the field
The league has a five-step, return-to-participation protocol:
1. Rest and recovery
In order to avoid increasing or aggravating symptoms, the first prescribed step is physical and cognitive rest.
"The best thing that quickens recovery is absolute rest, meaning full-mind rest," Dr. Robert Nascimento told Boston.com. "The best start is to allow the brain to rest."
Dr. Nascimento, who is the Chief of Sports Medicine at Newton-Wellesley Hospital and Medical Director of Boston College Athletics, recommends minimal exertion until symptom scores start to come down. The NFL permits "limited stretching and balance activity," at the discretion of the medical staff.
2. Light aerobic exercise
After returning to his baseline level of symptoms, the player may start to engage in some cardiovascular activity, dynamic stretching, and balance training. The duration and intensity of such exercises can gradually increase if the player is able to maintain his baseline level of symptoms.
"Once his symptoms start improving, then he'll start adding on some cognitive and physical activity — some light aerobic activity, like the stationary bike, jogging, or agility exercises — to see if he can tolerate some of those," said Dr. Warren K. Young of the Hospital for Special Surgery.
The player is also permitted to attend regular team meetings and film study.
3. Continued aerobic exercise and introduction of strength training
If the player continues to show no signs of worsening symptoms, then strength training can also be incorporated into his recovery process. He can also introduce various sport-specific conditioning drills and increase the amount of time spent on the treadmill or stationary bike.
4. Football-specific activities
At this step, the player is permitted to begin integrating non-contact, football-related exercises, such as throwing, catching, and route-running, into his routine. He is not, however, permitted to incorporate physical contact with players, tackling dummies, sleds, or other objects.
5. Full football activity, or clearance
The player can be cleared for full football activity if he has established his ability to complete the fourth step "without recurrence of signs and symptoms and his neuro-cognitive testing is back to baseline."
What experts are saying about Rob Gronkowski
According to Dr. Young, the worst-case scenario for Gronkowski is that his symptoms worsen as he increases his physical activity and heart rate. How the tight end recovers really depends on his history of concussions as well as the magnitude of his most recent head injury.
"With the type of hit that he had, you are going to be worried about a concussion. He looked a little bit shook up afterwards, but everybody is going to be a little shook up after a helmet-to-helmet hit," Dr. Young told Boston.com. "In the most realistic scenario, most people with concussions, especially if it's only their first-time concussion, their symptoms resolve over a course of 7-10 days."
It should be noted that Gronkowski was believed to have suffered a previous concussion in December 2013 on the same play he tore his ACL and MCL against the Cleveland Browns. But the tight end has never been formally listed on a team injury report with such condition.
Although New England would likely love to have Gronkowski back on the field, Dr. Young stressed the importance of not rushing him back to play for the sake of his long-term health: "Some fans might be surprised if the Patriots sit Gronkowski for such a high-stakes game, but that probably means he has significant enough symptoms that it was a clear, cut and dry case that he should not be on the field."
Dr. Nascimento echoed this sentiment, adding that returning to play too soon can increase Gronkowski's risk for a repeat concussion.
"A lot of it is relying on the athlete to do what's best for them in the long run," he said. "A lot of it is subjective symptoms and then carefully watching how they return and making sure those symptoms don't return."
The Patriots, and the Eagles, are required to submit post-practice reports that will disclose any player injuries and respective level of participation. Starting Friday, the teams will also have to add an injured player's game status (questionable, doubtful, or out) for Super Bowl LII.