Patriots
Patriots Fan of the Year says 'the legendary tailgate will never stop'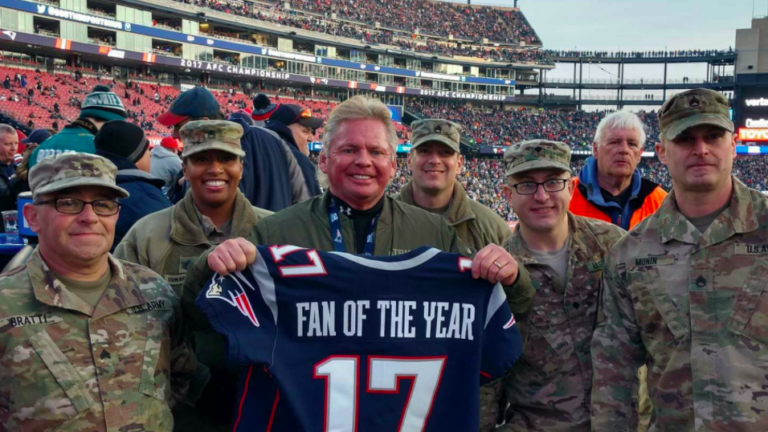 If Billy Burrows is cooking, everyone in lot P3 is eating.
Burrows sets up his tailgating grill, made from a car engine, in the back corner of the lot outside Gillette Stadium. He wakes up at 4:30 a.m. on game days and arrives in a three or four truck convoy before the parking lot opens. As soon as he's allowed in, the converted car engine comes to life and the feast begins.
Burrows's corner sits right next to the bridge where fans cross over from the commuter rail, and no hungry Patriots fan gets turned away.
"As they're walking by, I just invite them in and make them feel at home," Burrows says. "I feed them, feed their kids, and meet people from all over the world."
For his cooking, and his charity work for military veterans, Burrows was named the 2017 Patriots Fan of the Year by the team. New England owner Robert Kraft presented him with the trophy, and he also received two box seats for next season and a custom game jersey.
"I feel honored, it's a big award," Burrows says. "Out of 67,000 people they picked me."
Burrows, of Billerica, hasn't missed a Patriots home game in almost two decades, but he came close to breaking that streak for Sunday's AFC Championship. Burrows was in the middle of an interview with a local television station last week when he bent down to pick up a piece of paper and 'blew out his back.' A couple days later, he wasn't able to walk with the pain and had to go to the hospital. But when the parking lot opened early Sunday morning, Burrows was waiting at the gate.
"I haven't missed a game in 18 years, I was going one way or the other," Burrows says.
The hospital let him out to go to Foxborough, but said he needed to come back for surgery earlier this week. Fine by Billy. The Patriots won 24-20 in a thriller, and the people in P3 were full. He described his game day routine to Boston.com Monday afternoon.
"Yesterday we were up at 4:30 a.m., on the road at 6, in the McDonalds parking lot at about quarter to 7 having our coffee, headed over to the stadium, and as soon as the guys at the stadium would let us in we started setting up and cooking," Burrows said. "Just getting ready for everybody to come."
His tailgate crew splits the cooking duties. Everyone brings something different to throw on the grill. One of Burrows's friends has a lobster boat, so he brings the shellfish and scallops while Burrows prepares the meat and 'nice deli dogs.' His brother-in-law does most of the grilling while Burrows works the crowd under their tents.
"I'm more like the ambassador," Burrows says, laughing.
He's the first fan from the upper deck to win Fan of the Year, and the Patriots told him he received the most votes of any winner. Burrows says most of the voters were people he's been serving up hot dogs to in the lot.
"I knew nothing about it. Someone put my name in for it and once it hit social media it took off. I've been feeding people in the parking lot for 20 years," Burrows says. "I've got people from Demark, Germany, Montreal, Quebec, Nova Scotia. They come down to one game a year and they always stop and see me."
He says the New England stadium and fan experience has greatly improved since he first started attending Patriots games. The fan base seems to be more courteous and well behaved these days, he says, and Gillette Stadium is beautiful now "compared to sitting in the those steel seats with drunks falling all over you."
Burrows organizes a 'Vets First' motorcycle run to raise money for the American Legion. Hundreds of bikes thread through Billerica and the surrounding towns, finishing in front of a giant stage and American flag. He has more charity events planned for next year, and there's no sign of the tailgates stopping either. Burrows says that next year he's buying more chairs and tents to accommodate all the people who want to join the tailgate.
Burrows says, "This is a legendary tailgate that will never stop, not till they sell the stadium."
He'd love to bring the show on the road to Minneapolis, but the Fan of the Year package didn't include Super Bowl tickets and the price tag doesn't match the destination ("If I'm gonna spend ten grand I'm going to the Bahamas"). Burrows has never been to a Super Bowl, but says he's pulling all the strings he can to get his hands on a ticket.
It shouldn't be too hard to guess which team the Ambassador of Lot P3 is predicting will lift the Lombardi Trophy in two weeks.
"I'm taking the Pats all the way," Burrows says. "Pats by 10."