Patriots
LeGarrette Blount is in 'enemy mode,' despite friendships with former Patriots teammates
"Straight enemy mode, man."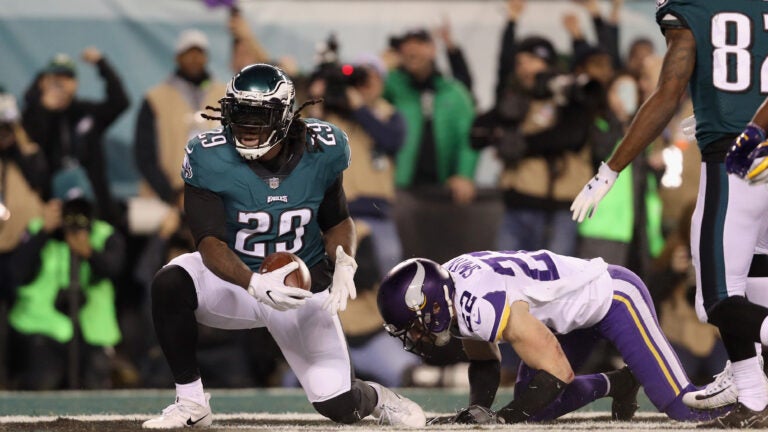 LeGarrette Blount says he will be in "enemy mode" when he faces off against his former teammates in Super Bowl LII.
"Straight enemy mode, man," the Philadelphia Eagles running back told reporters Thursday.
According to ESPN, Blount, who played the last two seasons for the Patriots before leaving in free agency last year, still remains close friends with several Patriots players and regularly texts with running backs James White, Dion Lewis, and Brandon Bolden in a group chat.
However, those friendships end for at least 60 minutes next Sunday.
"Ain't no friends. Ain't no homies, none of that," Blount said. "We know … what we gonna do. They know what they gonna do. We both got the same goal in mind, and there ain't no hard feelings, but it is what it is."
The punishing runner went on to accurately note that he no longer plays for the Patriots, nor does he even watch them.
"I don't care about the Patriots," he said. "I focus on what we need to do to put us in the best position to win this game. I had a great time there last year, but last year is last year."
"Straight enemy mode"@LG_Blount ready to face team he won SuperBowl with last year

"I dont play for the Patriots anymore. I dont watch the Patriots. I dont care about the patriots… Last year is last year"#FlyEaglesFly pic.twitter.com/E4XR90D9el

— John Clark (@JClarkNBCS) January 25, 2018
According to ESPN, Blount even stopped texting his former fellow running backs this week.
"We ain't got nothing to talk about," he said.
Blount set career highs in attempts, rushing yards, and touchdowns last year. In fact, his 18 rushing touchdowns led the NFL. The now-31-year-old subsequently signed with the Eagles on a one-year contract reportedly worth up to $2.8 million, which was more than double what the Patriots reportedly offered him.
Blount isn't the only former Patriot now set to face his old team next week. In fact, Eagles defensive end Chris Long said he sort of anticipated the Patriots might return to the Super Bowl this year, even as he made his decision to leave New England.
Eagles DE @JOEL9ONE left Patriots after winning Super Bowl and knew they could be back there

Only a few NFL players have ever won back to back SuperBowls…
Chris and @LG_Blount have shot!

"Im just very lucky"#FlyEaglesFly pic.twitter.com/xq1dcBdMfe

— John Clark (@JClarkNBCS) January 25, 2018
Only four other players in the history of the NFL have won back-to-back Super Bowls with two different teams.