Patriots
Steve Spurrier 'proud' to see Stephon Gilmore and Alshon Jeffery in Super Bowl matchup
"We were fortunate to have them."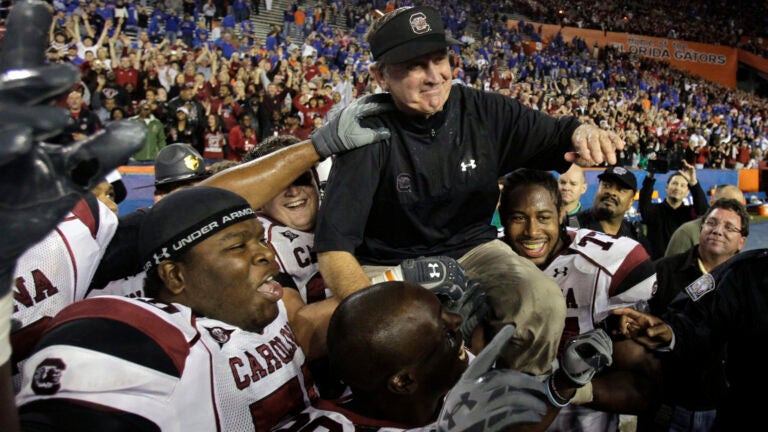 Steve Spurrier might be retired from coaching, but the Head Ball Coach has been keeping a close eye on some of his finer former players.
With the Patriots set to face the Eagles in Super Bowl LII, former South Carolina greats Stephon Gilmore and Alshon Jeffery will potentially line up directly opposite each other. Spurrier, who retired in 2015, watched as the two players he once coached had big games to help propel their teams onto the NFL's biggest stage.
"Stephon covered well, and on fourth down he had the guy blanketed," Spurrier said of Gilmore's game-winning pass breakup against the Jaguars. "That was a good play. And Alshon had a big game too."
Both players are central to their teams' chances of winning a Super Bowl. For Spurrier, they were collectively crucial in helping to elevate South Carolina football during his decade-long tenure at the university. Gilmore and Jeffery played in college from 2009-2011, each deciding to declare for the NFL draft a year early. At South Carolina, they were important not only for their talent, but their willingness to commit to the local school.
"Everybody wants to know how we won at South Carolina," Spurrier said in a recent interview. "It started with recruiting the best players in our state. Stephon Gilmore, Alshon Jeffery, Jadeveon Clowney, that's how we went 11-2 and finished in the top-10."
The trio of top recruits all grew up playing high school football in South Carolina.
"They were the difference makers, the top players," Spurrier noted of that particular group. "You need [to recruit] the ones in your state, no matter where you live."
In the case of Gilmore, Spurrier found a breakthrough in local recruiting. Arriving in the winter of 2009 after he graduated early from high school, Gilmore committed to South Carolina even in the wake of a disappointing end to the 2008 season.
"Stephon was one of our first," Spurrier explained. "I remember we had a lousy bowl game that year. Got beat by the University of Iowa. And Stephon was scheduled to come early and start in January. And I was just hoping he hadn't changed his mind by the way we played. But sure enough, the day that early enrollees got there, there he was outside the office coming in. So we got him in school, and he was first big time in-state recruit. We got Alshon a little later, and then the next year Clowney, and several other guys as we went along there."
Gilmore made an instant impact, starting at cornerback as a true freshman in the 2009 season. Even then, he was keeping an eye on his NFL future.
"Stephon was the player of the year in South Carolina," Spurrier recalled. "He was a wildcat quarterback, but he wanted to play defensive back. I think some people convinced him you could be a DB and play 10 years in the NFL and go from there, so that's what he wanted to do."
That said, Spurrier – known for his creativity on offense – couldn't resist utilizing Gilmore's capability on both sides of the ball.
"We were struggling on offense a bit, so we put him in the wildcat and let him take off running and hand it off, and fake it. Then we put the pass in," Spurrier added. As defenses adapted to Gilmore's slashing run style, South Carolina coaches decided to let Gilmore pass the ball if he got into the right situation.
"Usually when he was in the wildcat and ran several times, the other teams would play without a free safety," said Spurrier of Gilmore. "So we put in a post route for Alshon."
It was a perfect counterpunch, since Jeffery was a mismatch in single coverage. The South Carolina version of the wildcat offense, known as the "Wild Cock," was used successfully against rival Clemson in a 2009 upset win.
"The first one against Clemson," Spurrier remembered, "Alshon ran the post, and they tackled him down near the goal line." South Carolina scored three plays later. The rivalry win began a trademark streak of dominance at the height of Spurrier's reign.
"That 2009 game, where Stephon threw it to Alshon, that started the five in a row over Clemson."
Nine years later, Spurrier will now get to see his two former players line up in Super Bowl LII.
"We're proud of them," Spurrier said.

"We'd like to think we've helped them a little bit, but the bottom line is both of them were outstanding players when they got to South Carolina. Hopefully we helped them, but I think no matter where they went, they would be NFL players. We were fortunate to have them."