Patriots
Here's the Patriots' schedule during Super Bowl week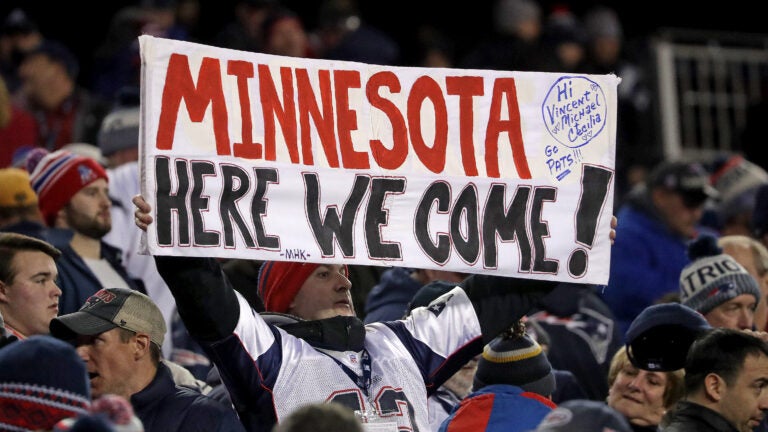 The Patriots are getting closer to Sunday's 6:30 p.m. kickoff in Minnesota, and preparations for the game, and the distractions that accompany it, are in full swing.
Patriots offensive tackle Nate Solder described the frenzy that surrounds Super Bowl week as "a little exhausting." Safety Patrick Chung was asked if he likes the media hype that leads up to the big game, and responded, "Absolutely not."
But for many of the New England players, Super Bowl LII won't be their first taste of the carnival atmosphere. 35 players on the 53-man active roster have played in at least one prior Super Bowl, and Tom Brady has played in as many of these deciders as the entire Eagles roster combined.
The Eagles will hold their first practice this week on Tuesday, and this post will be updated when New England releases their practice schedule.
Here's the Patriots' schedule for Super Bowl week:
Monday, Jan. 29
The team is hosting a send-off rally at Patriots Place in Foxborough at 9 a.m. Owner Robert Kraft, Bill Belichick, and the team captains will address the crowd before the buses depart Gillette Stadium at 10:30 a.m. and head to T.F. Green airport in Providence for their flight to Minneapolis.
Doors open at the Xcel Energy Center in Saint Paul, Minnesota at 5:30 p.m for Super Bowl Opening Night. The Patriots' players and coaches are scheduled to speak from 7:10 p.m. to 8:10 p.m., and the Eagles will follow from 9 p.m. to 10 p.m.
Tuesday, Jan. 30
Bill Belichick, Tom Brady, and nine other Patriots players will be available to the media from 11 a.m. to 11:50 a.m. in the Mall of America, before the Eagles at 12:40 p.m.
Wednesday, Jan. 31
Philadelphia has media availability from 10:15 a.m. to 11:30 a.m. Belichick, his assistant coaches, and Patriots players are scheduled to face the press from 4 p.m. to 5:15 p.m. in the Mall of America.
Thursday, Feb. 1
Eagles have media availability from 10:15 a.m. to 11:30 a.m. in the Mall of America, and the Patriots from 4 p.m. to 5:15 p.m.
Friday, Feb. 2
The teams are not scheduled to face the media. The NFL Experience at the Minneapolis Convention Center will feature the Lombardi Trophy, Hall of Fame memorabilia, and autograph opportunities with NFL players from 11 a.m. to 11 p.m.
Saturday, Feb. 3
There are no scheduled media availabilities. The NFL will hold the Super Bowl breakfast, including the Bart Starr Award presentation, in the Minneapolis Hilton at 8 a.m.
Sunday, Feb. 4
Patriots vs. Eagles in Super Bowl 52 at U.S. Bank Stadium. 6:30 p.m. kickoff.
Monday, Feb. 5
The winning team's head coach and Super Bowl MVP will talk to the media in the Mall of America at 8:30 a.m.