Patriots
Thousands of fans give Patriots a super sendoff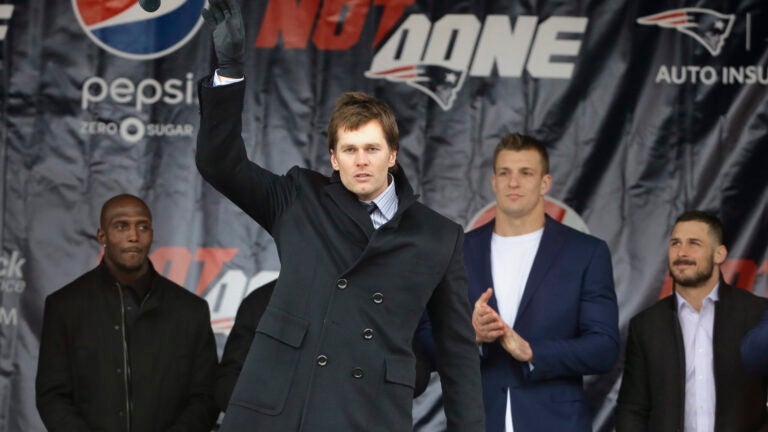 https://www.facebook.com/boston/videos/vb.6879409364/10156174409754365/
FOXBOROUGH, Mass. (AP) — Tom Brady praised the Philadelphia Eagles, dropped the microphone and then walked off stage Monday to lead the New England Patriots on the road to the Super Bowl.
"It's going to be fun, it's going to be a lot of hard work, we're playing a great team, but I tell you what, we've got a locker room full of guys that are ready for the challenge," the Patriots' 40-year-old quarterback said at a sendoff rally outside Gillette Stadium attended by thousands of fans, some of whom arrived in the pre-dawn hours.
Brady, the last of several players to speak, praised the fans for their support all season.
"We got one more to go. We're going to go out there are try to win it for you guys. We love you. Patriots out!" he shouted to raucous cheers.
One fan dressed as a snowman while one wore a giant replica of a Super Bowl ring on his head. One woman carried a sign that read "Just like Tom Brady, this never gets old.'
After the rally, the team boarded buses for a short trip to T.F. Green Airport in Rhode Island for the flight to Minneapolis for Sunday's Super Bowl.
The fans also heard from coach Bill Belichick, and several other players including receiver Danny Amendola and defensive back Duron Harmon, who prompted the crowd into chanting "MVP!" before introducing Brady.
Tight end Rob Gronkowski also appeared on stage, although he didn't speak, raising fans' hopes that he'll be able to play in the Super Bowl after suffering a concussion in the AFC championship game against the Jacksonville Jaguars.
The festivities were brief. The rally was supposed to start at 9 a.m., but the players did not come on stage until just after 10 a.m.
The crowd was kept entertained by the team's radio crew Bob Socci and Scott Zolak, as well as former player Jermaine Wiggins, a member of the 2001 championship team.
Fans also shared in 16-foot-by-12-foot Boston cream pie decorated with the words "Not Done," the team's motto for this Super Bowl made by Montilio's Baking Co., and cut into 4,000 pieces.