Patriots
Tom Brady cuts WEEI interview short in response to comment about daughter
Morning show co-host Alex Reimer has been given an indefinite suspension.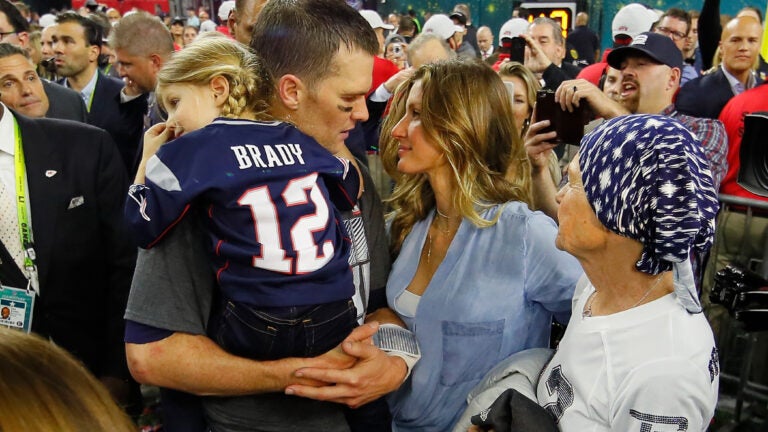 Tom Brady cut his weekly radio interview on WEEI short on Monday, citing a recent comment made about his daughter. Brady said it was "very disappointing" to hear a derogatory comment about her and ended the normally longer segment.

Kirk & Callahan," Brady called out the station for comments made the preceding Thursday by host Alex Reimer in regard to his daughter, Vivian, and her appearance in the documentary, "Tom vs. Time." On air, Reimer referred to her as an "annoying little pissant." Brady responded:
Tom Brady on @AlexReimer1's comments: "It was very disappointing to hear that, my daughter or any child certainly does not deserve that." Tom then concluded the interview.

— Kirk & Callahan (@KirkAndCallahan) January 29, 2018
Brady said he is going to assess whether he wants to continue doing weekly interviews with the station. On Jan. 24, the Patriots and WEEI's parent company, Entercom, announced an extension of the existing partnership, which includes weekly interviews with Brady and Patriots coach Bill Belichick.
Tom Brady cuts his weekly interview short on WEEI, saying he was disappointed to hear of news that host Alex Reimer made a disparaging remark about his daughter when discussing the "Tom vs. Time" documentary. Brady said he is evaluating if he wants to be on the show again.

— Mike Reiss (@MikeReiss) January 29, 2018
Here's audio of the original remark:
You're a piece of sh**. We all know that you don't like Brady. We get it. But attacking his daughter? Really? That crosses the line. I hope you get fired…. pic.twitter.com/RZCSm80BAv

— armyjen (@armyjen27) January 28, 2018
According to WEEI, Reimer was handed an "indefinite suspension" a day after the comment was made.