Patriots
Mark Wahlberg: 'If the Eagles win, I am telling you I would be fine'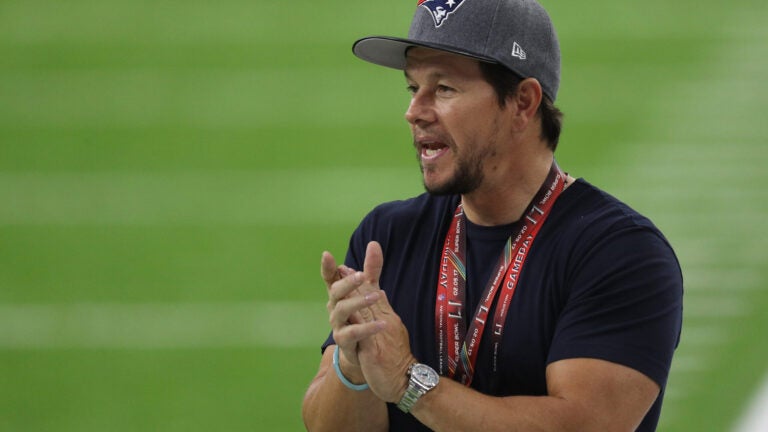 Mark Wahlberg has yet to have a chance to leave Super Bowl LII early, but the Dorchester native is already causing a stir before the big game.
Wahlberg — who exited NRG Stadium before the Patriots' thrilling comeback in Super Bowl LI — said on "Not Just Sports with Suzy Shuster and Rich Eisen" that he would be "fine" if Philadelphia beats New England on Sunday. The actor predicts the Patriots will "win by 17," but he apparently won't have any issues with the result if it ends up being the other way around.
"If the Eagles win, I am telling you I would be fine," he told the podcast hosts. "If it was anybody else, I would be devastated."
Wahlberg's ambivalence is largely influenced by his role in the 2006 film Invincible. Having played Vince Papale, a Pennsylvania native and former Eagles wide receiver, Wahlberg said he's very excited by Philadelphia's Super Bowl appearance.
"Having played an Eagle, having become an honorary Philadelphian, having been welcomed by the Philadelphia fans as one of their own," he said. "I have made five movies in Philadelphia. I predicted the Eagles would make it to the Super Bowl. It's my Patriots and Eagles and I couldn't be happier. I am very excited. It is win-win."
The 46-year-old said he and his family plan to head out to Minneapolis over the weekend to catch the game at U.S. Bank Stadium. Wahlberg said his wife, Rhea Durham, is very invested in attending, as she was the one who wanted to stay through the entirety of 2017 Super Bowl, too.
"My wife would never go on a cold vacation, and now she wants to go to Minnesota for the game," he told Shuster and Eisen. "That's how much she loves the Patriots."