Patriots
Super Bowl 52 has Super sandwich with 52 ingredients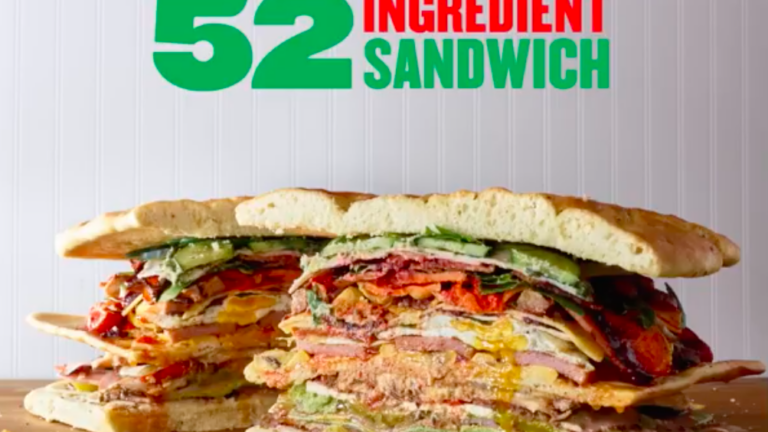 BLOOMINGTON, Minn. (AP) — The Patriots are hungry for yet another Super Bowl win. The Eagles are voracious for a first such title.
Everyone else in the Twin Cities will have to settle for something else. Such as a massive sandwich by master chef Ron DeSantis that will include 52 ingredients — one for each of the Super Bowls.
DeSantis, one of 68 certified master chefs in the United States, is working with Hormel Foods to create a sandwich 9 inches tall, 26 inches long and 18 inches wide. It takes 2 1-2 hours to make, and can feed 48.
"My inspiration is you have got the 52nd Super Bowl and how to make something as magnificent that stands up to that," DeSantis says. "I am about food, so 52 unique ingredients."
Half of the sandwich will be cold, the other half hot.
"The bottom part of the sandwich has cold, the top has all hot," he explains. "You got two sandwiches put together with a hummus that is kind of like the glue to keep together the top and bottom.
"It was a lot of fun."
The sandwich will be unveiled later in the week, with Minnesota receiver Adam Thielen and maybe other NFL players dropping by the Mall of America to take a bite on Thursday.
So what goes into such a masterpiece?
Just about everything.
For example: provolone, havarti and gouda cheese; genoa salami, ham, porchetta, bacon, turkey and pulled pork; hummus; roasted sweet potatoes; spinach, cucumber, artichoke spinach dip, roasted tomatoes; grilled onions, zucchini, peppers and eggplant. Even SPAM.
You get the message.
"Thinking through the flavors and textures, I did flavors that are kind of Mediterranean rim," DeSantis says. "I needed to make sure everything on there stays with that kind of flavor. Things from Mexican or Indian or Asian (cuisines) might not fit."
DeSantis invited some neighbors over to sample the mixture he will be putting into the Super Bowl sandwich. It filled them up.
"This is a meal," he says. "You slice into this and it is like a meal. I had the neighbors over and they ate a full wedge of it and said, 'I am done.'"
DeSantis is the director of culinary excellence and quality assurance for Yale Dining. He's also worked with the Culinary Institute of America.