Patriots
Trio of former Eagles has shined with the Patriots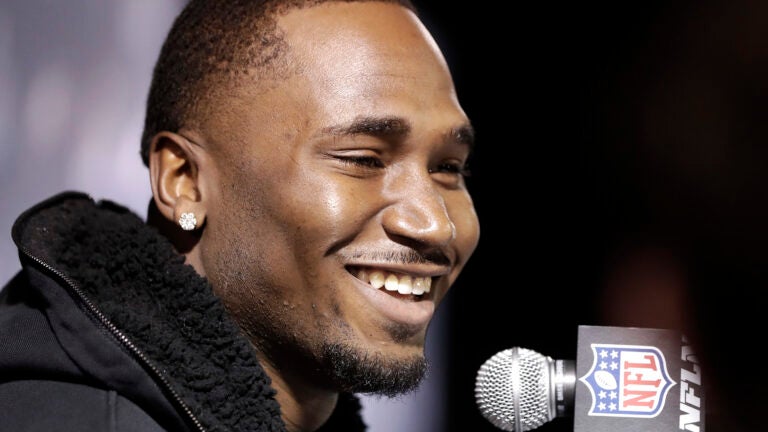 BLOOMINGTON, Minn. (AP) — One thing sticks out to Patriots running back Dion Lewis about his time with the Philadelphia Eagles.
"Not playing," Lewis said Tuesday with a smirk.
Lewis is one of three Patriots starters who will be facing their former team in Sunday's Super Bowl, along with receiver Danny Amendola and safety Patrick Chung.
All three players look back on their experiences in Philadelphia differently, but they have played their best football since being rejected by the Eagles early in their careers.
Lewis was drafted by Philadelphia in the fifth round in 2011 and played two seasons for them before he was traded to Cleveland. Amendola was among Philadelphia's final cuts in training camp in 2009. Chung started his career in New England, spent a forgettable year with the Eagles in 2013, then returned to the Patriots in 2014.
Amendola has experienced people doubting his abilities since he entered the league as an undrafted free agent with Dallas in 2008. He signed with Philadelphia in 2009 after being cut by the Cowboys. But after eight months with the Eagles, he was released. He was signed up by the St. Louis Rams and stayed there for four seasons before signing a five-year contract with the Patriots in 2013.
This past Christmas he tweeted a picture of his framed No. 11 Eagles jersey, a gift from a friend.
Who's who. #nfl #allwork #hellaBLESSED pic.twitter.com/KXQpQ92KCb

— Danny Amendola (@DannyAmendola) December 26, 2017
"It's in my pool room — hanging as daily motivation," Amendola said. "I've come a long way since getting the opportunity to play there. It obviously didn't work out, so I guess I take it as a learning experience and just realize how far I've come."
Chung thought he was heading for a fresh start when he signed a three-year contract with Philadelphia in 2013, but it didn't work out under then first-year coach Chip Kelly. Chung was back in New England the next season. The decision paid off with a Super Bowl ring last season.
As for that 2013 season, Chung was coy about what he remembers about the experience.
"That'll be between me and those people," Chung said.
Lewis said despite his success in New England winning a ring last season and leading the team this season in rushing yards (896) and rushing touchdowns (six), he has learned to stay motivated.
"Never safe. You still gotta put the work in. You still gotta get an opportunity. That's what most of the guys in the league need — just an opportunity to compete," Lewis said.
He said he's matured a lot since leaving Philly.
"People look at you and kind of characterize you," Lewis said. "They try to tell you what they think you can do without even really knowing you. That's kind of what I went through. I just kind of keep battling and showing people what I can do."
As much as Lewis, Amendola and Chung have enjoyed their time in New England, they aren't naive to how the Patriots deal with aging players. This past offseason the Patriots parted with LeGarrette Blount, who led the NFL with 18 regular-season rushing touchdowns in 2016. But he also had turned 30, long considered the age of decline for running backs.
Blount was vocal about his desire to stay in New England, but the Patriots signed Mike Gillislee. Blount took a one-year deal with the Eagles, where he has had a good season and been a leader.
Amendola restructured his contract to remain with New England this season. With Julian Edelman out for the season with a knee injury, Amendola has stepped up, leading the team with 196 yards receiving and two touchdowns in the playoffs.
At 32, he will also enter free agency this summer.
Lewis is in the second year of a two-year deal and becomes an unrestricted free agent in the offseason. Chung, who turns 31 this summer, is signed through 2018.
Chung said he's always admired Belichick's no-nonsense approach to football. When reports came out about Belichick possibly considering retirement, Chung joked that his future was linked to that of his coach.
"When he's done, I'll be done, too," Chung said.
Lewis said he will have no regrets if this is in his final season in New England.
"Just being here and learning what it takes to be a champion," Lewis said. "I think that's something I'll always remember, regardless of what happens. I'll just cherish my moments here."
The Patriots gave him — and Amendola and Chung — what they've always wanted: an opportunity.
"Nobody's really given me a chance, and these guys gave me a chance. So that definitely means a lot to me," Lewis said. "So I'll always just remember what I've learned here. And hopefully I'll still be here."