Patriots
Lawrence Guy and Ricky Jean Francois appreciate their tough paths to Super Bowl LII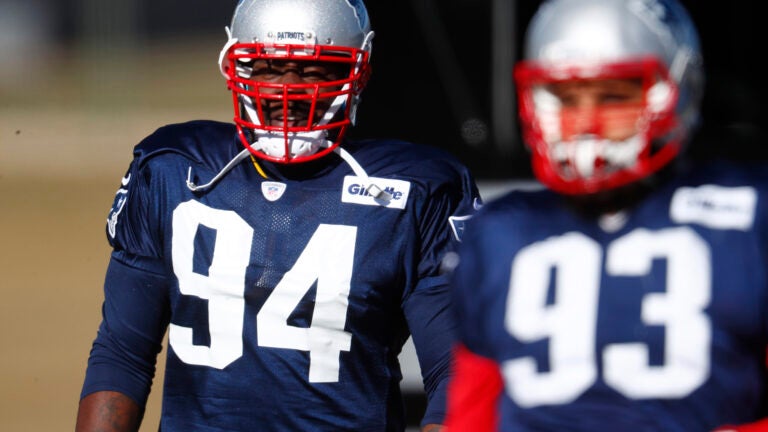 BLOOMINGTON, Minn. (AP) — The Patriots have had a knack for getting sometimes unexpected production out of late-round draft picks and undrafted free agents during Bill Belichick's tenure.
From Tom Brady to Julian Edelman to Danny Amendola to last season's Super Bowl star James White, the list is long and lauded.
This season has been no exception with 2011 seventh-round draft pick Lawrence Guy and Ricky Jean Francois, a seventh-round pick in 2009, each providing contributions that have helped solidify New England's defensive line that has thrived during the second half of 2017.
The Patriots want to make life as miserable as possible for Philadelphia Eagles quarterback Nick Foles in Sunday's Super Bowl.
It puts the spotlight on Guy and Jean Francois, with Deatrich Wise (concussion) and Malcolm Brown (foot) both dealing with injuries.
Guy said experiencing his first Super Bowl has validated the path he took to get here.
"My journey's still going," he said. "I wasn't thinking about this a couple of years ago. I was just thinking about doing what I could do to play harder and harder, study film and stay on the team and contribute. But now I'm blessed to be here."
Guy started 15 games during the regular season at either defensive tackle or defensive end, and he's started both playoff games.
Jean Francois appeared in six games after signing with the Patriots in early November and started New England's AFC championship game win while playing defensive end.
"My appreciation is high for this," said Jean Francois, 31, who came to the Patriots following stops in San Francisco, Indianapolis, Washington and Green Bay. "I'm having fun. Clowning around with my teammates. Sitting down, watching film. Just appreciating the moment."
Jean Francois will be getting his second shot at a Super Bowl. He was on the 49ers team that lost to Baltimore in the Super Bowl to cap the 2012 season. It's an opportunity he acknowledged he wasn't sure he'd get again.
"It's crazy. I never thought there'd be a point when I'd be starting in the AFC championship game again," Jean Francois said.
"I started in one for the Colts (2014 season), but the next year I was gone. But to be on a team like this and be able to start again in a short period of time. That shows you how much trust and how much I had to do to be in that position."
Since starting with Green Bay in 2011, each of Guy's subsequent stops in Indianapolis and San Diego ended with him getting waived. He had his longest run after being picked up by Baltimore in 2014. He played 11 games for the Ravens in 2014, and appeared in every game over the next two seasons.
The Patriots grabbed him in free agency last March, signing him to a four-year, $20 million deal. He's had one of his best seasons so far, starting 15 games and finishing with a career-best 34 tackles and a sack.
Guy said he's never been deterred by the "ups and downs" he's experienced.
"It can happen at the beginning of your career, it can happen at the end of your career. But sooner or later you're probably gonna get waived here and there," he said.
Defensive coordinator Matt Patricia says Guy's attention to detail has allowed him to play several different positions in the Patriots' system. Patricia said Guy's been able to help not only against the run, but he's been able to transition "into a little bit more pass rush into the pocket and push and be up in the quarterback's face."
Even in his sixth season, Guy said he's tried to keep learning from older players around him.
"Everything I've gone through made me more of a man and made me better as a player," Guy said.
"To experience this type of week is great. It's a once-in-a-lifetime situation that you can never get back."