Patriots
Nick Foles: From brink of retirement to Super Bowl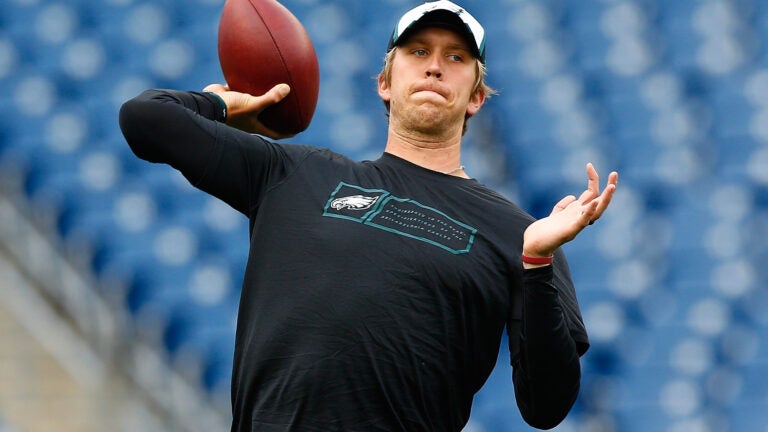 BLOOMINGTON, Minn. — Down and out, Nick Foles was on the brink of retirement.
Yet after some soul-searching over a fly-fishing and camping trip with his brother-in-law, the quarterback decided not to hang up his cleats.
Good move.
Now, nearly two seasons later and an unlikely twist of fate, Foles is set to lead the Philadelphia Eagles (15-3) against the New England Patriots (15-3) on Sunday in Super Bowl LII at U.S. Bank Stadium.
Foles enjoyed some success early in his career as Michael Vick's backup in Philadelphia after he was drafted in the third round of the 2012 NFL Draft. He started seven of nine games as a rookie. The following season, he guided the Eagles to the playoffs and made the Pro Bowl. His future appeared bright.
However, after a third season with the Eagles, Foles was traded to the Rams in 2015 in a deal that included Sam Bradford. He struggled to a 4-7 record as a starter and worked to get his release to become a free agent following the disappointing season.
It was then that Foles contemplated his future in football.
"In my heart at that time, I was probably going to step away from the game," Foles said. "But, I also knew that being in that situation that I had to take a few days just to let all of the emotions settle."
Foles, 29, wasn't sure how he reached that crossroad so early in his career.
"It had nothing to do with starting," Foles said. "I really had to go with my heart in that situation. Getting the opportunity to step away, I went on a fly-fishing/camping trip with my brother-in-law Ryan and coming back and just asking my wife, Tori, about it, I still didn't have a clear decision about what I wanted to do.
"But that's when I really prayed and really asked God for guidance. There wasn't a sure path. I really just took a step on faith. I knew that I'd have more growth as a person going back to the game."
When Foles decided to carry on, he had some tight parameters on where he would play next. Former coach Andy Reid, now with the Chiefs, called. Foles answered. He signed a one-year deal in Kansas City.
"At that point, there were several teams that called, but the only one that I was going to play for was Kansas City because of coach (Andy) Reid being there," Foles said. "He's a man that's always believed in me no matter what."
During that rookie season in Philadelphia, Foles and Reid bonded.
"If I had joy in me, he could bring it back out," Foles said. "He sure did."
Foles backed up Alex Smith last season. And, more important, football was fun again.
"Being in Kansas City last year was one of the special years in my football career," he said. "I might not be sitting here today if I didn't have coach Reid right there for me."
Foles re-signed with Eagles in the offseason on a two-year contract to reunite with Doug Pederson, his quarterback coach with the Eagles in 2012, to back up Carson Wentz.
And then the twist of fate.
Wentz suffered a season-ending knee injury in the 13th game of the season. Foles finished the regular season as the starter and then guided the Eagles to a 15-10 victory over the Falcons in the NFC divisional round of the playoffs.
Foles was amazing in the NFC Championship game against the Vikings the following week. He threw for 352 yards and three touchdowns in a 38-7 win to clinch a spot in the Super Bowl.
About to make the biggest start of his career, Foles can look fondly back on the bumpy start to his career.
"Starting the games a rookie, you know any time that you get to go out there and play, especially as a rookie, you are kind of thrown into the fire," said Foles, who started his college career at Michigan State before he transferred to Arizona. "You just develop. You start picking up the speed of the game.
"You are playing in the NFL and you're learning an NFL offense."
He went 1-6 as a starter that first season.
"It was a great experience," Foles said. "We did not do very well, but I learned a lot. I remember when we were able to beat the Bucs for my first career win, I remember sitting at my locker thinking that 'Hey, this NFL thing is pretty tough.'
"It's hard to get a win in the NFL. That's when you see guys (so happy), because it's not easy to get a win."
Despite the issues on the field, Foles and Vick worked well together.
"Mike Vick was always great to me," Foles said. "Getting to play for someone who is arguably one of the greatest athletes ever to play the game of football, he was always great to me, being around him and being his teammate, he did everything the right way.
"Just watching him throw the football was a thing of beauty. And to just watch him move around, those are things that I will cherish for sure."
The Eagles took off in 2013 in Chip Kelly's first season as head coach.
Foles went 8-2 as a starter and nearly out-dueled fellow Austin, Texas, native Drew Brees in a playoff loss to the Saints. Both Foles and Brees went to Westlake High.
"In 2013, I was surrounded by amazing players and an amazing team," Foles said. "We had a really good team. We fed off of each other. We had a lot of talent and guys that made plays."
In 2014, the short-lived Kelly era was over with the Eagles and Foles found himself with the Rams. And a year later, thinking about ending his career.
Foles' up-and-down journey would be complete with a victory over the Patriots on Sunday.
"Nick just has to be himself," Eagles wide receiver Torrey Smith said. "He doesn't have to go out there and be a hero."