Patriots
Why Marty Walsh doesn't do those friendly Super Bowl wagers
The Boston mayor doesn't exactly have the best record of success.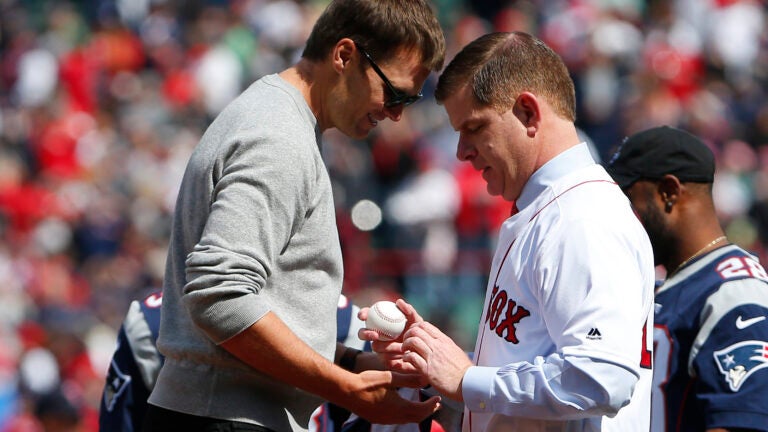 It's Super Bowl week again, so you've likely noticed the return of those playful wagers between elected officials in the cities and states of the two opposing teams. With the Patriots making their third Super Bowl appearance in four seasons, it's beginning to feel like an annual tradition in New England.
Gov. Charlie Baker is putting a spread of Massachusetts food on the line in his bet with Pennsylvania Gov. Tom Wolf. Sens. Elizabeth Warren and Ed Markey are betting an assortment of local Bay State craft beer for brews and cheesesteaks from the Keystone State's two senators. Attorney General Maura Healey has a bet with her Pennsylvania counterpart, in which the losing side has to wear the opposing team's jersey. Even Boston's archbishop and an increasing number of local businesses are getting in on the action.
So what about Boston Mayor Marty Walsh? What silly wager does he have on Super Bowl LII?
There is none. According to Walsh's office, the mayor no longer does sports bets. The reason? Walsh doesn't want to jinx the Patriots, since his last few sports wagers didn't turn out so well for the home team — or, for that matter, him.
You have to go a few years back, but it is true.
In 2014, shortly after Walsh's first inauguration, he placed a wager with Denver Mayor Michael Hancock on the Patriots-Broncos AFC Championship Game. It was quite an extensive bet:
If the Patriots win, Hancock will wear a Patriots jersey at the U.S. Conference of Mayors next week in Washington D.C. and ship some green chile, a hoodie, hat, and skis from Icelantic Skis in Denver.

If the Broncos win, Walsh will wear a Broncos jersey to the conference, send 5 pounds of chocolate turtles from Phillips Candy House in Dorchester, and donate some locally inscribed books to Denver Public Libraries.
The Patriots lost 26-16. And while Walsh never made it to the conference because of a snowstorm, he did eventually post a picture of himself in his office in a Peyton Manning Broncos jersey.
I'm a man of my word, even when it stings. Here you go, @mayorhancock: pic.twitter.com/YwAKSMtHc6

— Mayor Marty Walsh (@marty_walsh) January 27, 2014
A few months later and another local team was in the playoffs, and another bet was made.
When the Bruins lost their series to the Montreal Canadiens, Walsh was forced to fly the Canadian city's flag above Boston's City Hall (though he did do it in the most passive aggressive way). Walsh reportedly even placed a wager on Boston College's appearance in the 2014 Pinstripe Bowl, which the Eagles lost 31-30.
So with the Patriots in the 2015 Super Bowl two months later, the mayor wasn't going to risk it.
"I figured that my betting career with mayors was over," Walsh told WBZ NewsRadio last week. "The moment I stopped betting, we won the Super Bowl versus Seattle, we won the Super Bowl title versus Atlanta, and so on. I'm not going to put any jinx on the Patriots or any of our Boston teams."
The decision did appear to leave one person hanging.
Philadelphia Mayor Jim Kenney had been holding out for the Super Bowl to make any wagers, declining to place bets with the mayors of Atlanta or Minneapolis during the Eagles' playoff run.
"The Mayor doesn't want to jinx anything, so he's saving his wagers for the big game," Kenney's office told the local CBA affiliate.
But with Walsh sticking to his pledge, the Philadelphia mayor ended up accepting a Rocky statue-based wager with the mayor of Brockton.
Apparently, Kenney is unworried his course reversal may jinx his team. And if the Patriots win Sunday, fans have Marty Walsh's steadfast discipline to thank.