Patriots
Kraft, Belichick, Brady: 18 years of incomparable success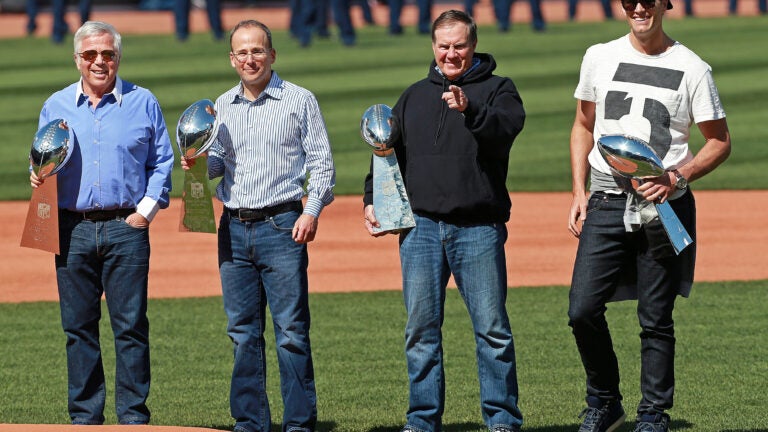 BLOOMINGTON, Minn. — Robert Kraft has told the tale of his first encounter with Tom Brady often enough through the seasons that it has become Patriots lore, an origin story so perfect in retrospect that it's a slight surprise it hasn't already been engraved on a commemorative plaque at Patriots Place.
Kraft tells it like this: A few weeks after the Patriots selected Brady with the 199th choice in the 2000 NFL Draft, the Patriots owner was in the parking lot of Foxborough Stadium at approximately 8 p.m., headed to his car to leave for the night.
Brady, on his way out himself and carrying a couple of pizzas to bring back to his apartment, spotted Kraft and walked over to introduce himself.
"I know who you are,'' said Kraft. "You're our sixth-round draft choice out of Michigan.''
Brady, as Kraft tells and retells it, gripped the owner's hand firmly, looked him in the eye, and said, "I'm the best decision this organization has ever made.''
It's a wonderful story for many reasons, foremost because the vow became truth. Eighteen years after Bill Belichick brought the skinny and under­estimated Brady to New England, choosing him has long since proven to be the best personnel decision any NFL organization could conceivably make.
Brady has guided the Patriots to five Super Bowl victories, with the quest for a sixth culminating Sunday night when they face the Eagles in Super Bowl LII in Minneapolis. Still thriving at age 40 — the super-health-conscious Brady is far more liable to be spotted toting around avocado ice cream rather than pizza nowadays — he has ended all debate about the best quarterback of all time; every other passer is playing for second.
Along with Belichick, who will be coaching in his 11th Super Bowl and eighth as Patriots head coach, and Kraft, whose franchise will be playing in its ninth Super Bowl since he bought it for $172 million in 1994, Brady has been one of the three cornerstones of the greatest and most prolonged dynasty in NFL history. The Patriots won three Super Bowls in four years from 2001-04, are aiming to achieve that three-in-four feat again, and remained an annual contender in the nine championship-free seasons between their '04 and '14 titles.
The best decision a franchise has ever made? It's difficult to imagine there ever could be a better one, though Kraft's hiring of Belichick as head coach in January 2000 has a case as the co-best decision.
But there's one problem with Kraft's story. It might be apocryphal. Says who? Well, here's how Brady remembered it when asked about it during Super Bowl week.
"I'm still going to dispute what was said on that day,'' he said. "I don't think I said, 'I'm the best decision.' What I believe I said was, 'You'll never regret picking me.' I think I was just excited to be a part of the Patriots. I didn't know much about the franchise growing up in California, being a 49er fan, being in the NFC, being in the other part of the country. The Patriots didn't have a great team so it's not like they were on TV very often. But I just wanted to be part of a team.''
Unlike any other
Brady, famously taken after six other quarterbacks in the 2000 draft, would eventually become the least-regrettable draft pick in NFL history. But initially, part of the team was all he was.
"When he came in, I don't want to say he was an afterthought, but he was the third or fourth quarterback behind a quarterback who had just gotten a $100 million contract in [Drew] Bledsoe,'' said Tedy Bruschi, a Patriots linebacker from 1996 through 2008. "Tom got really close with a lot of us who weren't those big-money guys. He's the greatest quarterback of all time now. Back then, he was just someone I enjoyed intercepting in practice.''
Since becoming the starter in the second game of the 2001 season when incumbent Bledsoe was injured on a franchise-altering vicious hit by Jets linebacker Mo Lewis, Brady evolved into the linchpin of the greatest dynasty the league has known, exceeding even the accomplishments of his beloved Niners.
Led by quarterback Joe Montana, coach Bill Walsh, and owner Eddie DeBartolo, the Niners won Super Bowls in the 1981, '84, and '88 seasons. Walsh retired, but the Niners went back-to-back under new coach George Seifert in '89. In 1994, he won his second as coach with Steve Young at quarterback.
If the Niners weren't the premier dynasty in the Super Bowl era, then the accolade would go to the '70s Steelers, who won four titles (1974, '75, '78, and '79) with the Chuck Noll/Terry Bradshaw/Art Rooney coach/quarterback/ownership triumvirate. Vince Lombardi's Packers won five championships in seven seasons in the '60s, including the first two Super Bowls. But even that pales in comparison with the Patriots' achievements.
The Patriots of Brady, Belichick, and Kraft (who emerged as one of the league's most powerful owners, including serving as head of the television committee) have surpassed all of them, and they've achieved it with a far greater degree of difficulty than any dynasty of the past.
"The league is designed for this not to happen,'' said Cris Collinsworth, NBC's color analyst for the Super Bowl and a rookie wide receiver on the Bengals team that lost to the Niners in Super Bowl XVI. "The entirety of the draft and free agency and the salary cap and all of that is specifically built into the system so that the Patriots, or anybody, don't dominate the sport.
"The fact that the Patriots have been able to dominate the sport for nearly 20 years now despite the founding fathers' great intentions that parity would rule this league has really thrown a little bit of a monkey wrench into the thing. What Tom and Bill and Robert have accomplished, well, we're living through history. I'm not sure you'll ever see this history again.
"Those were different eras. You could spend more money if you had it. You could build depth because there was no cap, no free agency. I used to say that when we played the 49ers, I was like, 'Their backups could have beaten our starters.' You can't do that anymore.''
Three constants remain
Brady, Belichick, and Kraft have been the constants in the three most prominent roles with a franchise. During their time together, the Patriots have won 15 AFC East titles, including the last nine. They've reached the AFC Championship game 12 times, with eight victories. They've had a winning record for 17 years in a row, with the low point being a 9-7 record in 2002.
They've achieved all of this while turning over the roster around Brady multiple times. Kraft, who clashed with his first coach, Bill Parcells, over who should have final say in player personnel — a.k.a., "shopping for the groceries'' — learned his lesson and, beyond his understandable recent adamancy that Brady will never play anywhere else, has left the football decisions to Belichick. And Belichick's lack of sentimentality in constructing a roster has led to the departure of popular players, but rarely if ever leading to long-term regret.
Early defensive stars such as Bruschi, Ty Law, and Willie McGinest were holdovers from the previous Pete Carroll regime. Mike Vrabel, Richard Seymour, and Rodney Harrison arrived, thrived, and went. Troy Brown and Deion Branch were Brady's first favorite targets. Then Randy Moss, Wes Welker, Julian Edelman, Rob Gronkowski, and Danny Amendola came along at various times and places in history. The draft provided first-round stalwarts (Devin McCourty, Logan Mankins), late-round finds (Edelman, David Givens), and even an unknown free agent who would blossom here and there (Malcolm Butler, Nate Ebner).
"The team flipped a lot over time,'' said Bruschi. "From a team-concept, defensive-focused, running-the-football style to . . . well, I mean that's all still there. But there was a time when the offense ended up surpassing everyone else and we got to the point where I was just getting up off the bench to watch Tom throw to Randy Moss. There have been a lot of different incarnations of this thing within these last 17 years.''
When will it all end?
The question of how much longer the Brady/Belichick/Kraft partnership will last is a popular one, especially in 31 other NFL markets. Kraft is 76, but there isn't a more stable ownership situation in the league. Belichick, 65, has been a head coach for 23 seasons (including five in Cleveland), tying him with Noll for the seventh-most in pro football history. The next clue he provides on how long he plans to coach will be the first.
As for Brady, he's already well past the typical career span of even the most accomplished quarterbacks. He threw 32 touchdown passes at age 40 this season. Warren Moon has the most total TD passes by a quarterback in his 40s, a mere 44. Barring catastrophe, Brady will surpass that early in the 2018 season. But can he play into his mid-40s, his stated goal? It won't be from a lack of effort. As the current documentary "Tom vs Time'' confirms, he's fanatical about mental and physical fitness. And his love for football has never waned.
"I'd still be running around out there if my body would allow it,'' said Brown, 46, who retired following the 2007 season after 15 years as a Patriot. "But my body didn't want to do it anymore. That's how it ends for a lot of us. Other players lose their spirit, the will to put the body through what it has to go through to survive in this league. They don't want to grind through it anymore. Neither of those things have happened with Tom. He takes care of his body, and he loves the game as much as he did when he got here.''
A much-discussed ESPN the Magazine story in January reported there was "dysfunction'' in the Patriots organization, primarily regarding the late October trade of promising backup quarterback Jimmy Garoppolo to the 49ers. The story portrayed Brady as threatened by his presence, with Kraft eventually telling Belichick that he needed to trade Garoppolo. Several details in the story were denied by the Patriots, though Kraft has acknowledged there has been some tension in the organization this season.
"I think a certain amount of tension helps make great things happen,'' he told the NFL Network's Andrea Kremer last week.
Harrison, a stalwart safety for the Patriots from 2003-08, said the story was not one about dysfunction, but human nature.
"They should've written a story about me and my wife, because we have strife sometimes,'' Harrison said. "Are you married? Do you have strife sometimes? Yeah, and sometimes she won't talk to me for a couple of days. It happens when you're in a long-term relationship. It happens. That's a relationship. That's a partnership.
"The thing I see with those guys is that they respect one another. And Belichick knows how to push Tom Brady more so than anybody. So it's a healthy, respectful relationship. Do I agree with my wife, did I agree with Mike Vrabel and all the calls [on the field when we were playing]? No. But it happens, and you learn to work through it.''
Quest for sixth
Exactly 16 years and a day after Brady led the Patriots to that stirring upset of the Rams in Super Bowl XXXVI, he'll lead them on to the field Sunday to face the Eagles in pursuit of an almost unfathomable sixth ring.
The other 52 names on the roster that will join him in the quest have long since changed from the first one. But Belichick will be on the sideline, and Kraft in the owner's box, and should they work through what the Eagles throw at them to prevail on Super Bowl Sunday again, the final scene will be a familiar one.
Red and blue confetti will fall. The three cornerstones of the dynasty will gather with the rest of the joyous team on the podium to receive another Lombardi Trophy. And the rest of the NFL will wonder for one more year when the greatest run in football history is ever going to get around to ending.
Must-see photos from Super Bowl LII:
[bdc-gallery id="6832009″]