Patriots
Olivia Culpo talks her Boston roots, growing career, and Patriots fandom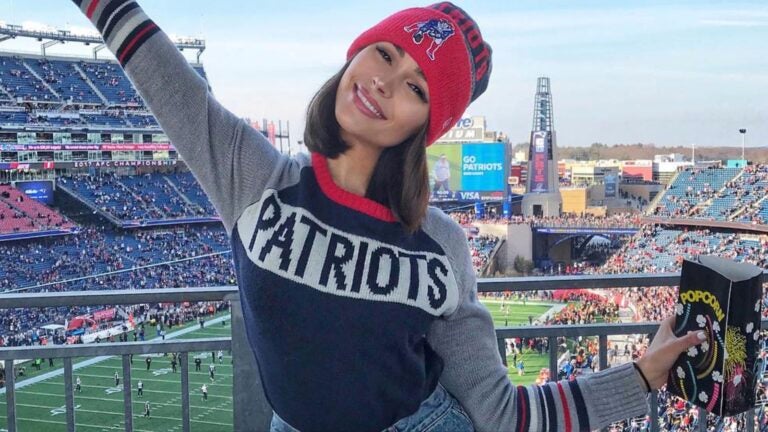 MINNEAPOLIS — Nobody seemed more excited for Danny Amendola than Olivia Culpo following the Patriots' AFC Championship win.
Culpo — who has been publicly linked to the Patriots wide receiver since 2016 — jumped into her boyfriend's arms after New England's 24-20 victory over Jacksonville at Gillette Stadium.
The former Miss Universe, however, has been rooting for the Patriots long before she and Amendola started dating. Culpo grew up in Cranston, Rhode Island, which is about a 30-minute drive from Foxborough.
"The Patriots have always been a huge part of my family since I was young," she told Boston.com. "Making time for the games was just something we did. I have still kept this mentality to this day and always try and attend games whenever possible."
The 25-year-old will often share celebratory tweets and Instagrams to congratulate Amendola, who has proven to be one of the keys to the team's postseason success. In Super Bowl LI, the wide receiver caught a touchdown and a two-point conversion to help the Patriots overcome their now infamous 28-3 deficit.
After the game, Culpo shared a photo of the couple on the field at NRG Stadium.
"Going to the Super Bowl is such an amazing experience, and I am so excited to get to go again this year," Culpo said. "The energy and excitement of the stadium is like nothing I have ever experienced before. I cannot wait to do it all over again in Minneapolis."
During the Patriots' media availability Tuesday, a reporter joked to Amendola that he and Culpo are giving quarterback Tom Brady and wife Gisele Bünchden a run for their money as the team's "it" couple. But Amendola insisted there's no competition. When asked what he liked most about his girlfriend, the 32-year-old fittingly said, "She's supportive, man. She's just really supportive."
He also recounted the tale of how they met.
"I met her on the corner of Hollywood and Vine, just walking down the street, and we bumped into one another," he said. "It's crazy."
The long weekend in Minnesota comes just before the start of February's New York Fashion Week — yet another reason for Culpo to return to the East Coast since moving to Los Angeles. The model made her runway debut in September, walking in Zadig et Voltaire's NYFW show.
She was also recently selected to a Sports Illustrated Swimsuit Issue's Rookie class and is one of 12 currently vying to be named SI's Rookie of the Year.
"Being in Sports Illustrated has always been a dream of mine," Culpo said. "I am so excited and thrilled to have made this dream a reality, and I cannot wait to see what else the future holds."
On her website, Culpo will often post tips on "how to style" certain clothing items as well as suggestions for replicating some of her past looks. Although she lives on the West Coast now, Culpo believes "growing up in Rhode Island had a huge influence" on her career and her fashion sense.
"I am incredibly proud to be from New England and am grateful I was able to grow up there," she said. "I draw inspiration from many different parts of my life and love the idea that inspiration can be drawn from anywhere. I think I really take that to heart. My style has certainly changed and evolved since I have moved to L.A., but I think your style should evolve and change with you."
Culpo's widespread success has also landed her a role in E!'s new eight-episode docu-series, Model Squad, which will offer a glimpse into the behind-the-scenes lives of nine young models. Despite her continually growing stardom, Culpo said she still feels an attachment to her roots and the city of Boston.
"I have made a lot of great memories in Boston," she said. "It will forever hold an important place for me."
Not only did Culpo attend Boston University for two years, but her mother, Susan Curran, was also a viola player in the Boston Pops and the Boston Symphony Orchestra. Her family frequently made trips into the city while she was growing up, which is something Culpo said she'll always remember.
In addition to visiting Amendola in Rhode Island, Culpo and her father, Peter, own a comfort-food restaurant in North Kingstown, called Back 40. The family spot serves much of what she ate growing up: homemade pastas and flatbreads, along with some other East Coast specialities.
Outside of her work, Culpo said she is "very into meditation." Often on the road for work or leisure, Culpo said she finds it therapeutic to write down her thoughts and feelings in her journal when she travels.
"I like to try and find time every day — even if it is just five minutes — to do a mediation," she said. "I have a few apps on my phone that have guided meditations, but I also like to do my own."