Patriots
Who the Patriots almost hired instead of Bill Belichick in 2000
Fittingly, a snowstorm played a role in Belichick's hiring.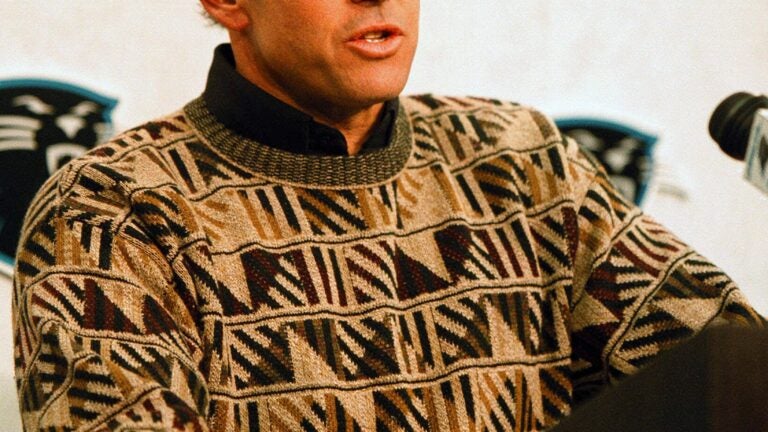 The Patriots will play in the eighth Super Bowl of the Bill Belichick era on Sunday, an unprecedented achievement for an NFL coach. Looking back at the staggering accomplishments of Belichick's 21st century dynasty, it's easy to forget how close it all came to not happening.
Had things gone slightly differently in January of 2000, Belichick might never have had the opportunity to prove his genius in New England. The topic was given a new round of coverage in ESPN's "30 for 30: The Two Bills," a documentary which details the eventful football partnership of Bill Parcells and Bill Belichick.
One of several fascinating periods of time chronicled in the documentary is Belichick's acrimonious departure from the New York Jets and his eventual arrival via trade in New England in 2000. It was a deal brokered by his old boss (Parcells) and his current one (Robert Kraft). As Belichick is now ensconced among NFL royalty, it's interesting to reexamine who the Patriots might have named head coach had Parcells' intransigence held out.
As "The Two Bills" explains, Belichick couldn't simply sign with the Patriots because of his previous contract in New York with Parcells. As the then-Jets coach, Parcells had picked Belichick to be his successor, and their contracts reflected that. When Parcells decided to surprisingly retire on January 3, 2000, it triggered the automatic promotion of Belichick to replace him as coach of the Jets.
Kraft speculates in the documentary that a fax sent to New York's front office by the Patriots asking for permission to interview Belichick – a fax Parcells and the Jets maintained they never received – may have caused the veteran coach's hastily announced decision to step down.
"To be very frank, I think coach Parcells saw it, [and] didn't want to lose Bill [Belichick]," Kraft explained. "We never got a reply. They sort of played it that they never got it."
Belichick, whether due to the lack of clarity around the Jets ownership situation or other reasons, decided that he wouldn't stay in New York. On Jan. 4, he resigned with a famously short statement:
In the aftermath, Belichick eventually took the NFL and the Jets to court (hiring the same lawyer Tom Brady would later use in his own suit against the NFL during Deflategate). Yet his attempt to legally extricate himself from his Jets contract failed.
Only one option remained: a negotiated deal between the Jets and Patriots. And considering Parcells and Kraft carried leftover bitterness from their own football divorce in 1997 – when Parcells left the Patriots for the Jets, it appeared to a long shot.
This left the Patriots in a separate search for a new coach. Kraft brought in an old friend (and AFC East rival) to help. Marv Levy, the longtime coach of the Buffalo Bills, was used as a consultant.
"There is a personal friendship, a relationship there, and Robert was consulting with Marv," said Patriots spokesman Stacey James explained to the Associated Press. The main name at the top of the non-Belichick coaching list was Jaguars defensive coordinator Dom Capers.
"Kraft had mentioned to me in one conversation that he was going to consider, I think it was Dom Capers at one point in time," Parcells recalled in the ESPN documentary.
"We were playing with fire there, because everyone was out getting ready to sign people and do things and I was impressed with coach Capers and was going to hire him," Kraft acknowledged. "Sometimes you just have to cool it and keep your fingers crossed."
An interesting New England footnote to the story is that a snowstorm delayed the Patriots' interview with Capers by a day. This fact took on greater significance when Kraft later admitted that had the Belichick stalemate with the Jets dragged on an additional 24 hours, he would have hired Capers.
Yet the story concluded with Parcells burying the hatchet with Kraft, calling – identifying himself as "Darth Vader" – to arrange a draft pick compensation package. It proved a dramatic finale to the momentous saga. Belichick was allowed to proceed to New England, where he has built an all-time football powerhouse.
The Patriots' list of coaching candidates from 2000
Dom Capers: The Jaguars' defensive coordinator in 1999, Capers would eventually become the first head coach of the expansion Houston Texans in 2002. In 2008, Belichick hired him as a special assistant and a coach of the team's secondary. Capers recently stepped down as Packers defensive coordinator, as position he occupied for nine seasons (winning a Super Bowl in 2011).
Marvin Lewis: Lewis would remain in his then-job with Baltimore for the 2000 season. As defensive coordinator, he oversaw one of the greatest defenses in NFL history, helping the Ravens to win the Super Bowl. He's been the coach of the Bengals since 2003, but has gone 0-7 in the playoffs as a head coach.
Willie Shaw: A longtime journeyman coach, Shaw left as Raiders defensive coordinator following the '99 season and was interviewed by the Patriots. He would up in Kansas City as an assistant head coach and linebackers coach.
Steve Sidwell: Having served as defensive coordinator for the Patriots under Pete Carroll from 1997-1999, Sidwell was given consideration for the head coaching job. He joined Seattle in 2000 as defensive coordinator, staying through the 2002 season.
Gary Crowton: A longtime offensive coordinator, Crowton would succeed LaVell Edwards at Brigham Young University in 2001, lasting four seasons. He won a National Championship directing LSU's offense in 2008.
Mike Martz: While the Patriots never got a chance to interview their eventual Super Bowl XXXVI opponent, they were reportedly interested in speaking with him as the Rams marched through the postseason to their own Super Bowl win that season. He eventually signed a new deal, and was promoted to be the Rams' head coach.