Patriots
The Eagles run a lot of 'RPOs'. Here's what that means in football terminology.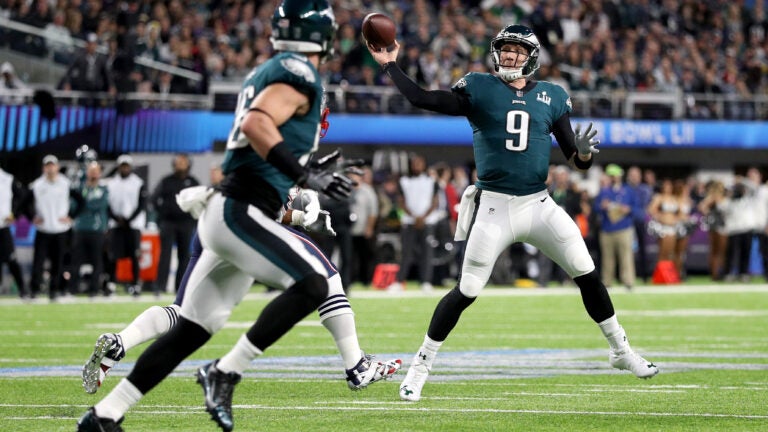 For the casual football fan, sometimes the terminology can be a little much.
And early in Super Bowl LII, it became clear that the Eagles were intent on running what's called an "RPO" as part of their offense. In football, an RPO means "run-pass option." The definition of a run-pass option, according to Chiefs offensive lineman Mitchell Schwartz, is when the quarterback makes a decision to either run or throw in a play designed with options for both:
A Run-Pass Option (RPO) is a called run play with a pass option. It can be a DE, a LB, or just a specific alignment the QB is looking for. The OL blocks for the run the entire way, and the QB makes a decision pre or post snap (depending on which variation is called) to run/throw. https://t.co/Uf0Uev7KHb

— Mitchell Schwartz (@MitchSchwartz72) February 4, 2018
The Eagles, according to Pro Football Focus, ran more RPOs than any other team in the NFL in the 2017 season. The Patriots faced several RPOs during the AFC Championship against the Jaguars, with mixed results:
Will be interesting to see how the Pats gameplan for the Eagles RPOs. Jaguars shredded them with same RPO 4 times in first half last week pic.twitter.com/gYJWIPYIjj

— Mike Renner (@PFF_Mike) January 30, 2018
One of the crucial components for the Patriots' defense in stopping RPOs is how the linebackers deal with the reads made by Eagles quarterback Nick Foles.
The RPO, like many football innovations, originated at lower levels of football before making its debut in the NFL. It has become more widespread in its usage over the last two seasons, though nowhere has it been more popular than in Philadelphia.
Must-see photos from Super Bowl LII:
[bdc-gallery id="6832009″]