Patriots
It just never quite felt like the Patriots' night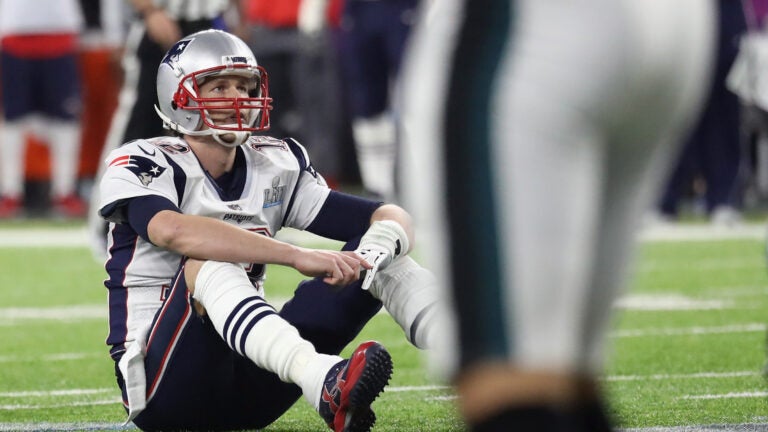 41 thoughts on the Patriots' loss to the Eagles …
1. Tom Brady entered Super Bowl LII having orchestrated rallies to overcome fourth-quarter deficits or ties in four of the Patriots' last nine postseason wins, including an almost unfathomable rally from 25 points down to the Falcons in the third quarter of Super Bowl LI. Brady was the architect of another stirring Patriots comeback Sunday night. But it was only temporary. The champions no more, they couldn't quite make this one hold up.
2. Nick Foles, the Eagles' mild-mannered backup quarterback who was thrust into the starting role when starter Carson Wentz was lost for the season to a knee injury, matched Brady all night in a Super Bowl shootout that often felt like an Arena Football game.
3. Foles threw for 373 yards and three touchdowns, including a controversial go-ahead 11-yard touchdown pass to Zach Ertz with 2 minutes 25 seconds remaining, and the Eagles defeated the Patriots, 41-33, in a Super Bowl that had everything but sustained quality defensive play.
4. The Eagles, who added a late field goal for the final margin, played a bold and daring game in ending the Patriots' quest for a second straight Super Bowl victory and a third in four seasons.
5. They converted a fourth and 1 in their own territory in the fourth quarter on the go-ahead scoring drive. They ran the trickiest trick play you'll ever see, resulting in a touchdown reception for the quarterback Foles, in the first half.
6. Their creative run/pass option offense befuddled the Patriots all night. And yes, they received calls in their favor on two touchdown receptions that under the NFL's bewildering rules for what constitutes a catch were debatable at best.
7. They even forced Brady to fumble and recovered the loose ball in the final two minutes when the Patriots had the ball and a chance for one more comeback and it appeared he would work his magic one more time.
8. The Eagles are worthy champions. They did everything necessary and then some to beat the Patriots. This was no David Tyree fluke, but a brilliant game plan executed superbly by Foles, who becomes a feel-good story for all-time in 31 other NFL markets besides New England.
9. And yet the Patriots were so close to that sixth Lombardi Trophy. No, it never quite felt like their night, like they had it under control, in part because the defense could not solve Foles and the Eagles offense, which racked up 538 yards and converted 62 percent of their third downs.
10. We'll get into this more later, but it should be noted that the Patriots did not play cornerback Malcolm Butler on defense all night. There must be a piece of information missing, because the information that we have makes no sense. Butler played nearly 98 percent of the snaps at cornerback this season. He played none that I saw Sunday night, when the Patriots struggled against the Eagles passing game. It's bizarre, a decision that demands further explanation.
11. And yet, in spite of the Eagles' excellence and Butler's weird absence, the Patriots nearly pulled it off. When Brady found Rob Gronkowski for a 4-yard touchdown pass with 9:22 left and Stephen Gostkowski converted the extra point to make it 33-32, it felt familiar, one more Brady comeback in a career decorated with such moments.
12. Even in the desperate final seconds, there was a glimmer of hope when his Hail Mary nearly found the mitts of Gronkowski in the end zone. But the ball eluded Patriots hands and fell harmlessly to the turf, a scene reminiscent of the end of their Super Bowl XLVI loss to the Giants.
13. It will be lost in the disappointment of defeat, but the Patriots' offense was extraordinary, even by the standards set during Brady's heyday, or the 2007 season, or any other measuring stick you wish to choose. Brady completed 28 of 48 passes for 505 yards and three touchdowns, with the offense piling up 613 net yards. It's not that 40-year-olds aren't supposed to do that. Mortals aren't supposed to do that.
14. Rob Gronkowski was a monster in the second half with 8 catches for 107 yards after halftime. He had just one catch for 9 yards in the first half. Danny Amendola and Chris Hogan combined for 14 catches for 280 yards and a touchdown. James White had 67 total yards, including a 26-yard touchdown run.
15. But it wasn't enough. In one of the most entertaining and exasperating football games you will ever see, the Eagles had just a little more.
16. A couple of times this year, we saw the Patriots go into Gronk Activation Mode on the first possession of the first half. This was Super Turbo Gronk Activation Mode. Brady threw to him five times on the Patriots' first possession of the second half. He caught four – for 25, 24, 14, and 5 yards. The 5-yard grab was good for a touchdown. That mode is quite effective.
17. Back to the Butler thing: Of all of the frustrating and bewildering developments early in this game, the decision to sit Butler for Eric Rowe was at the top of the list. And that was just the beginning of the weirdness. Word came in the second quarter that Butler would not play due to a coach's decision. What? No Malcolm, the hero of Super Bowl XLIX who became a fine cornerback. Why was he active, then? And why was he so emotional during God Bless America, when he appeared to be crying?
18. Three years ago at the Super Bowl, Butler was one of the great feel-good stories in Boston sports history. And now this? What happened? He's a free agent now, and it sure seems like "Malcolm, go'' took on a whole new lousy meaning. He was the first Patriot player to head to the locker room after time ran out.
19. No matter what happened with Butler, or how inconsistent he might have been at times this year, I know this: He would have made the tackle that Johnson Bademosi missed on Nelson Agholor on third and 6 from the Eagles 19 on their first second-half possession. Agholor ran for 17 yards to keep the drive alive.
20. Eight plays later, Foles hit Corey Clement with a 22-yard dart to put the Eagles up 29-19. Replay looked like Clement bobbled the ball, but it would have been tough to reverse the call on the field that it was as catch given that no one really knows what a catch is or isn't anymore. Either way, it was an outstanding throw by Foles, and it may or may not have been a catch. But the drive should have been over already.
21. I'm only being semi-facetious when wondering whether Lions executives might have some questions about whether Matt Patricia should be their next head coach after watching the sloppy first half, when the Patriots allowed 22 points to the Eagles and often looked discombobulated. The Patriots were a little better in the second half. But not by much.
22. The Patriots offense was electrifying. But offensive coordinator Josh McDaniels looked like he was testing out every trick play in the arsenal before departing for the Indianapolis head coaching job. A trick play that led to Danny Amendola throwing deep to Tom Brady worked in the sense that Brady got open. But a quarterback who runs the 40 like he's trying to stop time and has a hand injury probably shouldn't be running fly patterns.
23. And Brady dropped it. You said it, I said it, so what the heck, let's say it together: "My husband cannot throw the ball and catch the ball …''
24. Foles wife will never say that. Leading 15-12 and facing a fourth and 1 with under a minute left in the first half, the Eagles pulled off a trick play unlike any I've ever seen in such circumstances.
25. Running back Corey Clement took the direct snap, ran left, handed off to tight end Trey Burton, who threw a perfect pass to a wide-open Foles … who caught it. It's one of the boldest calls you'll ever see, especially considering the circumstances. Doug Pederson is the anti-Darrell Bevell.
26. That's what kind of game this was. A dropped pass by Brady is a pivotal play, and yet one you kind of forget about it because so much happened afterward.
27. The most curious defensive strategic development other than the bizarre Butler banishment might have been the decision to let Rowe chase Alshon Jeffrey rather than putting Stephon Gilmore on him.
28. Gilmore has been superb since coming back from his concussion, and he knows Jeffrey's repertoire better than anyone, having been his teammate and roommate at South Carolina. Gilmore finally got matched up with Jeffrey in the second quarter.
29. Malcolm Jenkins's helmet-to-chin shot on Brandin Cooks in the second quarter was the most vicious hit I've seen this season, including Barry Church's shot on Rob Gronkowski in the AFC Championship Game. Cooks, whose statistics this season nearly mirrored Gronkowski's, was lost for the game with a head injury. He's an inconsistent player, but there are few more effective deep threats in the league.
30. Speaking of frustrating plot twists, old friend LeGarrette Blount ran through the Patriots in the first half like they were the 2014 Colts defense, picking up 58 yards on just 4 carries, including a long touchdown run that put them up 15-3. He was a dependable player for the Patriots, but I didn't see this coming. He had just two touchdowns this season, but finished with 90 yards and a touchdown here.
31. Blount and Chris Long – two hugely likable players – became the first players since Deion Sanders with the Cowboys and Niners in the early '90s to win back to back Super Bowls with different teams.
32. The Patriots were fortunate to be down just 10 points at halftime. They left four points on the field in the kicking game alone (Stephen Gostkowski missed an extra point and a field goal attempt). The botched field goal culminated the Patriots' second possession. Brady led the Patriots straight down the field, hitting Danny Amendola for 51 yards (an earlier delivery of the ball might have led to a touchdown).
33. But three straight runs – including a failed hurdle attempt of an Eagles defender by Cooks on third down – abbreviated the drive. And Gostkowski bounced his attempt off the upright after a bad snap messed up his timing. It just didn't look like the disciplined Patriots we are so used to.
34. The Patriots did score nine straight points after falling behind 15-3 on Blount's 21-yard run. Gostkowski buried a 45-yard field goal, and James White cut the Eagles' lead to 15-12 with a tackle-breaking 26-yard run to cap a 7-play, 90-yard drive in the second quarter. As frustrating – there's that word again – as some of the Patriots drives ended, they had few problems moving the ball. The Patriots had 350 total yards in the first half.
35. Then again, the Eagles had 323 of their own, not mention the lead. If not for a Duron Harmon interception at the New England 2, which preceded the 90-yard drive culminating with the White touchdown, the Eagles might have had an even bigger lead at the half.
36. Possession No. 2 for the Eagles: Nelson Agholor, 7 yards on the catch. LeGarrette Blount, 36 yards on a ramble. Alshon Jeffrey, 34 yards from Foles, touchdown. Three plays, 77 yards, and one heck of a convincing case that the Eagles offense should no longer be underestimated.
37. I understand why Patriots fans would be outnumbered (and out-cheered) by Eagles fans here. The Eagles haven't been here since Freddie Mitchell was trying desperately to be relevant 13 years ago.
38. The Patriots have been in three of these the past four years. Unless you're super-rich or fake it the best you can, attending a Super Bowl is probably a one-time thing for even true diehards.
39. I know every other fan base is desperate for the Patriots to go away. The Eagles are America's team right now. But the rush to speculate whether this was the end for Brady and Belichick before this game even began really got annoying.
40. It is of course a legitimate thing to talk about in the pregame if there's substance to the reporting. But when Dianna Russini tweeted that "Right now on @ESPN NFL Countdown it's brought to light about what many in the league have been hearing which this game could possibly be both Bill Belichick and Tom Brady's final games. Both could be hanging it up. Post game could be incredible tonight if this becomes truth,'' only to have Adam Schefter follow by reporting that both will be back, we pretty much achieved peak ESPN.
41. As frustrated as you may feel now – and the Butler thing is driving me nuts – it's hard to believe that much will change. Patricia and McDaniels are moving on. But Brady and Belichick? C'mon. This year's slogan carries over: Not done yet. Like Rocky and Clubber Lang, this one requires a rematch.
Must-see photos from Super Bowl LII:
[bdc-gallery id="6832009″]