Patriots
5 key questions the Patriots face headed into this offseason—and beyond
From free agency to future coaches, there's a good deal of uncertainty in New England.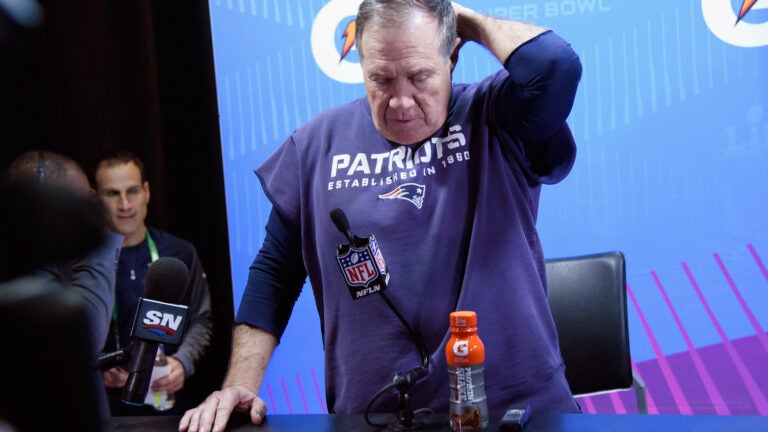 For most NFL teams, a second place finish would be something worth celebrating.
In New England, it results in a deep questioning.
What are the team's plans headed into free agency? Will Gronk actually hang up his cleats? When, if ever, will the Patriots get back to the Super Bowl?
Compounded by the loss, the expected departure of several key Patriots players and coaches has many uncertain about the future of the remarkably consistent, if aging, dynasty headed into 2018.
Here are five of the most important questions the team faces this offseason and what people around the league are saying about them.
1. Who could be leaving this offseason?
A number of key Patriots players on both sides on the ball will be free agents this season, including running back Dion Lewis, cornerback Malcolm Butler, and offensive lineman Nate Solder.
Patriots scheduled to become free agents at 4PM 3/14

UFA
Bolden
Fleming
Amendola
Dion Lewis
James Harrison
Bademosi
LaAdrain Waddle
Malcolm Butler
Marquis Flowers
Matthew Slater
Nate Ebner
Nate Solder
Rex Burkhead
Ricky Jean Francois

RFA – Brandon King
ERFA – Kidder and Farris

— CapSpace=$13,136,219 (@patscap) February 4, 2018
Wide receiver Danny Amendola — who transformed into a playoff star in the absence of Julian Edelman and, for most the game Sunday, Brandin Cooks — will need a new contract. But the question for the Patriots is whether the 32-year-old will be worth it when the rest of the receiving corps is healthy again.
"Amendola is a year older than Edelman, who will be healthy for the 2018 season. And with Brandin Cooks, Phillip Dorsett and Chris Hogan all under contract, the Patriots may be willing to part ways with Amendola after previously restructuring his contract three times in five years," CBS Sports' Ryan Wilson wrote Monday.
Amendola most recently agreed to a reduced contract last summer, explaining at the time he wanted "to be part of something great." He made perhaps his final case Sunday with eight catches for 152 yards.
Before the Super Bowl had even kicked off, NFL.com's Ian Rapoport reported that both Butler and Lewis were expected to sign elsewhere. And even though Butler said just last week that he "without a doubt" wanted to re-sign with the Patriots, his departure appears more likely after his mysterious Super Bowl benching.
According to Rapoport, Butler is expected to be offered a contract that far exceeds the one-year, $3.9 million deal he played for this year.
Lewis, who had a team-leading 896 rushing yards this season, isn't the only Patriots running back who will be an unrestricted free agent. Rex Burkhead and Brandon Bolden will also be looking for new contracts. As MassLive's Kevin Duffy wrote last November, since the Patriots have fellow rushers James White and Mike Gillislee locked in for multiple years, the team might be forced to chose between Lewis and Burkhead:
Like Burkhead, Lewis is 27 years old. He is in the prime of his career. He'll absolutely want to maximize his potential earnings this offseason. Usually, a player hits free agency once or maybe two times while in his prime.

The 2018 crop of free agent running backs includes Le'Veon Bell, Carlos Hyde, and not much after that. It's conceivable that Lewis and Burkhead will be viewed as top-five free agents at the position.

This might make it difficult to sign both players. If the Pats are forced to pick one, which will they prioritize?
One interesting additional wrench thrown into the mix, as Duffy noted, is that, unlike Lewis, Burkhead shares an agent with Patriots coach Bill Belichick.
Lastly, Solder could re-sign with the Patriots or leave for another — or retire from the game entirely. There have been rumors of the latter since last summer.
2. How will they recover from the coaching brain drain?
The Patriots lost more than the Super Bowl this week.
Defensive coordinator Matt Patricia was officially named the head coach of the Detroit Lions and offensive coordinator Josh McDaniels is expected to follow him out the door en route to the Indianapolis Colts. According to ESPN's Adam Schefter, special teams coordinator Joe Judge, reportedly on an expiring contract, could also leave to join Patricia or McDaniels at their new team.
The exodus is set to be something unseen by the Patriots since the last time they played the Eagles in the Super Bowl, after which assistants Charlie Weiss and Romeo Crennel left to lead their own teams.
So who will fill the void beneath Belichick?
USA Today's Lorenzo Reyes wrote Monday that the Patriots already have viable replacement candidates if they choose to promote from within the organization.
"Assuming New England sticks with the in-house route, look for current receivers coach Chad O'Shea to command the offense and for linebackers coach Brian Flores to lead the defense," Reyes wrote. Belichick's son, Steve, the Patriots current safeties coach, is also waiting in the wings should the defensive coordinator position open up in the future.
3. Is there a quarterback contingency plan?
In the real-life matchup of Tom versus Time, Time is eventually going to win. And since trading backup quarterback Jimmy Garoppolo (who went on to set the Bay Area on fire, figuratively), the Patriots have no clear successor to Tom Brady, who will be 41 next season.
Based on the performance of past NFL quarterbacks who have played into their 40s, the Washington Post's Neil Greenberg wrote Monday that it would be fair to expect Brady's play to begin to decline in 2018.
"If Brady were to regress quickly, before the Patriots can install a suitable backup, the franchise could falter," Greenberg wrote, noting that current backup Brian Hoyer is unlikely to fit the bill. "They have to find a quarterback who is better than average if they want to maintain their status as perennial favorites to win the AFC East and challenge for the Super Bowl. That could be tricky, at least in the short term."
NESN's Doug Kyed wrote Monday that the Patriots should make the quarterback position a high priority in the upcoming draft.
"[Hoyer]'s not the Patriots' future at the position," Kyed wrote. "They should take a QB with one of their first picks."
4. Would Gronk really retire?
Immediately following Sunday's game, Rob Gronkowski wasn't willing to commit to playing another season in the NFL. Asked about a report he was considering retirement, the 28-year-old said he was "definitely going to look at [his] future."
Rob Gronkowski said he was going to reflect on his future when asked if he's considering retiring.

He wouldn't commit to returning in 2018. pic.twitter.com/ApdZKKMqyM

— Henry McKenna (@McKennAnalysis) February 5, 2018
Perhaps his remarkably long history of injuries had finally worn him down. That said, Gronkowski's most recent concussion at least didn't appear to affect him much Sunday. He still made nine catches for 116 yards and two touchdowns.
In a conference call with reporters Monday, Belichick suggested that Gronkowski's comments were a product of emotion of the moment following Sunday's loss.
"I certainly can't speak for anybody else," he said, according to NESN. "You'd have to ask any individual for every situation, but I would say five minutes after the game, or the day after the game, is not really the time to make those decisions."
Sporting News' Alex Marvez had a different theory.
"A retirement threat could not only be used as leverage if New England is seeking another incentive-laden restructure, but also to angle for a raise from the $9 million and $10 million salaries Gronk is set to earn the next two seasons," Marvez wrote Monday.
Gronkowski's recently restructured contact includes various incentives could make him the highest paid player in the league, as long as he meets certain playing time and performance thresholds. Given his injury history, meeting those thresholds is no guarantee and, as was the case this year, potentially jeopardizes millions in salary each year.
Then again, the hardline negotiating tactic would seem somewhat out of character for Gronkowski, who said in his book that he lives entirely off his endorsement money and hadn't touched a dime of the money he earned from his actual NFL contract.
5. How much longer will the trio stick together?
Perhaps the biggest question looming over everything is what the future holds for the three foundational pieces of the Patriots dynasty: Brady, Belichick, and owner Robert Kraft.
Despite swirling rumors before the game, Schefter reiterated Sunday on ESPN's NFL Countdown that neither Brady nor Belichick are expected to retire this offseason, even if their time with the Patriots is limited. According to Schefter, both men are aware that the Patriots may be headed toward more uncertainty than they've been accustomed to in recent years.
"[Belichick] knows the work that's ahead, and while who knows how many years he'll be coaching—it may not be very many more—it looks like right now that Belichick is expected to return for the 2018 season," Shefter said, adding that Brady "wants to prove that somebody can play at an elite level well into his 40s."
"That seems to be his goal," said the ESPN reporter. "And while there's no clarity that for certain it is sure that Brady will be back next season, I think most people believe right now that he'll be back."
Kraft recently admitted that there was "a certain amount of tension" within the organization, after an ESPN report chronicled a dramatic power struggle between the quarterback, coach, and owner.
Rapoport reported Sunday that there "were still issues to work out" regarding how to deal with Brady's personal trainer, Alex Guerrero; the "angst" lingering from the Garoppolo trade; and a potential contract extension for Brady, who has said he wants to play into his mid-40s. According to Rapoport, the three men were planning to meet sometime this week to hash out those tensions.
From @NFLGameDay: The belief is #Patriots QB Tom Brady and coach Bill Belichick will be back. But during a meeting likely this week, there are issues to hash out. pic.twitter.com/0cOqi4ZM0d

— Ian Rapoport (@RapSheet) February 4, 2018
And yet amid all the drama, the Patriots are still likely the Boston-area team closest to bringing home another title, Chad Finn wrote Monday for The Boston Globe (sorry, Celtics fans).
"Some band members will change, but they're not playing their last waltz just yet," Finn wrote.