Patriots
Bill Belichick's decision to bench Malcolm Butler still makes no sense
Is it the worst move Belichick has ever made with the New England Patriots?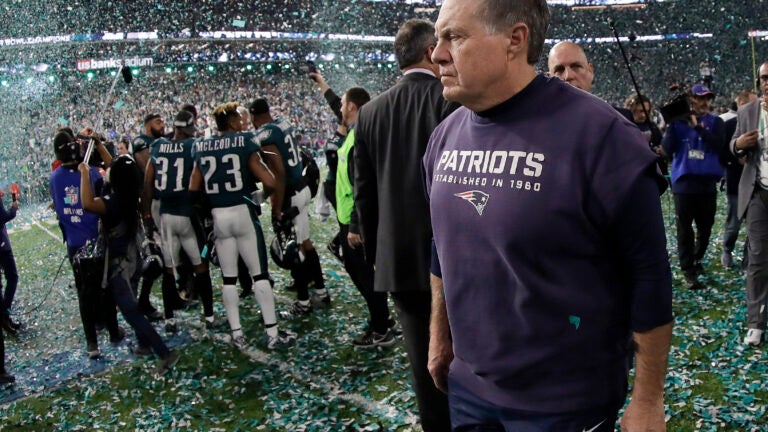 COMMENTARY
A funny thing happened in the immediate moments following Tom Brady's final heave of desperation Sunday night.
I believe they call it acceptance?
Far be it from New England sports fans to generally understand such a level of admission, even in our most cocksure hours of this millennium of athletic domination. Getting used to winning is one thing, but it shouldn't deter from that all-too-familiar torment that equates to a cheap, silver medal (or, in this case, that Lamar Hunt trinket that Patriots head coach Bill Belichick greeted like regurgitated refuse after the AFC Championship game).
Maybe it was another sign of the local sports fan getting softer, too in tune with Lombardis by birthright and good times so good, so good. Maybe it was a virtuous appreciation for what turned out to be one hell of a Super Bowl. Or maybe it was just not taking the Philadelphia Eagles' 41-33 win all that seriously in the grand scheme of a bejeweled New England Patriots franchise that may still be seemingly in the wobbles of a permanent overhaul.
Whatever it was, it didn't last long.
Thankfully, Patriots fans quickly returned to their pitchforking ways after failing to receive any semblance of a reasonable excuse as to why Belichick and defensive coordinator Matt Patricia laid out a more moronic defensive game plan than even Mike Martz could have comprehended. All this while cornerback Malcolm Butler infamously stood on the sideline in full drag, while the likes of Eric Rowe, Jon Bademosi, and Jordan Richards played victims to the Eagles' passing attack.
It didn't make any sense.
Really, very little that happened in Super Bowl LII is easy to comprehend. Quarterback Tom Brady (who's reportedly 40) failed to win his sixth Super Bowl ring after he only managed to throw for 505 yards, three touchdowns, and no interceptions. No quarterback in the history of the NFL has ever had a game like that and lost. Ever.
If Belichick ever wanted to prove that the coach had more impact on a team than the quarterback, well, that's one thing he managed to do in the Super Bowl.
Hell of a time to make a point.
Butler, whom they say has played a bit role in these games over the years, sat, dressed, on the bench for the entirely of the game, save for one special teams play. All Belichick would say in the aftermath — not to mention during his terse conference call Monday morning — was that Butler's absence was a coach's decision. Neat.
What exactly made the "Greatest Coach of All Time™" decide to shed his George Halas playbook for a script straight from Jimy Williams in time for the biggest game of the year?
Was it disciplinary? And if so, what did Butler do that was so egregious based on the scale that already determines that sexy foot jokes get you seated for one series?
According to Twitter's Boston Sports Info, Butler had played 3,125 out of 3,195 defensive snaps over the last three regular seasons. That's 97.8 percent. He played 97.8 percent of the snaps in 2017.
For comparison's sake, Tom Brady played in 97.98 percent of offensive plays run by the Patriots. So, why the hell didn't Brian Hoyer fit into Belichick's last-minute game plan of befuddlement?
Malcolm Butler has played 3,125 out of 3,195 defensive snaps in the last 3 regular seasons

97.8%

that's a lot for it to drop to 0%

— Boston Sports Info (@bostonsportsinf) February 5, 2018
Butler doesn't play despite any adjustments the Patriots attempted to make for a defense that was continually getting torched by a journeyman quarterback. It's the worst move Belichick has ever made with the New England Patriots, an indefensible decision that the coach is trying his best to bury under the rumblings that he might be finished here.
But he can't escape this one.
"I appreciate the question, but it would be a much longer discussion," Belichick said Monday morning. "There are a lot of things that go into that. In the end, the final decision is what I said it was."
Except he said nothing.
There was no explanation, no real reason behind the move, which reportedly had the rest of the Patriots coaching staff split on the decision-making process (let's guess which side Steve Belichick was on). It was a move that reportedly angered players, the same ones who worked and lived for this moment they may only get one or two times in their lives. Meanwhile, Belichick is treating the most impactful decision he's ever made as head coach in New England about as personally gnawing as choosing whether to go with spearmint or cinnamon gum.
"I respect Malcolm's competitiveness," Belichick said. "I'm sure that he felt like he could've helped. I'm sure other players felt the same way. In the end, we have to make decisions that are best for the football team."
They didn't.
At least Patriot fans could taste some familiar bile against the New York Giants, finding heartache in the likes of David Tyree and Mario Manningham they way Red Sox fans vilified Buckner for all those years. But the villain this time just happens to be the Almighty Bill Belichick. The Hoodie. The football savior. In Bill We Trust.
Until, well, you don't anymore.
Belichick won't budge on speculation that he could be hanging his coaching whistle up, but he's already managed to add to the hand-wringing that must be occurring inside the offices at One Patriot Place. Already this season he's given the next franchise quarterback away as if he were in the day-old bread bin, and now he's managed to gift wrap a Super Bowl victory to the Philadelphia Eagles. That guy has to answer to a group of Doubting Thomases in the locker room, not to mention maybe a few in the owners' box, and more than anyone could have anticipated in the stands at Gillette Stadium.
Bill Belichick, seemingly-singlehandedly, blew the Super Bowl.
It doesn't make any sense.
It's damn near impossible to accept.