Patriots
What you need to know about Josh McDaniels's sudden decision to abandon the Colts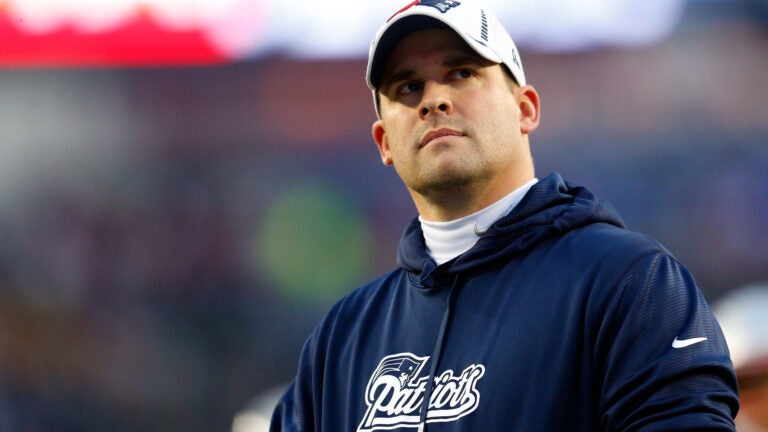 In a shocking turn of events Tuesday night, the Indianapolis Colts announced Patriots offensive coordinator Josh McDaniels would no longer replace Chuck Pagano as their new head coach.
"After agreeing to contract terms to become the Indianapolis Colts' new head coach, New England Patriots assistant coach Josh McDaniels this evening informed us that he would not be joining our team," the team said in a statement.
According to multiple reports, McDaniels will remain in New England in the same capacity as he has for the past six seasons. The timeline of his decision, however, has generated a number of questions surrounding the impetus for his change of heart and how it might relate to head coach Bill Belichick's future with the team.
Here's what reporters around the league are saying about how everything went down with the Patriots:
Before Tuesday, there were already reports McDaniels could stay in New England.
Following the end of the regular season, McDaniels garnered interest from a handful of teams — other than the Colts — that were on the market for a head coach. At various points throughout the five-week postseason, he was also considered a favorite in the Giants' and the Titans' head-coaching searches.
The weekend between the AFC Championship and Super Bowl LII, ESPN's Adam Schefter reported Indianapolis intended to hire McDaniels as its head coach after the Super Bowl.
During Sunday's NBC pregame show, however, it was reported McDaniels had yet to inform the Patriots he was leaving New England. According to Pro Football Talk, there was increasing "chatter" he may not end up going to Indianapolis.
McDaniels elected not to answer questions about his status in postgame press conferences following the Patriots' 41-33 loss to the Eagles, telling the media he's "not going to talk about that."
Josh McDaniels addresses new coaching position rumors pic.twitter.com/p09xZVyNCo

— Courtney Cox (@coxcourtney) February 5, 2018
Early Monday morning, Colts reporter Mike Chappell reported the team was "moving forward" with McDaniels "as planned." The NFL prevents teams from officially hiring coaches until they are finished competing in the playoffs, but Chappell said, despite no signed contract, there was "an agreement" in place.
McDaniels was never 100-percent in on the Colts job.
Schefter says McDaniels was initially "ready to remain in New England," but Colts general manager Chris Ballard and team owner Jim Irsay "helped soothe his fears and concerns" during their second interview. Those hesitations, of course, returned.
"It's the kind of thing he went back and forth on," Schefter said on WEEI's "Kirk and Callahan" Wednesday morning.
"The biggest thing, to me, is he never felt entirely comfortable making that move," the NFL insider continued on the local radio program. "He's got four kids in New England schools. I don't think the family was all that thrilled about going. He's very comfortable where he is."
Ballard held a press conference Wednesday morning to address the fallout of the failed McDaniels hire and answer questions about the team's head coach opening. Asked if he had a sense McDaniels was getting cold feet, Ballard said, "No. Not at all."
Colts were really certain it was more than an agreement. This was sent to season tix holders earlier in day. pic.twitter.com/jOt5d91tik

— Mike Chappell (@mchappell51) February 7, 2018
The decision had less to do with the Colts and more to do with the Patriots.
Salary, Andrew Luck's health, and Colts management were not contributing factors in McDaniels' decision to back out, according to NFL Network's Tom Pelissero.
Per Pelissero, McDaniels went to Gillette Stadium to clean out his office Tuesday but ended up meeting with Belichick, team owner Robert Kraft, and club president Jonathan Kraft "for hours." During that meeting, Pelissero said the group laid out how they felt about McDaniels and what their intentions were going forward.
"The Patriots just convinced him to stay."
Schefter reports the conversations between McDaniels and Kraft started earlier than Tuesday. According to Schefter, the Kraft family made it very clear, over the course of 48 hours, they did not want their offensive coordinator to leave — "to the point where they sweetened his contract."
"When the owners of the franchise come to you and convey how important you are, how appreciated you are, how valued you are, they want you here, they redo your contract to keep you here," he said on WEEI. "It's not that hard to sway his thinking when there was some thinking all along that he would stay. Ultimately at that moment, he was a little vulnerable to stay and they got him to stay."
According to Sports Illustrated's Peter King, the Patriots hadn't offered "such enticements to stay" until the conclusion of their season. The lack of discussion prompted McDaniels to seek out other jobs at the end of the regular season.
"I think he was able to come into some new information that wasn't available to him over the past three or four weeks," SI's Albert Breer said.
ESPN's Mike Reiss offered much of the same.
"McDaniels now has a clearer picture of how he is viewed, even though he has been given no assurances for the future," Reiss wrote. "Such clarity wasn't there for him in December when he was considering how aggressively to pursue head-coaching vacancies across the NFL."
The latest on Josh McDaniels the #Patriots & #Colts. @MikeReiss joins on @SportsCenter pic.twitter.com/jPKAJbpnHZ

— Maximiliano Bretos (@MaxBretosSports) February 7, 2018
There is no official guarantee McDaniels will become the future head coach of the Patriots.
There's some belief McDaniels spurned the Colts because he will most definitely replace Belichick upon retirement, but a number of reports indicate otherwise.
I too have been told the Josh McDaniels has been given no assurances that he's the Pats next head coach. I still think he's the odds-on-favorite but interesting that he got no guarantees. Surprising really

— Michael Giardi (@MikeGiardi) February 7, 2018
King says although "McDaniels got no written assurance he will succeed the 65-year-old Belichick when he walks away from the job," the transition seems "likely." When Belichick plans to call it quits is still uncertain, however, meaning much could change between now and then.
"We know he's going to coach this season," Schefter said. "We know that. I believe that he's got multiple years left in his contract. I don't know if that's two or three. I believe he's got more time than just this year, but no one knows for sure other than Bill Belichick and the Krafts."
Referring to him as a "successor in waiting," Schefter notes it is "illegal to have a signed agreement" that states McDaniels will assume the role of head coach at a certain point in time.
"There's nothing written about him becoming the next head coach, but I think you'd be naive to believe that wasn't discussed," added Breer, who confirmed McDaniels was "not given a firm timetable."