Patriots
What Indianapolis media members are saying about Josh McDaniels
McDaniels's abrupt decision to reverse course has left Colts media angry and, in some cases, relieved.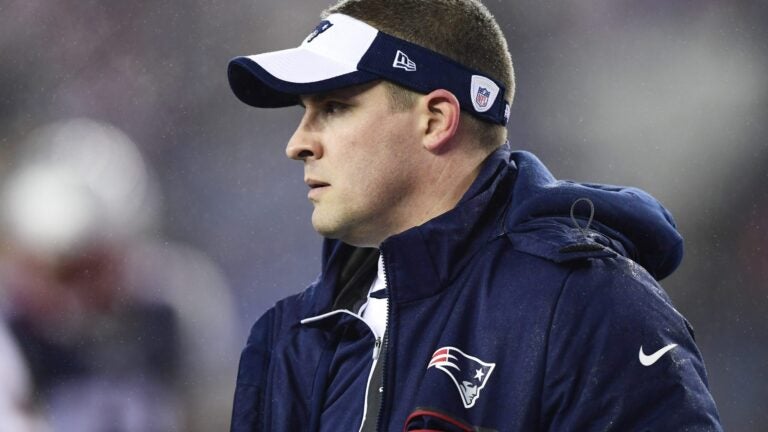 The fallout from Josh McDaniels's decision to stay with the Patriots after he agreed to coach the Colts hit peak intensity among Indianapolis media.
Here's a look at some of the media reactions to McDaniels's about-face, as he opted to remain in his role as Patriots offensive coordinator and not become the new head coach of the Colts:
Columnist Bob Kravitz of Indianapolis NBC affiliate WTHR TV, who broke the Deflategate story in 2015, expressed his thoughts on McDaniels in several forums.
First, he wrote a column which began in the following way:
There is sleazy, and then there's Josh McDaniels.

There is duplicitous, and then there's Josh McDaniels.

There is fraudulent, and then there's Josh McDaniels.
Kravitz also explained that he doesn't believe this is any sort of revenge for Deflategate:
Deflategate revenge? Please. The relationship between the Colts and Patriots had actually improved over the past year since Ballard took over. The two franchises even made two trades with one another, one involving Phillip Dorsett, one involving Dwayne Allen. This had nothing to do with Deflategate and everything to do with the fact the Patriots couldn't bear the idea of losing so many important assistant coaches.
On Wednesday morning, Kravitz joined WEEI's "Kirk & Callahan". He took issue with McDaniels convincing assistant coaches to join the Colts only to back away from taking the head coaching position.
"He screwed the organization, that's one thing. But how about those coaches, and their families?" Kravitz asked. "There are three guys who have found housing in Indianapolis, and it's not just the coaches, but they've got families [too]. If Josh McDaniels says, 'well, this is a family thing,' I think I'm going to yak. It's not like he had those kids in the last 48 hours. This was about nothing but wanting to stay in New England."
That said, Kravitz explained that he isn't against the concept of McDaniels as a head coach, but posited that it will only happen in New England now.
"I think he would've been a pretty damn good head coach, but we won't know until he's head coach of the Patriots and Brady," the Indianapolis columnist told the Boston radio hosts. Kravitz offered more thoughts in a Facebook video:
Jason Spells and Bob Kravitz are discussing the decision by Josh McDaniels to back out of the Colts head coaching job, hours after it was announced by the team. STORY: https://www.wthr.com/1753651

Posted by WTHR-TV on Tuesday, February 6, 2018
Aside from Kravitz, Gregg Doyle of the Indianapolis Star also offered a strong reaction to McDaniels' decision.
"Be embarrassed, Indianapolis Colts, but also be relieved," Doyel's column began. "Josh McDaniels is a punk and a loser, but he's not your punk. He's not your loser. He's not your head coach, thank God."
The thesis of his take revolved around the idea that McDaniels would have failed as Colts coach, and therefore "saved the Colts from themselves" with his dramatic change of heart:
What becomes of that rat is of no concern to me, not anymore, now that he has removed himself from our city and saved the Colts from themselves. And that, my friends, is how you need to see this: The Colts couldn't do it on their own, so Josh McDaniels rescued them by withdrawing his name. And he did it for the most delightful of reasons: Apparently he thinks, giggle, he's too good for them.
A few other reactions from Indianapolis reporters:
Maybe a silver lining for the Indianapolis Colts amidst this disaster:

You never wanted a guy willing to renege on an agreement like this – after it's been announced! – leading your team anyway.

— Zak Keefer (@zkeefer) February 7, 2018
What's interesting here is there had to have been a conversation w McDaniels that resulted in the Colts' decision earlier today to make the announcement. And nothing short of "I'm in" would have been enough. I can't fault Ballard on this one. JM screwed him – period.

— Stephen Holder (@HolderStephen) February 7, 2018
McDaniels' first call should have been to Irsay/Ballard. Second call to assistants/families he offered jobs.
Weak https://t.co/4UTZGPOW5V

— Mike Chappell (@mchappell51) February 7, 2018
And a bonus tweet from a famous fake Andrew Luck account:
https://twitter.com/CaptAndrewLuck/status/961041937229758464