Patriots
What Detroit media members are saying about Matt Patricia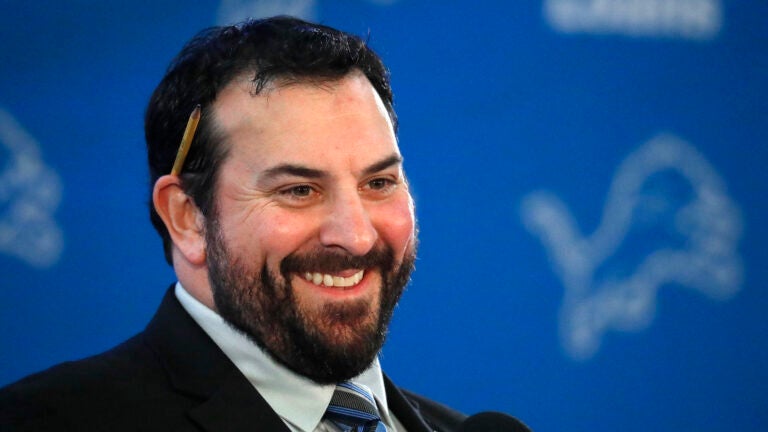 The Detroit Lions introduced their new head coach Matt Patricia at a press conference Wednesday. The former Patriots defensive coordinator left most of his beard behind in New England, but kept the trademark pencil behind his ear.
Patricia will take over a Lions team that went 9-7 this past season under Jim Caldwell, and he'll have Matt Stafford under center as he tries to build Detroit into a Super Bowl contender. It's a reunion in Detroit for Patricia with Lions general manager Bob Quinn, who spent 12 years in New England in scouting and personnel.
The columnists in Patricia's new city seem impressed by his performance in the introductory press conference, and excited by the prospect of Patricia and Quinn recreating the Patriot Way in Michigan. But they're also wary of the less-than-stellar track record Bill Belichick's assistants have had outside of Foxborough. And they want to make sure Patricia understands just how badly the Detroit fanbase craves a long-awaited championship.
Here's what the Detroit media is saying about the new Lions head coach:
Mitch Albom, Detroit Free Press
The Beard has landed…At first blush, the former Patriots defensive coordinator — fresh off Sunday's Super Bowl — seemed intelligent, affable, polite and energized. He also was much less hairy, having shaved down the trademark beard that was somewhere between "Game of Thrones" and a Hasidic rabbi.
Carlos Monarrez, Detroit Free Press
I can't lie. I liked the way new Lions coach Matt Patricia carried himself in his introductory news conference Wednesday. He was articulate, playful and gracious. He seemed unpretentious and real.

When Quinn set out to hire Jim Caldwell's replacement, he said, "my goal is to go out and find the best head coach to bring us that championship." Now, at the very outset, Patricia wants to talk about the slow process?…Lions fans have been waiting since 1957 for a championship. Pretty soon that timeline will have to be rendered in pictographs and cave paintings. But hey, what's another year or five between friends? Right, Lions fans?
Bob Wojnowski, The Detroit News
It's known as the Patriot Way, producing five Super Bowl championships, and it's marked by smart, fundamental football, by adaptability and creativity. They're not Belichick and Brady, but can [Lions general manager Bob] Quinn, 41, and Patricia, 43, create a Lion Way?

Patricia is both technical and practical, kind of like the pencil behind his ear. He's smart enough to recognize the past, and that's a start. The real challenge is replicating something more promising and familiar, in a place that's never seen it.
John Niyo, The Detroit News
Matt Patricia is a smart guy. Smarter than most guys. And there's a decent chance he will, in fact, be the smartest guy in the room when he stands before his new team here in Detroit. But if there's a lesson to be learned as Patricia steps into a new role with the Lions, adopting a new title at the top of his profession, it's this: Don't act like it.

A do-your-job mentality, without praise or pretense. A coaching collective, with one goal in mind: Winning. There's no telling how far that'll get the Lions under Matt Patricia. But smart money says this just might work out.
Kyle Meinke, MLive
Matt Patricia didn't roll into town looking to blow smoke up anyone's you-know-what. He wasn't here to make promises he couldn't keep. And he definitely wasn't here to talk about the Super Bowl. He could have. People would have eaten it up too. The Detroit Lions have never been to one…But Patricia didn't seem interested in scoring PR points. He just wanted to keep it real — and real simple. All he'd promise on his first day in Allen Park: He's going to work hard every day, and so will his men.