Patriots
Gotham Chopra gives an update on the last chapter of 'Tom vs. Time'
"Everyone keeps asking me about Chapter 6 of 'Tom vs Time' and when it's going to be ready..."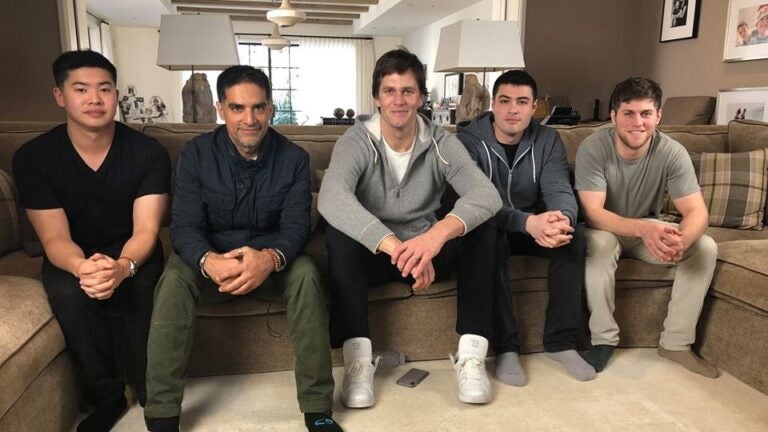 The sixth episode of "Tom vs. Time" is going to be a little different than expected.
Series director Gotham Chopra teased the next chapter on Facebook Friday afternoon, sharing that the production team changed gears a bit after the Patriots lost to the Eagles in Super Bowl LII.
"While we have amazing stuff from the playoff run — Tom's hand injury and the great comeback in the AFC Championship — once the Super Bowl played out, I started to wonder the relevance of all that other stuff and determined that we really needed one final exit interview with our guy before we could figure out what Chapter 6 was truly going to be about," he wrote.
Brady and Chopra sat down for their last interview Friday morning, and, according to Chopra, the Patriots quarterback was "both reflective and upbeat" following his team's loss. Chopra said their conversation offered closure for both parties.
The filmmaker didn't offer an exact release date for the series' finale, but said the sixth chapter is "coming soon."
Everyone keeps asking me about Chapter 6 of 'Tom vs Time' and when it's going to be ready. The truth is we had a plan, but unconsciously, it was tied to the Pats winning the Super Bowl and, when that didn't happen (congrats, Eagles!), I felt like we needed to pause and recalibrate.

While we have amazing stuff from the playoff run, Tom's hand injury and the great comeback in the AFC Championship, once the Super Bowl played out, I started to wonder the relevance of all that other stuff and determined that we really needed one final exit interview with our guy before we could figure out what Chapter 6 was truly going to be about.

This morning, we did that interview. It ran over an hour and we talked about a lot of things. I'm not gonna give anything away … but for curious minds, Tom was both reflective and upbeat, very present and disappointed in last Sunday's loss, while also gracious toward the Eagles for their impressive victory and already unpacking everything to find the lesson in it.

As a fan, I can say I got some great closure and I hope Tom did too in just talking about it. I can tell he's burning up still on the inside. But I am also reminded why the guy is the GOAT and it's all gonna be OK. So, Chapter 6 — 'Coming Soon!'"
https://www.facebook.com/tomvstime/photos/a.2093979070835834.1073741830.2074347926132282/2093972534169821/?type=3&theater