Patriots
Who will replace Matt Patricia as Patriots defensive coordinator?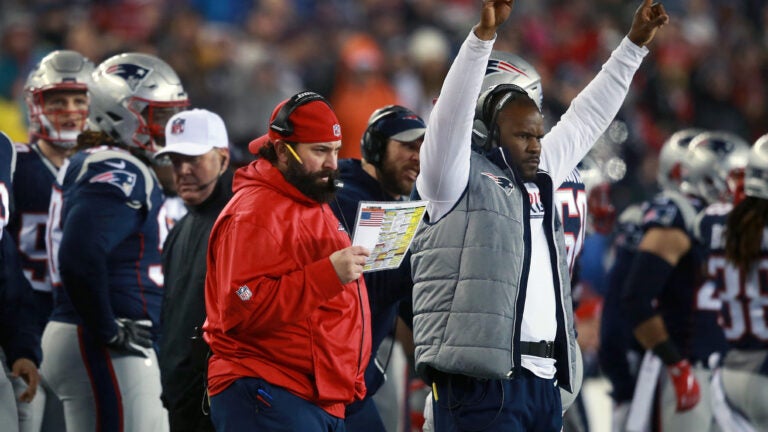 Despite Josh McDaniels's unexpected decision to stay with the team next season, the Patriots will still have to fill the role of one coordinator position this offseason.
Matt Patricia has officially been named head coach of the Detroit Lions, which means New England is in need of a new defensive coordinator after six seasons. Filling Patricia's void is one of the key questions the team must address over the coming months, with reports of potential replacements having emerged as early as the day of the AFC Championship game against Jacksonville.
Here's a look at the two leading possibilities:
Brian Flores
According to multiple reports, Patriots linebackers coach Brian Flores is considered the top candidate to lead the defense next season.
After starting his career in New England as a scouting assistant in 2004, Flores has ascended the ranks of the team's coaching ladder over the course of 14 seasons. Some of his other past roles include special teams assistant (2008-2009) and safeties coach (2012-2015).
Highly regarded not only by head coach Bill Belichick but also by several defensive players, Flores was tasked with developing an effective pass rush without captain Dont'a Hightower for the majority of this past year. Although the group got off to a slow start, the Patriots defense finished with 42 sacks on the season — tied for seventh-best in the league — and allowed the fifth-fewest points.
Also responsible for the team's red-zone defense, Flores is credited for sending cornerback Malcolm Butler onto the field in the closing minutes of Super Bowl XLIX. The call set up Butler's game-saving goal-line interception against Seattle.
"Brian does a good job, works hard, [and] has a lot of experience," Belichick said during a January press conference. "He does a good job of analyzing what we do, what our opponents do, [and] trying to put it all together."
Safety Devin McCourty also gave the former Boston College linebacker multiple shoutouts throughout the postseason, as did linebacker Kyle Van Noy. But Flores isn't garnering attention from just the Patriots. Arizona interviewed the 36-year-old for its head coaching position that was later filled by Steve Wilks.
"Coach Flo, he's an amazing coach," Van Noy told CBS Sports' Michael Hurley. "He's hungry. He's talented. He knows how to teach. He does a really good job of getting the most out of you. Whether you like it or not, he gets it out of you. It's awesome to be around a coach that always wants the best for you. That makes you want to play harder for him."
Before BC, Flores attended Poly Prep Country Day School in Brooklyn. He grew up, however, in the housing projects of Brownsville — a neighborhood known for its poverty and gun violence.
"It shaped me in a lot of ways," Flores told ESPN's Ian O'Connor. "It made me tough. I learned how to deal with adversity, and it motivated me to get out of there. … It's a tough environment, and there's violence and drugs. But it wasn't the wild, wild West. There are a lot of good people there too. I was fortunate to be around a lot of them."
Greg Schiano
The Monday following Super Bowl LII, FootballScoop.com's Zach Barnett reported Schiano is the frontrunner to become the Patriots' next defensive coordinator. Citing sources, Barnett said "the deal [is] expected to be complete." The Thursday prior to the Super Bowl, NBC Sports Boston's Gary Tanguay reported Schiano would interview for the job but did not offer a timetable.
According to FOX Sports' Bruce Feldman, however, Schiano will be staying at Ohio State as defensive coordinator.
Saw the report that Greg Schiano is leaving #OhioState for the #Patriots DC job. Am told Schiano hasn't decided whether he's leaving OSU yet. Brian Flores may get promoted to DC in New England. Schiano could have a job on the Pats staff w/ Belichick but still hasn't decided.

— Bruce Feldman (@BruceFeldmanCFB) February 5, 2018
Greg Schiano tells me he is staying at #OhioState contrary to reports from Monday that he was leaving for the Patriots. Big day for the Buckeyes. Schiano played a key part in landing top OT Nick Petit-Frere out of Tampa.

— Bruce Feldman (@BruceFeldmanCFB) February 7, 2018
Prior to joining Urban Meyer's coaching staff at Ohio State in 2016, Schiano gained some brief experience in the NFL with the Chicago Bears and Tampa Bay Buccaneers. He went 7-9 as head coach of the Bucs for the 2012-2013 season but was fired after a 4-12 mark the following year.
In November of this past year, Tennessee announced its hiring of Schiano as the team's head football coach, but the university backed out of the deal in response to social media backlash surrounding the decision. Schiano had worked at Penn State as a graduate assistant and defensive backfield coach during Jerry Sandusky's tenure and child sex abuse scandal.
Belichick — whose older son, Steve, played football for Schiano at Rutgers — has spoken effusively about the 51-year-old's influence, saying with confidence he has "zero reservations" about his character as a football coach and person.
"I think Greg's a tremendous coach," Belichick told reporters during a November postgame press conference. "I've learned an awful lot from him and had an opportunity to spend a lot of time with him when he was at Rutgers and Stephen was at Rutgers and I'd go down there. The lacrosse and the football programs are in the same building."
He continued:
Then at Tampa and the couple of years after Tampa was really even better for, I would say, my relationship with him because he had those last two years in the NFL and I've learned an awful lot from him. We talk about things that they did in their program, that he did in Tampa, that really had a lot of relevance to what we do. So did Rutgers, but it's a little bit different in the NFL."

He's done a great job at Ohio State. He's one of the very best coaches I think in our profession. I have a tremendous amount of respect for Greg and the way he runs his program and the job that he does. I would say the most impressive thing for me is the way that our players, which we've had a lot of Rutgers players come through here, the loyalty and the I would say love of the program, the college program that they were in at Rutgers when he was there, how they maintained that for years and years after they had left.

Not taking anything away from any other school, but I would just say that it's extremely strong. I think the relationship that he has with his kids, with his players and how well prepared his players are to come into this league is exceptional. I didn't know that, but it's good for him. He's a great coach. I'm sure he'll be a great head coach. Again, he's done an awful lot. He's helped me in a lot of different ways and I have a lot of respect