Patriots
4 questions about Rob Gronkowski's future in the NFL, answered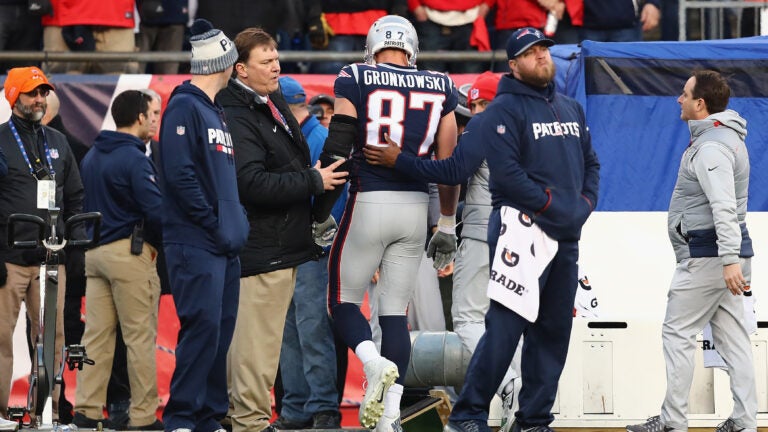 Could Rob Gronkowski's most recent season with the Patriots really be his last?
Following New England's disappointing Super Bowl LII loss, Gronkowski refused to say whether he plans to return to the field in 2018. The tight end repeatedly gave noncommittal responses when pressed about his intentions for the upcoming year.
"I'm definitely going to look at my future, for sure, sit down in the next couple weeks, and see where I'm at," he told reporters during his postgame media availability. "We fought all year long — all the receivers, running backs, lineman. We put all the work in together, so I'm just going to reflect on the season … We'll see what happens."
The lack of certainty surrounding Gronkowski's future was seemingly upstaged by other Patriots storylines — Malcolm Butler's benching and Josh McDaniels's sudden change of heart — in the aftermath of their Super Bowl defeat. But the possibility of losing one of team's strongest offensive weapons is reportedly very real.
"Weeks before [the AFC Championship game], Gronkowski was telling people around him the toll on his body was making him lean toward the potential that this was his last season," ESPN's Jeff Darlington reported on SportsCenter last week. "This is a very serious thing for Gronkowski at this point. He will certainly continue to contemplate retirement."
When asked after the Super Bowl what it would take for him to retire, Gronkowski said he wasn't ready for those "types of questions" at that point in time.
Here's what you need to know about the tight end's status with the Patriots and how retirement could fit in with his future plans:
When did he first start thinking about retirement?
According to Darlington, Gronkowski has been mulling over retirement for quite some time. His thoughts are reportedly not just a byproduct of New England's taxing season that ended with a Super Bowl defeat.
"It's not a done deal by any means, but this is not something that is simply an emotional approach to the loss of the Super Bowl, nor is it an emotional response to the concussion," Darlington explained. "This is something Gronkowski has been considering long before both of those instances in the 2017 season."
When asked whether the thought of retirement had previously crossed his mind, Gronkowski did not offer a comment immediately following Super Bowl LII.
"We just lost," he told reporters, after taking a brief moment to find his words. "I just want to sit back and relax the next couple of weeks. I really got nothing to say about that right now."
Why would he retire?
Gronkowski's physical health has continued to be an ongoing concern over the course of his eight-year career. While the five-time All-Pro selection has achieved historic levels of success on the football field, he has also suffered a number of serious injuries dating back to his college years at Arizona. Gronkowski missed the entirety of his junior season after undergoing back surgery to remove a bulging disk.
The Patriots selected Gronkowski with the 42nd overall pick in the 2010 NFL Draft, but injury-free seasons as a pro have also been few and far between. In 2012, he broke his forearm and required surgery. In 2013, he broke his forearm again and required surgery. In 2013, he tore the ACL and MCL of his right knee and required surgery. In 2016, he was diagnosed with a herniated disk and required surgery.
Darlington reports sources close to Gronkowski "truly believe the toll on his body is making him question his NFL future." The 28-year-old has missed over 30 regular-season and postseason games due to injuries.
Retired Cowboys safety Darren Woodson said on ESPN's NFL Live he believes a healthy Gronkowski could play "three to four more years" at his current level of performance. His projection aligns with the typical length of a Pro Bowler's career. Players with at least one Pro Bowl selection — Gronk has five — play, on average, 11 seasons in the NFL.
Is he trying to leverage the reports into a new deal?
Some speculate Gronkowski is teasing the possibility of retirement in order to get the Patriots to offer him a contract extension or restructure his current deal.
Gronkowski has two years remaining on his existing contract — a six-year, $54 million extension signed in 2012 — before he becomes an unrestricted free agent in 2020. After reaching the top tier of his incentives this past season, he was the highest paid tight end in league with a $10.25 million payout.
Under his team-friendly decreasing contract, however, Gronkowski is scheduled to make less money ($8.9 million) next season. But Darlington insists his contemplation of retirement is not a "fabricated" leverage play.
"You can have real leverage," he said on NFL Live. "When you're willing to walk away from the game, and the team incentivizes you by offering more money. The best leverage is real leverage."
Gronkowski was the fourth-highest paid Patriot this past season — behind only quarterback Tom Brady, cornerback Stephon Gilmore, and safety Devin McCourty. Despite reeling in the big bucks, Gronkowski said in 2015 he has yet to spend any of his contract money and has successfully relied on endorsements.
"To this day, I still haven't touched one dime of my signing bonus or NFL contract money," he wrote in his book, It's Good to Be Gronk. "I live off my marketing money and haven't blown it on any big-money expensive cars, expensive jewelry or tattoos and still wear my favorite pair of jeans from high school."
He would not owe the Patriots any money if he were to walk away because there is no guaranteed money left on his contract.
What would he do if he retired?
A career in Hollywood is reportedly in the cards if Gronkowski decides to call it quits in the NFL.
According to the Eagle Tribune's Bill Burt, Gronkowski is considering pursuing acting as a full-time gig. Burt reports Dwayne "The Rock" Johnson and Sylvester Stallone have told the tight end he could make millions through action films.
His past on-screen credits include brief appearances — usually as himself or a party boy — in low-profile film productions and a few music videos. In addition to his Tide and Dunkin' commercials, he also made a Family Guy cameo in July 2017 and appeared in the Entourage movie, along with Brady and Julian Edelman, in 2015.
Gronkowski's friend Mojo Rawley was recently asked whether he thought Gronk could potentially try his luck at professional wrestling and join the WWE as well.
"Are you kidding? It's not a matter of if, it's a matter of when," he joked to TMZ. "I don't know. I can't speak for him. Whatever he wants to do. But Robbie G is the man and I don't put anything past him."
Dave Meltzer reported in the Friday edition of his Wrestling Observer Newsletter that the WWE is interested in giving Gronkowski "a similar style deal" to the full-time contract Rondo Rousey received in January.