Patriots
Drew Bledsoe shares how making wine is a natural extension of football
The first overall pick in the 1993 NFL Draft catches us up on his fruitful retirement endeavors.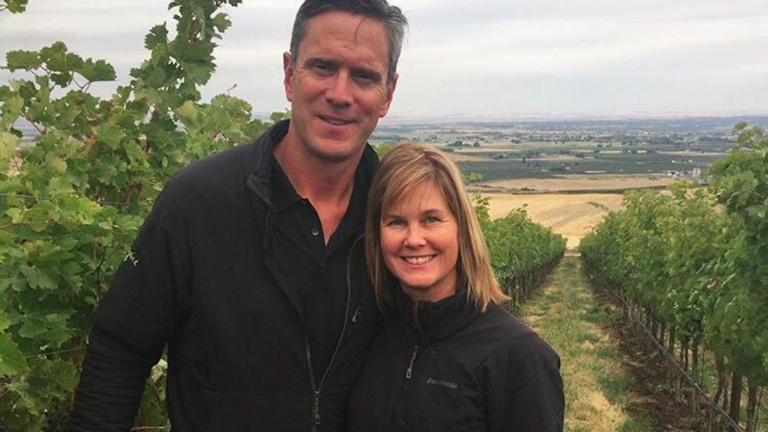 Fall used to signify the kickoff of football season for Drew Bledsoe, but the autumnal weather in retirement carries a new meaning for the former Patriots quarterback.
Trading in throwing touchdowns for crushing grapes, the 45-year-old is now an avid winemaker. A year after his final NFL game, Bledsoe officially launched Doubleback Winery — a family business in his hometown of Walla Walla, Washington.
Bledsoe told Boston.com he first started thinking about entrepreneurship seven or eight years into his career, once he started to recognize "football wasn't going to last forever." To prepare for the inevitable end of his childhood dream, the four-time Pro Bowler said he took a hard look at what he could learn from players who had seamlessly transitioned out of the NFL and other leagues.
"The biggest thing the successful ones had in common was they had something to throw themselves into — a place to apply the passion that it took to play a sport," he said. "You leave one career at a young age, and doing nothing is a recipe for disaster. That was a big motivator behind wanting to start a business."
While he initially dipped his toe into a couple of other ventures, including the coffee and oil and gas industries, wine quickly became his main focus. Why wine? The reasoning was simple: He likes it.
The Pacific Northwest native has opened four estate vineyards, which each offer a defining characteristic — whether it be the soil, elevation, or microclimate — that helps facilitate the growing of their own grapes. One of the newer properties, Flying B, was planted last Spring and spans 48 acres in the Walla Walla Valley.
"As luck would have it, while I was playing football, my hometown where I grew up became recognized as one of the great wine-grape growing regions of the world," Bledsoe said. "It allowed me to start the business in a familiar place I know and love."
Though Doubleback officially launched in 2007, Bledose actually purchased vineyard land in 2003 while he was in the midst of his 11th NFL season.
Over the past decade, Doubleback has earned high marks, and a spot on the Wine Spectator Top 100 list, for its Cabernet Sauvignon. While the number of cases produced has increased from 600 to about 2,500, the relatively modest bottle count — and $97 price tag — contributes to an aura of exclusivity.
Bledsoe said he was interested in creating a premium wine, as opposed to a production wine, because he was fascinated by its artistic capabilities. Pursuing this model has allowed him and his team to treat wine as more than just a beverage.
In addition to the Cabernet Sauvignon, Doubleback has released a rosé, a Chardonnay, and a Bledsoe Family wine, which is described as a red blend with flavors of "plum, cassis, and cherry." The day after Super Bowl LII, the winery released its latest vintage.
We are excited to release our new 2015 Doubleback Cabernet Sauvignon today along with our foundational 2015 Estate Reserve and 2016 Chardonnay. Cheers! pic.twitter.com/6Zqbd2EjW8

— Doubleback (@doublebackwine) February 6, 2018
Although he has been retired from the game for over a decade, the Super Bowl XXXVI champion is still finding traces of the sport through his current endeavors.
Bledsoe's right-hand man, Josh McDaniels, happens to share the same name as New England's current offensive coordinator.
"It's pretty funny on social media," Bledsoe said. "He gets messages all the time. Some people go so far to say they're amazed he has the time to make wine when he's not calling plays for the Patriots, which I feel is pretty funny."
Having McDaniels and childhood friend Chris Figgins as an integral part of his company is a huge asset to Bledsoe — and one of the many similarities he's drawn between football and winemaking.
"You have to have a great team around you to be successful," he explained. "We have a great team with our business and they function very, very well."
Among the other commonalities? Developing and carrying out a plan.
"You got to plan and plan and plan," he told Boston.com. "In football, you're always game-planning all offseason and every week leading up to a game. Then you go try to execute that plan on Sunday. It's the same in business. You're just planning and planning and planning and preparing to execute your plan."
"But when you go to execute your plan and something unforeseen comes up, you have to be able to adapt and overcome and sometimes change on the fly," he continued. "If you find the plan you had in mind isn't working, you've got to have some perseverance because it never goes as smoothly as you want it to. You have to weather the storm and keep going forward. You have to have the discipline."
Among the differences? In football, Bledsoe knew instantly whether he made a good decision or a bad decision. Touchdown or interception. Reception or incompletion. In wine, however, it sometimes takes 7-10 years to discover how certain decisions ultimately pan out.
That high-stakes competition, of course, was also a huge draw for Bledsoe. As he frames it, there are more individual bottles of wine than there are of any other product category in the world. With Doubleback competing against 50,000 other bottles, he knows he has to "do every part of it right."
The recent construction and development of a new facility will certainly make doing every part of it right a little easier in the near future.
"We're in the process of moving into the new winery as we speak," Bledsoe said. "It's really exciting because that's going to allow us to be more efficient and better at what we're trying to do from a quality standpoint, while also allowing us to continue to grow as we choose."
Outside of winemaking, Bledsoe enjoys skiing, golfing, and coaching high school football in Oregon.
"I had a chance to coach all three of my sons as they've come through," he said. "I've really, really enjoyed that."
The father of four doesn't have a formal connection with the Patriots or any of his other former teams, but he still gets back to his old stomping grounds every once in a while. Bledsoe was named honorary team captain for New England's most recent AFC Championship game against Jacksonville.
"The Patriots organization and the Kraft family have been so kind to me that I've been able to get back to Foxborough from time to time to watch a game and spend some time around the organization," he said. "It's kind of funny whenever the national anthem starts, it still kind of makes my hair stand up and want to go play."
After New England's thrilling Super Bowl LI win, quarterback Tom Brady and team owner Robert Kraft celebrated with a bottle of Doubleback's Cabernet Sauvignon. Bill Belichick wasn't spotted with a glass, but Bledsoe said he'd love to share a bottle with the head coach at some point.
"Maybe after he's retired," he said. "You get him away from football and he's really an engaging and interesting guy. It's hard to get him to shut that off while he's coaching. One day we'll sit down and share a bottle or maybe even two."
As for what he might serve Belichick?
"I don't really care what he likes," Bledsoe said. "I'm going to drink what I like."