Patriots
Rob Gronkowski reportedly 'didn't enjoy himself' last season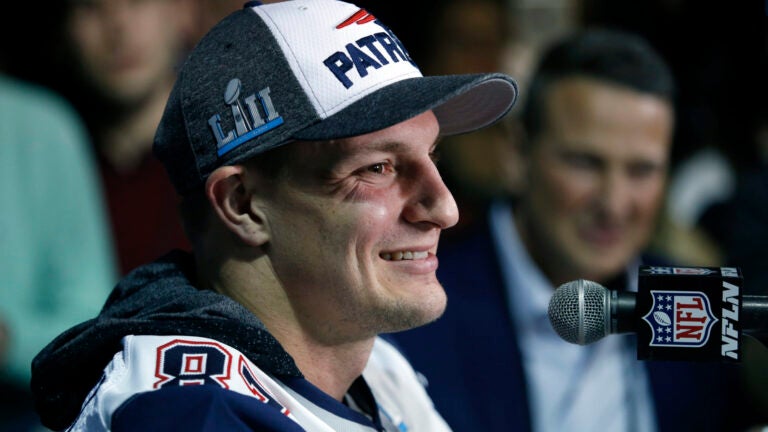 If Rob Gronkowski leaves the Patriots in 2018, he isn't necessarily retiring.
Rumors are swirling that the tight end's most recent season in New England could be his last, but is it possible Gronkowski's NFL career could continue outside the confines of Gillette Stadium?
"He didn't enjoy himself in 2017," NBC Sports Boston's Tom E. Curran reported on Boston Sports Tonight Monday. "He did not have a good time, despite the fact his body was in a better situation than it's been in a long time — ever maybe — despite the fact that he's one of the most dominant players at any skill position."
Curran later added Gronkowski told him in December that he's "never had this much fun on the field," but said the physical and mental demands of playing football, including "the atmosphere in New England," are starting to wear on the 28-year-old. He also corroborated ESPN reporter Jeff Darlington's report that Gronkowski's thoughts of retiring originated well before the concussion he suffered during the AFC Championship game against Jacksonville.
"This started in training camp," Curran told co-hosts Michael Holley and Kayce Smith. "He seriously considered stepping away from the game in training camp. He kind of had it. At that point, his body wasn't responding. He wanted to train a certain way. The team didn't necessarily want him to train the way he wanted to train."
Curran didn't get into specifics on the disagreement, but Gronkowski is one of the Patriots who follows Tom Brady's TB12 method. At the beginning of May, he started visiting trainer Alex Guerrero and the TB12 Sports Therapy Center regularly throughout the offseason. In December, however, head coach Bill Belichick reportedly reduced Guerrero's access to the team and prohibited players other than Brady from being treated at Guerrero's office.
It's unknown how Belichick's decision impacted Gronkowski, but Curran reports "some of the principal players" on the team were not happy with "the atmosphere and the climate" at the end of the season. Prior to the start of the NFL playoffs, ESPN's Seth Wickersham published an extensive report detailing the growing internal conflict among Belichick, Brady, and team owner Robert Kraft.
"All the stuff that we reported, all the stuff we've talked about," Curran said. "They still need to have a hell of an air clearing at Patriot Place to get these guys back."
But, he added, the Patriots have yet to consider the threat of Gronkowski leaving seriously.
"In my estimation, the Patriots haven't taken seriously just how beaten down he's been," Curran said. "I don't think the team's at a point where they think that they would need to trade him. I don't think he wants to play anywhere Tom Brady isn't."