Patriots
2018 NFL Scouting Combine: What Patriots fans need to know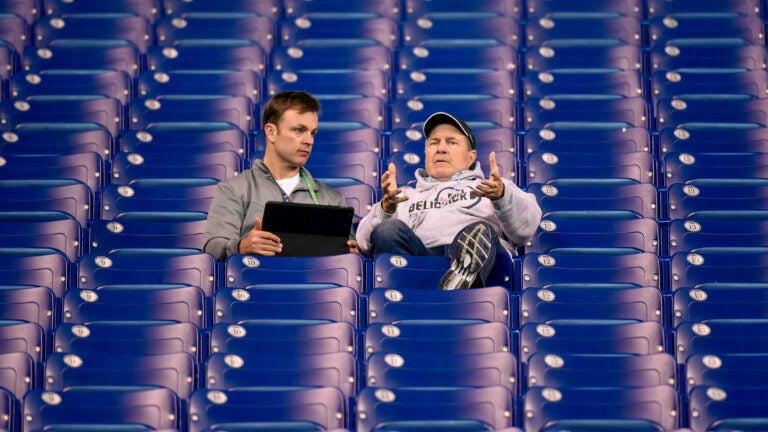 More than 300 NFL prospects will participate in the annual scouting combine this year, with hopes of proving — or confirming — to coaches and general managers they're worth drafting.
Starting Friday, the players will take part in athletic testing (e.g. 40-yard dash, bench press), position-specific drills, medical evaluations, interviews, and an intelligence assessment. Each player in attendance will have their physical measurements (height, weight, arm length, hand size, etc.) taken as well.
The workouts are scheduled by position:
Friday, March 2: running backs, offensive line, place kickers, special teams
Saturday, March 3: quarterbacks, wide receivers, tight ends
Sunday, March 4: defensive line, linebackers
Monday, March 5: defensive backs
Since Wednesday, coaches and/or general managers have been conducting 15-minute press conferences to field questions about the team's offseason plans. The Patriots are among the four teams not scheduled to speak.
Offensive coordinator Josh McDaniels is not expected to be present at the combine, which happens to take place at Lucas Oil Stadium — the home of the Colts — in Indianapolis. Head coach Bill Belichick, the Patriots front office, and medical staff, however, will all be on site.
Here's the latest news from the combine:
Sunday, March 4
This post will be updated as more information becomes available.
Saturday, March 3
Former Arkansas head coach Bret Bielema is reportedly attending the combine as a rep for the Patriots: Bielema was fired in November after coaching the Arkansas football team for five seasons. He holds the worst record of any Arkansas head football coach with at least five seasons of experience.
Interesting note from Indianapolis: Former Arkansas head coach Bret Bielema is at the NFL Scouting Combine as a representative of the Patriots, per source.

— Doug Kyed (@DougKyed) March 4, 2018
UCF linebacker Shaquem Griffin recorded 20 reps on the bench press with a prosthetic left hand: Griffin penned an emotional letter in the Players' Tribune about his background.
Using a prosthetic on his left arm, @Shaquemgriffin just put up 20 reps on the bench press! ?#NFLCombine @UCF_Football

?: @nflnetwork pic.twitter.com/fHS0b4Eb0s

— NFL (@NFL) March 3, 2018
Alabama defensive lineman Da'Shawn Hand met with the Patriots: Hand also met with the Pats during the 2018 Senior Bowl.
Ohio State defensive lineman Sam Hubbard said he will interview with the Patriots: Hubbard's teammate, defensive end Jayln Holmes, also met with the Pats.
Ohio State DL Sam Hubbard said he has a formal meeting with the #Patriots Saturday night. #NFLCombine pic.twitter.com/ohbFm9XFR6

— Jim McBride (@globejimmcbride) March 3, 2018
Belichick has been spotted:
— nick (@nick_pants) March 3, 2018
Michigan defensive tackle Maurice Hurst reportedly will not participate in the combine due to a recently diagnosed heart condition:
Michigan DT Maurice Hurst, projected as a potential first-round pick, was diagnosed today with a heart condition, league sources told ESPN. Hurst will not go through combine drills and will undergo further testing this week.

— Adam Schefter (@AdamSchefter) March 3, 2018
Friday, March 2
The Patriots reportedly have not set up a meeting with Oklahoma quarterback Baker Mayfield: 
The Patriots haven't set up anything with Baker Mayfield this week, according to a source. Considering the dynamics of the pre-draft poker game, that probably doesn't mean anything.

— Jeff Howe (@jeffphowe) March 2, 2018
South Dakota State tight end Dallas Goedert said he met with the Patriots at the 2018 Senior Bowl: Goedert said he hasn't met with the Patriots at the combine because "[he] doesn't think their offensive coaches are here."
Oklahoma tight end Mark Andrews met with the Patriots:
TE Mark Andrews had an informal interview with the Patriots.

— Ryan Hannable (@RyanHannable) March 2, 2018
Toledo quarterback Logan Woodside said he met with a Patriots scout before the combine: Woodside said he chatted with a Pats scout for 20-25 minutes at the NFLPA Collegiate Bowl, which took place Jan. 20 in Pasadena, Calif. Woodside said he's met with "pretty much every team" at the combine, except the Patriots.
Western Kentucky quarterback Mike White said he's constantly watching Brady's film: White added that every quarterback at the combine, including himself, "would love" to be Brady's understudy.
Richmond quarterback Kyle Lauletta said he's met with Patriots scouts: He does not have a formal interview at the combine, however. Lauletta has been floated as a potential option to back up Brady next season.
Kyle Lauletta says he's spoken to a few Patriots scouts. "You can't think about one team drafting you." Says he does not have a formal interview with them. pic.twitter.com/V2hdRA6M7B

— Ryan Hannable (@RyanHannable) March 2, 2018
The Patriots' return for Jimmy Garoppolo has been determined: The 49ers won the coin flip with the Raiders, which means San Francisco will pick ninth and the Raiders will pick 10th overall in the 2018 NFL Draft. The order will flip in the second round, which means the Patriots will receive the 43rd overall pick from the 49ers in exchange for Garoppolo.
The pick had potential to be as high as 34th overall, depending on San Francisco's final season record.
THE COIN TOSS pic.twitter.com/aVwrq5ZYdv

— Doug Kyed (@DougKyed) March 2, 2018
Potential draft target Kolton Miller broke Lane Johnson's OL broad jump record: 
10'1″ ???

Kolton Miller (@UCLAFootball) just set a broad jump RECORD for OL at the #NFLCombine!

?: @nflnetwork pic.twitter.com/Xiw82z5qTL

— NFL (@NFL) March 2, 2018
Thursday, March 1
The Patriots met with UCLA offensive tackle Kolton Miller: According to MassLive's Kevin Duffy, Patriots offensive line coach Dante Scarnecchia did not attend the formal interview.
#NFL Combine Key Measurements thread…

11. #UCLA OT Kolton Miller
Height: 6-8 5/8?
Weight: 309
Hand: 10 6/8?
Arm: 34
Wingspan: 82 4/8 https://t.co/ayJ6OZZ9Og

— Charles Robinson (@CharlesRobinson) February 28, 2018
The Patriots met with FSU offensive tackle Rick Leonard:
FSU OT Rick Leonard met with Patriots earlier today. Played under legendary OL coach Rick Trickett, who is close with Dante Scarnecchia.

— Kevin Duffy (@KevinRDuffy) March 1, 2018
Field Yates explored some of the needs the Patriots are looking to address: Speaking to Patriots.com's Megan O'Brien, NFL insider Field Yates believes New England's roster is comparatively in a good spot, but the team does have a few positions that could use some additional depth. Yates specifically mentioned running backs to be one area of concern, as both Rex Burkhead and Dion Lewis are scheduled to become free agents.
He also mentioned two other notable players set to enter free agency, Malcolm Butler and Nate Solder, raising the possibility that cornerback and left tackle could become areas of need as well.
LSU running back Darrel Williams met with the Patriots:
LSU RB Darrel Williams met when the Patriots last night.

— Doug Kyed (@DougKyed) March 1, 2018
Miami running back Mark Walton met with Pats running back coach Ivan Fears: 
Miami RB Mark Walton says he met with Patriots RB coach Ivan Fears this week. He's drawn comparisons to James White. Pretty polished pass-catcher, confident pass-protector. pic.twitter.com/KnXa4bfpCq

— Phil Perry (@PhilAPerry) March 1, 2018
Fordham running back Chase Edmonds met with the Patriots: 
Fordham RB Chase Edmonds met with the Patriots at the combine.

— Doug Kyed (@DougKyed) March 1, 2018
Georgia running back Sony Michel said his first meeting was with the Patriots:
Georgia RB @Flyguy2stackz: I want coaches to get a feel of the type of guy they are drafting. My first meeting here was with the #Patriots. pic.twitter.com/Gv5jKN5WkX

— SiriusXM NFL Radio (@SiriusXMNFL) March 1, 2018
The Patriots met with NC State running back Nyheim Hines Wednesday evening: According to WEEI's Ryan Hannable, the conversation was not a formal interview. Each team is allowed 60 15-minute interviews with prospects of their choosing.
Running back Nyheim Hines said he grew up a #Patriots fan — his dad is from Connecticut. "Who doesn't love a winner?" he said. pic.twitter.com/Thq6x9PvLw

— Jim McBride (@globejimmcbride) March 1, 2018
(12 p.m.) Pete Carroll said the Seahawks are "listening to everybody about everything" when it comes to Richard Sherman: Seattle's head coach Pete Carroll didn't share specifics in regards to his plans for cornerback Richard Sherman, but emphasized that the team is interested in hearing all offers at this time of year. According to the Boston Herald's Jeff Howe, Sherman would be interested in joining the Patriots if the opportunity presented itself.
(11:45 a.m.) Kyle Shanahan echoed John Lynch's account of the Garoppolo trade: 
49ers coach Kyle Shanahan going through Garoppolo trade timeline. Said Patriots had no interest in dealing him this time last year, but said as trade deadline approached Patriots "became realistic."

— Ryan Hannable (@RyanHannable) March 1, 2018
(10 a.m.) John Lynch said the Patriots were initially unwilling to trade Jimmy Garoppolo: According to 49ers general manager John Lynch, San Francisco "made some efforts right away" to try and reach a deal, but their request was "rebuffed quicker than [he] could ask." Things changed, however, as the season went on.
"We kind of just moved on," Lynch told reporters. "But during the season, like I said, some things broke our way and he became available."
Wednesday, February 28
Linda Holliday dished out a one-liner when asked if she would be at the combine: 
Not my job! ? https://t.co/Ydg6JTfdrz

— Linda Holliday (@LindaH_Official) March 1, 2018
Adam Schefter believes the Patriots will be "in the quarterback market" for this draft: Speaking to Patriots.com's Megan O'Brien, NFL insider Adam Schefter said it's not a matter of if New England will draft a backup passer, but a matter of when.
"The question is where are you going to pick one?" he told O'Brien. "Are they going to gamble and roll the dice on a guy like Lamar Jackson who could be there for them in Round 1? That would be interesting. Are they going to wait until Round 2 and go get a guy like Luke Falk or Kyle Lauletta, somebody like that?"
Given Belichick's recent draft history (Jimmy Garoppolo in Round 2, Jacoby Brissett in Round 3), Schefter said the 65-year-old has been "hesitant in the past to go quarterback-high" when the team has Tom Brady. Selecting a passer in Round 1 could reflect a change in the organization's priorities.
(11:30 a.m.) Mike Vrabel spoke about his time in New England with Matt Patricia: The newly hired Tennessee Titans head coach had nothing but praise for Patricia's coaching abilities. The pair overlapped for five seasons in Foxborough, directly working together for the two years Patricia served as the linebackers coach.
"Matt was a detailed coach, and understand, it wasn't easy probably coaching a bunch of guys that have been in the NFL for 10 or 11 or 12 years," Vrabel told reporters. "Trust me, I'm sure we had all the answers. He probably was like, 'Yeah, you guys have no idea.' But Matt was able to manage those different personalities and have us prepared. He was able to think outside the box and be creative. I'm hoping that he has a lot of success except for when he plays the Titans."
Vrabel was gracious for his eight-year tenure with the Patriots.
"We're all better off for having spent time in New England, clearly," he said. "We won three championships and college is paid for my kids, so those are all good things. I've learned a lot from Bill."
Titans head coach Mike Vrabel: "We're all better off having been in New England." pic.twitter.com/HHxdp0F75E

— Ben Volin (@BenVolin) February 28, 2018
(10:45 a.m.) Matt Patricia stays mum on Patriots-related matters: The newly hired Detroit Lions head coach said he's going to defer any and all questions pertaining to his former team — including those about Malcolm Butler's controversial Super Bowl LII benching — to Belichick.
"I'm going to be extremely respectful to coach Belichick and his organization," he told reporters. "I'm going to let him answer any questions that have to do with the Patriots. I have obviously a lot of love for New England, but I have a new team."
Hey Matty P! #NFLCombine pic.twitter.com/KfkkSatlJe

— New England Patriots (@Patriots) February 28, 2018
(9:30 a.m.) Jon Gruden says he's 'envious' of the Patriots: The newly hired Oakland Raiders head coach wasn't shy about his admiration for Belichick and quarterback Tom Brady. Though he's been away from coaching for nearly a decade, the 54-year-old has kept close tabs on the Patriots through his role as an ESPN broadcaster.