Patriots
Kyle Shanahan thinks Patriots were 'pushed' into Garoppolo trade by deadline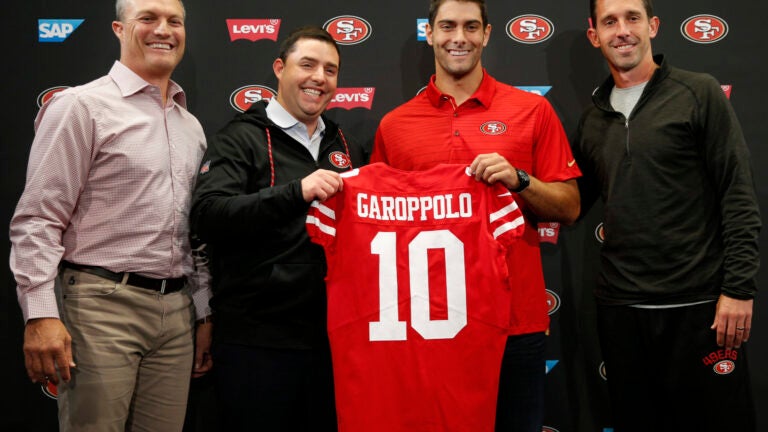 Jimmy Garoppolo is gone from New England, but the story surrounding his exit continues to attract interest. The trade, made by the Patriots with the 49ers last October, remains a major story for both teams. For San Francisco, it led to an optimistic end to the 2017 season. For New England, it created more questions than answers.
At the NFL rookie combine, 49ers head coach Kyle Shanahan was asked about the timing of the trade, and Bill Belichick's thought process:
Kyle Shanahan on the idea that Bill Belichick chose to send Jimmy Garoppolo to the #49ers and the process of acquiring the QB pic.twitter.com/nEKZpF6IBy

— Matt Kawahara (@matthewkawahara) March 1, 2018
"I don't know if [Belichick] chose his destination," Shanahan said of Garoppolo being traded to San Francisco. "But he gave us a chance to get him, and we strongly appreciated that. You'd have to task him that."
In regard to the timeline of the deal, Shanahan said he thinks that while the Patriots were unwilling to do a deal in the previous offseason, the looming possibility of Garoppolo leaving as a free agent "pushed" a trade into reality:
They weren't interested at all early on at this time last year, and I don't think they were later. I think they became a lot more realistic right before the trade deadline. I think that pushes a lot of teams to make certain decisions. I think they tried to hold onto it as long as possible but a few days before the trade deadline it came up. And I think they had to make a move to help their team and their future and fortunately it helped us also.
Garoppolo went undefeated as 49ers starter in five games, and signed a new five-year contract worth $137 million in February. In exchange for the quarterback, the Patriots received a second-round pick, now slated to be the 43rd overall selection.