Patriots
5 quarterbacks the Patriots could draft to back up Tom Brady
The 2018 class has several possibilities.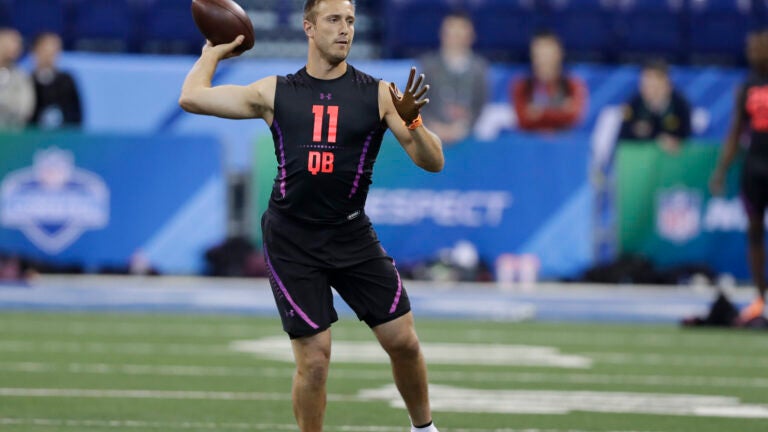 The Patriots technically have a backup quarterback on their roster, but Brian Hoyer is most definitely not the heir to the organization's future.
According to NFL Network's Mike Mayock, New England's search for a young passer to take over after Tom Brady's inevitable retirement — whenever that may be — is "getting more and more urgent."
The Patriots have yet to use a first-round pick on a quarterback since selecting Drew Bledsoe No. 1 overall in the 1993 NFL Draft, but with Brady's future less predictable than ever — coupled with New England's two first-round picks (Nos. 23 and 31) — it's possible 2018 could be the year coach Bill Belichick shakes things up.
Regardless of which round it happens, however, Belichick and company are expected to use one of the Patriots' eight picks to lock down Brady's replacement. New England holds two second-rounders (Nos. 43 and 63) as well as one third-rounder (No. 95). The abundance of picks gives Belichick ample ammo to potentially move up the draft board via trade, should he be after one of the more "elite" passers.
Here's a look at five prospects who could be in a Patriots uniform next season:
Luke Falk
The Patriots conducted a private workout for Washington State's Luke Falk earlier in April, according to NFL Network's Tom Pelissero.
Falk earned the 2017 Burlsworth Trophy, an award given to the most outstanding Div. I college football player who began his career as a walk-on. After a redshirt year in 2013, he served as a backup to Connor Halliday for the majority of his freshman season before Halliday went down with a broken leg. Falk assumed the starting job, threw for 471 yards and five touchdowns in his first start, and retained the role for the following three seasons.
Over the course of his college career, the Utah native threw 119 touchdowns and 39 interceptions. He holds Pac-12 football records for career passing attempts, completions, completion percentage, passing yards, and passing touchdowns.
Falk's college coach, Mike Leach, told Boston Sports Journal's Christopher Price he sees similarities between the Washington State senior and Brady: an underdog mentality, a rigid healthy meal plan, and an impeccable work ethic.
"He always modeled himself after Brady from afar," Leach told Price. "I'm sure a lot of the guys you're talking to for these stories say the same thing, but he does it more than most. He just absorbs himself in everything. His work ethic is incredible, and he's a real leader. He was never afraid to take the reins and elevate a team, get everyone around him to improve. I think he's been one of the steadiest quarterbacks in the Pac-12 the last several years and one of the steadiest I've ever seen."
Falk also happens to list Brady as his favorite player, according to the Boston Globe's Jim McBride. One of his hobbies is watching film of the five-time Super Bowl champ.
#NFLCombine Key Measurements thread…

36. #WSU QB Luke Falk
Height: 6-3 5/8
Weight: 215
Hand 9 2/8
Arm: 32
Wingspan: 77 3/8 https://t.co/LW7zHGW0s2

— Charles Robinson (@CharlesRobinson) March 1, 2018
Kyle Lauletta
Pelissero also reports the Patriots have conducted a private workout for Richmond's Kyle Lauletta as well. He, like Falk, is expected to be drafted in the second round.
As Pro Football Weekly's Eric Edholm laid out, Lauletta seems to be a nearly perfect match for Belichick. For one, he's a capable quarterback who ESPN's Todd McShay describes as "high driven, very intelligent, [and] accurate." McShay was also impressed with Lauletta's 2018 Senior Bowl MVP performance in which threw for 198 yards and three touchdowns.
Over the course of his four years at Richmond, he threw for a school-record 10,465 yards and 73 touchdowns. Lauletta told Pro Football Weekly's Eric Edholm he's frequently been compared to former Patriots backup Jimmy Garoppolo — a likeness he has no qualms about. But his intrigue continues beyond the football field.
Lauletta is a self-proclaimed "big lacrosse guy," and as many know, lacrosse holds a special place in Belichick's heart. Lauletta told Edholm he even considered pursuing the sport in college, but ultimately stuck with football because "it's a better team sport." Both Lauletta's father and uncle also played lacrosse, but the brothers played football when they attended, of all places, the Naval Academy.
"It's a big part of who I am," Lauletta told Press Box Online. "Any time you grow up in that type of environment I think it's great. It teaches you discipline and you learn what integrity is from a young age."
Those words certainly ring true for Belichick, whose father coached at the Navy for over three decades. Outside of the interesting non-football parallels, however, Lauletta believes he would be an appropriate fit for the Patriots because of his ability to process information and his football IQ.
The #NFLCombine measurements of #Richmond QB Kyle Lauletta:

Height: 6-2 5/8
Weight: 222
Hand: 9 6/8
Arm: 30 5/8
Wingspan: 76

— Charles Robinson (@CharlesRobinson) March 1, 2018
Mason Rudolph
Rapoport reports the Patriots had a private workout for Oklahoma State's Mason Rudolph in early April. He is expected to be a first-rounder, according to Rapoport.
Rudolph entered his freshman year as a third-string backup behind J.W. Watson and Daxx Garman. Both Watson and Garman, however, went down with season-ending injuries, giving Rudolph the opportunity to start the final three games of the season. For his third outing, he helped lead Oklahoma State to a 2015 Cactus Bowl title.
Over the course of his college career, the South Carolina native threw for 90 touchdowns and 26 interceptions. He also rushed for 17 touchdowns. Rudolph holds school records for most passing yards and passing touchdowns in both a single season and college career.
"I think Mason Rudolph from Oklahoma State is a really logical player —prototypical, drop-back type of guy," Mayock said. "I don't think he has great escapability, but I think he can do what the Patriots offense asks him to do."
The 22-year-old earned the 2017 Johnny Unitas Golden Arm Award, which is given to the college quarterback who offers not only impressive on-field performances but also upstanding character and scholastic achievement. Past winners include Peyton Manning, Matt Ryan, and Andrew Luck.
#NFLCombine Key Measurements thread…

58. #OklahomaState QB Mason Rudolph
Height: 6-4 5/8
Weight: 235
Hand: 9 1/8
Arm: 32 3/8
Wingspan: 77 7/8 https://t.co/vdK9vSWjpt

— Charles Robinson (@CharlesRobinson) March 1, 2018
Mike White
Rapoport also reports the Patriots sent director of player personnel Nick Caserio to work out Western Kentucky's Mike White.
Sports Illustrated's Peter King said White has a "good arm," which makes sense given that the 6-foot-4 passer was also a highly regarded baseball pitcher coming out of high school. White — who started his college career at South Florida but transferred to Western Kentucky after his sophomore season — is known for his precise passes and arm strength.
His numbers improved significantly at Western Kentucky, throwing for over 4,000 yards his junior and senior seasons. Over the course of his college career, the Florida native threw for 74 touchdowns and 31 interceptions. He also fumbled the ball 12 times his senior season — raising concerns about his footwork and ball security.
According to White's college coach, the 23-year-old is "obsessed" with Brady.
"I think Mike would benefit greatly from going to an organization like New England," Mike Sanford told BSJ. "He's going to be able to learn from a guy like Brady, and he'll also get a great football structure while he's there. I am fully confident if the pieces around him are good, he'll be elite."
#NFLCombine Key Measurements thread…

75. #WKU QB Mike White
Height: 6-4 5/8
Weight: 224
Hand: 9 4/8
Arm: 31 7/8
Wingspan: 77 5/8

— Charles Robinson (@CharlesRobinson) March 1, 2018
Logan Woodside
Caserio kept a close eye on Logan Woodside during his Pro Day in March.
While Woodside is on the smaller side compared to some of his competitors, the 23-year-old is still capable of making plays. His accuracy and delivery have been lauded as top-notch, so much so a scout told NBC Sports Boston's Mike Giardi Woodside's release is "already better than eight-to-10 starters in the league."
Over the course of his college career, Woodside threw for 93 touchdowns and 23 interceptions, averaging a 162.9 quarterback rating. He also led Toledo to its first Mid-American Conference title in 14 years. But things haven't always been easy. He wasn't heavily recruited out of high school and lost his starting job in college twice.
"He has a little bit of a chip on his shoulder," Mayock said. "He's a self-made kid … That chip on his shoulder, where 'Why didn't you recruit me?' you could almost see it on tape … I think Woodside has not gotten enough credit."
Woodside likened his path to that of Brady's and said it would be "a dream come true" if the Patriots called him on draft day in April.
"I get cold chills just thinking about it," he said. "I grew up a huge Tom Brady fan. Everything that he went through at Michigan, it was kind of a similar situation to what I had at Toledo, honestly. Nobody really believed in him so he went out there and proved it to them. And he's still proving it."