Patriots
How the Patriots fit in to the Browns' remarkable 24-hour trading spree
Here's what NFL reporters are saying about the Patriots' acquisition of Danny Shelton.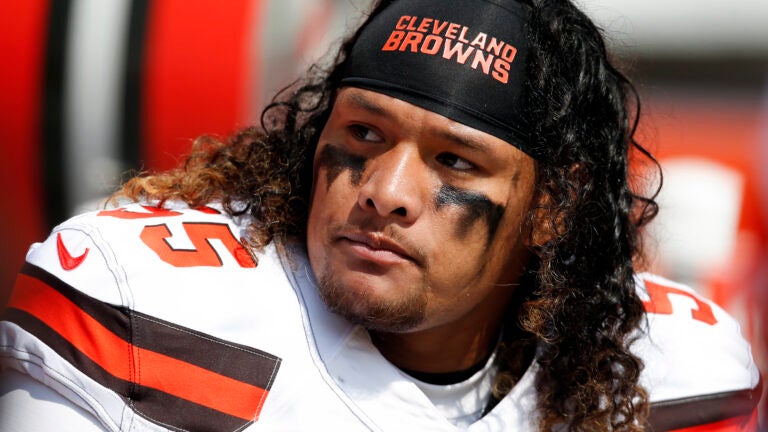 The Cleveland Browns made yet another trade Saturday — this time with the Patriots.
The Browns sent 24-year-old defensive end Danny Shelton to New England in a package deal, capping off a dizzying 24 hours of high-profile trades by the recently woeful franchise.
Since Friday afternoon, Cleveland also acquired the Miami Dolphins' Pro Bowl wide receiver Jarvis Landry, Buffalo Bills quarterback Tyrod Taylor, and Packers cornerback Damarious Randall. ESPN reporter Adam Schefter summarized the flurry of comings and goings in a tweet Saturday following the Shelton deal.
Browns' 24-hour tally:

Browns acquired:
QB Tyrod Taylor
WR Jarvis Landry
CB Damarious Randall
Packers' 4th- and 5th in 2018.
Patriots' 3rd in 2019.

Browns traded:
2018 3rd-round pick
2018 4th
2019 7th
QB Deshone Kizer
2018 4th- and 5th.
DT Danny Shelton
2018 5th.

— Adam Schefter (@AdamSchefter) March 10, 2018
NFL Network reporter Ian Rapoport tweeted Saturday that Cleveland had shopped Shelton at the trade deadline last season, but ultimately couldn't agree to a deal. A 12th-overall draft pick in 2015, Shelton has recorded 128 combined tackles and just 1.5 sacks through 46 games during his three years in the NFL and wasn't seen as a good fit for the team's new defensive regime.
The Browns deemed Danny Shelton a shaky fit for Gregg Williams' aggressive scheme, so they weren't gonna extend him or pick up his '19 option. A two-gapping, two-down run stopper, Shelton only played 44% of the snaps in '17.

— Albert Breer (@AlbertBreer) March 10, 2018
Cleveland.com's Mary Kay Cabot wrote Saturday that the 6-foot-2, 335-pound tackle "often occupied two blockers, but never lived up to his first-round status," particularly when the team switched away from a 3-4 defensive scheme.
"He tried to adapt last season to Gregg Williams' 4-3 scheme, but he wasn't a fit and often disappeared," Cabot wrote.
But with two Patriots defensive tackles positioned to leave in free agency,  Shelton could fill a void in New England. According to ESPN, his "skill-set should fit well" in the Patriots' young, run-focused hybrid defense.
Age in parentheses is as of 9/9
Lawrence Guy (28)- signed through 2020
Malcom Brown (24) – signed through 2018 with an option for 2019
Danny Shelton (25) – signed through 2018 with an option for 2019
Vincent Valentine (24) – signed thru 2019
Adam Butler (24)- signed thru 2019

— CapSpace=$21,195,108 (@patscap) March 10, 2018
I envision a defensive line of Guy-Brown-Shelton-Flowers on first and second down, then Shelton comes off, Guy kicks inside and Wise/Rivers/free agent rush the passer on third down

— Ben Volin (@BenVolin) March 10, 2018
A 2015 draft profile compared Shelton to former Patriots defensive tackle Vince Wilfork.
"Shelton is a bully," an unnamed NFC scout said at the time. "If you let him walk all over you early in the game, he's going to keep doing it. But watch how he kind of fades into the background when he goes up against guys who stand up to him. I want to see him show up all the time."
For the Browns, Shelton's departure opens roster and cap space; he is due about $2 million in guaranteed base salary next year and has a fifth-year option for 2019. It also means that none of the Browns' first-round picks from 2009 to 2015 are still on the team.
With Danny Shelton traded to Patriots, every one of the Browns first-round picks from 2009 to 2015 is gone from the roster. All 10 of them.

Alex Mack
Joe Haden
Phil Taylor
Trent Richardson
Brandon Weeden
Barkevious Mingo
Justin Gilbert
Johnny Manziel
Danny Shelton
Cameron Erving

— Will Brinson (@WillBrinson) March 10, 2018
As the Browns move to rapidly remake their offense, the Shelton trade could also represent an effort to optimize their improving defense, which was a relative bright spot in their winless 2017 season, even if it was by no means elite. Cabot writes that the trade with the Patriots "paves the way for more playing time for 2017 third-round pick Larry Ogunjobi, who made the most of his limited playing time last season."