Patriots
What we learned about Tom Brady from his 'Tom vs. Time' series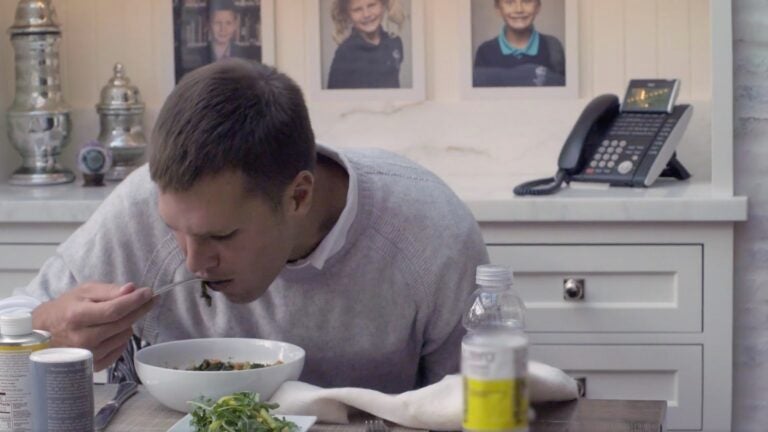 Director Gotham Chopra told Boston.com his production team captured roughly 80 hours of footage for Tom Brady's multi-part documentary series, but the final product was distilled to just a fraction of what they originally recorded.
The finished "Tom vs. Time" project totaled approximately 90 minutes over the course of six episodes, offering fans a never-before-seen look into Brady's life on and off the field. Here's what we learned from watching the series:
He has keepsakes from each of his NFL seasons.
Brady keeps scrapbooks for each of his NFL seasons in a cabinet. The binder for the 2016-2017 season features not only his Deflategate suspension letter from the league, but also a sheet with handwritten takeaways from Bill Belichick's team meeting before Super Bowl LI.
"Prepare and play well," the quarterback read off the piece of paper. "Super Bowl environment is all about hype and the ridiculous bulls— that will go on. It's a great week. It's about competition. The two best teams on the biggest stage. The team that wins is the one that works the hardest."
He could watch film for days.
For Brady, the mental aspects of football are "more inherent" in who he is as a player.
"I was never going to be as good as those other guys were physically," he said. "It's a very minimal part of what I do."
While the quarterback understands the value of athleticism and consistently takes care of his body via the TB12 method, he also devotes much of his time to studying film on his own. Constantly looking to improve his techniques, Brady said he could analyze plays for four or five hours straight. It's "soothing."
"I watch tape all day Monday, all day Tuesday, Wednesday we practice, Thursday we practice, Friday we practice, then I come home and watch film, then Saturday before the game, I watch film, and then Sunday morning, I watch film," he said. "I don't know why I can sit here and watch and process information quickly, but I can. Running and lifting has been much harder to develop than this. This has kind of been in me."
He seems to have come around on losing.
When reflecting upon the Patriots' Super Bowl losses to the Giants, Brady remembered the two defeats in a rather negative light.
"When you lose on the biggest stage and you know everyone is watching — and you've committed so much of your life to what you're doing — you're becoming a failure in front of everybody else," he said. "It's like a talent show you did when you were a kid and you were the failure."
When reflecting upon the team's most recent loss to the Eagles, however, he seemed to have adopted more of a positive, thoughtful attitude.
"When you think about the game, you think about the loss," he said. "When you think about the season, you think about the successes. When you think about the year, you think about everything."
His wife, Gisele Bündchen, also noted he's been "much better" this time around.
Winning is an ephemeral experience for him.
Despite a growing list of accolades — five Super Bowl championships and three MVP awards — Brady doesn't like to bask in the glory of his accomplishments.
"The joys of winning are great, but I sweep those under the rug so fast that there's a brief moment in time where I enjoy the experience of winning, and then I'm thinking about the next game and thinking about winning again," he said.
Although Brady is a big fan of watching film, it appears he doesn't relive the victories very often.
"I haven't watched this in 15 years," he said before opening the file for the 2001 Super Bowl — his very first title.
Alex Guerrero's training looks intense.
Brady's involvement with trainer and "body engineer" Alex Guerrero is well-documented through the pair's development of the TB12 method and accompanying performance guide, but "Tom vs. Time" offered fans a visual perspective of what treatment actually consists of.
As one of Brady's friends explains it in the documentary, "what we try to incorporate here are fast-twitch movements."
He swears quite a bit.
Brady isn't afraid of dropping the F-bomb. He had some choice words during a variety of scenes.
Talking about his ability to throw the football: "I can fire that motherf——."
Watching the 2007 Super Bowl: "F—"
When Julian Edelman tells him he wants to see him run: "It's not my f—— job, man. It's not my f—— job."
After he sinks a putt: "Suck on that motherf——."
On going to Montana with Edelman and Danny Amendola: "It's not about bulls——-, it's not about vacationing. We're not coming in here and just f—— off."
When his QB coach tell his age is a state of mind: "Yeah, I don't give a f—."
On the phone with Rob Gronkowski after the AFC Championship: "No, you're a f—— animal."
He doesn't keep the ends of bananas.
As part of his highly regimented diet, Brady prepares a number of smoothies (which he seemingly prefers to drink out of various jars instead of cups). When prepping the ingredients, he curiously removes the two ends of the banana before tossing them into the blender. He does not instruct readers to do so in the recipes featured in his performance guide.
Tom Brady removes the ends from his banana. Nothing to see here. pic.twitter.com/pLFM5KpLWt

— Henry McKenna (@McKennAnalysis) January 25, 2018
He really does call people 'babe.'
An anonymous teammate told ESPN in 2012 that Brady often uses "babe" as a term of endearment. Turns out that's still the case five years later.
To close a phone conversation with Josh McDaniels, he said, "See ya, babe." To compliment Edelman on one of his routes out in Montana, he said, "Good job, babe." And to greet Gronkowski on the phone after the tight end was on the receiving end of a helmet-to-helmet hit against the Jaguars, he said, "How are you doing, babe?"
His dad keeps countless mementos from Brady's career.
Brady was unsurprisingly effusive with his praise for his parents, Tom Sr. and Galynn.
"My parents basically just opened the door for the opportunities I wanted to pursue," he said. "They never managed my expectations. They never tempered my enthusiasm. They always built upon that."
Although he said he keeps "a whole bunch of stuff in storage," Tom Sr. also has a room dedicated to commemorating some of the achievements from his son's career. A few of the highlights include confetti from Super Bowl XLIX and LI, a Patriots foam finger, and framed Sports Illustrated covers.
He views surfing as a 'metaphor for life.'
Calling surfing the hardest sport he's ever tried, Brady sees parallels between hanging 10 and his other experiences.
"I think in a lot of ways surfing is a metaphor for life," he said. "As a beginner, I just want to get in there and go out and paddle. You do that, and then what do you do? You find yourself in a lot of whitewash. You're wasting all your energy when there's nothing to accomplish."
Whitewash is what happens once a wave breaks.
"In order to be good at it, you got to go with it," he continued. "You can't fight the force of Mother Nature. You got to find a rhythm with it."
Gisele really wants him to retire.
Much of the series' fifth episode explored talk of Brady's retirement — a topic that he and Bündchen agree to disagree on.
"He did tell me he was only going to play for 10 years, I just want to say that," Bündchen said. "When I met him in 2006, he said, 'Listen, I'm just going to play for 10 more years and I'm going to win one Super Bowl and I'm going to be happy.'"
Of course Brady pushed the limits beyond 2006, so when New England pulled off its thrilling comeback over the Falcons in Super Bowl LI, Bündchen thought the memorable victory could be the perfect opportunity for him to close the football chapter of their lives.
"I thought this is great, you know, like, what a great win," she said. "I was ready, and then he's like no."
When Chopra asked Bündchen what her next prediction is for a possible retirement date, Brady smiled and playfully flicked off the camera.