Patriots
5 things to know about new Patriots cornerback Jason McCourty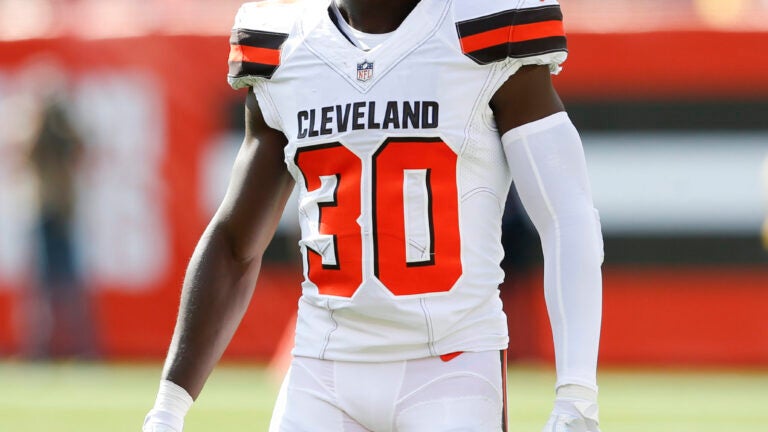 There are soon going to be two McCourtys to keep track of in New England.
The Patriots and the Browns agreed to a trade Thursday, bringing Devin McCourty's twin brother, Jason, and a seventh-round draft pick to the Pats in exchange for a sixth-round pick. After playing college football together at Rutgers, the McCourtys will now be joining forces for the first time in the NFL.
"I'd love to play on the same team as Jay," Devin told NJ.com in February. "To me, that's the only personal goal left."
Here's what you need to know about Jason:
His team has never made the playoffs.
Over the course of his eight seasons in Tennessee, Jason and the Titans never advanced to the postseason. Their best finish was a 9-7 record, twice, while their worst was a 2-14 record in 2014. After getting released by Tennessee at the end of the 2016 season, Jason signed with the Browns — who proceeded to go 0-16.
Devin and the Patriots, on the other hand, have not missed the playoffs once during his eight years in New England. After getting ousted in the divisional round his rookie year, the team has gone on to compete in a league-record seven straight AFC Championships. Despite falling to the Eagles in Super Bowl LII, Devin has two championship rings from Super Bowl XLIX and LI.
"I hate saying this every year, but my brother on the other side has been in the league for nine years and never played in a playoff game," Devin told reporters in January. "We're very close, we talk all the time, and he just wants to play in a playoff game. So, I never take it for granted."
The stark contrast between their careers hasn't always been easy for Jason. In a first-person essay for Sports Illustrated before Devin won his first ring, he wrote part of him "simmers with envy" every year. Although he noted Devin never gloats, he also emphasized how much he wanted to be a part of similar successes.
He and Devin share social media accounts.
In an equally amusing and perplexing choice, the two siblings share both a Twitter and Instagram account. They identify which twin is behind each post by signing them (J-Mac) or (D-Mac).
????????????????????????????????????????????????(D-Mac) https://t.co/dDecznonPF

— Devin&Jason McCourty (@McCourtyTwins) March 15, 2018
Now u got the better McCourty LOL (J-Mac) https://t.co/eau2myGwyO

— Devin&Jason McCourty (@McCourtyTwins) March 16, 2018
The brothers appear to share a sense of humor and often poke fun at each other. When 5-foot-10 Devin approached the podium for a press conference after teammate Rob Gronkowski, the camera clearly had to pan down in order to accommodate him in the frame. Jason posted a video of the moment on Instagram, with the caption: "You learn something new everyday! Hopefully Dmac learned to not go after Gronk at press conferences LOL!"
Bill Belichick once got the twins confused.
It looks like Bill Belichick is going to need to study up.
When on the field for media day before Super Bowl XLVI against the Giants, Devin and Jason managed to (unintentionally) pull a fast one on the Patriots head coach. Devin was supposed to be dressed in his jersey for photographs, so when Belichick spotted Jason on the field in street clothes, he was puzzled.
The pair recounted the story on NFL Network before Super Bowl 50 — and were quite literally finishing each other's sentences:
"So [Belichick] just walked up to [Jason] and was like wondering why [he] wasn't dressed. Yeah, he was like, 'Why aren't you dressed with your jersey and stuff on?' And then he looked and was like, 'Aw, you're not Devin.'"
"That was probably the best trick that we got somebody," Devin said.
Jason's actively involved with their charity efforts.
A few of the McCourtys' family members suffer from sickle cell disease, promoting the twins to start the campaign "Tackle Sickle Cell." According to their website, the goal is to "educate the public, increase blood donations, and raise money and awareness for the fight against sickle cell disease." The twins often host charity events and fundraisers, such as casino nights, blood drives, and 5K races.
"Sickle cell disease affected us at a young age because my father carried the trait," Devin said. "I remember we took blood [tests] at 5 years old to see if we carried the trait as well, and it was a relief when we learned we didn't. That didn't end the journey with sickle cell because both our aunt and uncle had the disease."
He's a capable cornerback, despite previously playing on poor-performing teams.
With the exception of undergoing season-ending groin surgery in 2015 — Jason has stayed relatively healthy over the years. He has started in at least 14 games and recorded at least 50 tackles in six of his last seven seasons. The 30-year-old also has 16 career interceptions, including three last season.
With the departure of Malcolm Butler, Jason joins the likes of Stephon Gilmore, Eric Rowe, and Cyrus Jones on the Patriots' cornerback depth chart.
"Brothers, inherently, are competitive, and twins take it to the next level," Jason wrote in SI. "As close as Devin and I are — we truly are best friends — we are always trying to one-up each other. We inspire each other to improve, on and off the field."