Patriots
Malcolm Butler's time in New England should have ended better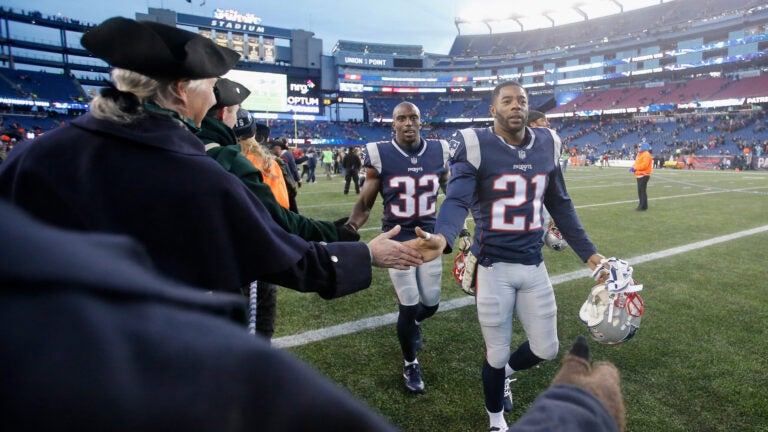 "Pass is intercepted at the goal line by … Malcolm Butler! Unreal!''
The first season of Malcolm Butler's Patriots career was perhaps the most satisfying who's-he? to hero stories in Boston sports lore. The end, after four seasons, was one of the strangest sagas and a little bit sad too.
It's impossible now, with Butler having officially become an ex-Patriot this week when he signed a five-year, $61 million deal with the Titans, not to remember one without considering the other.
Butler's goal-line interception that saved Super Bowl XLIX and inspired Al Michaels's perfect, slightly incredulous call is, when all factors such as magnitude of the moment, what it meant for the perception of the Patriots dynasty and the legacies of Tom Brady and Bill Belichick, and its sheer improbability are considered, the biggest clutch play in the history of American team sports.
Call it hyperbole if you want. It's not hyperbole if it's true, son.
Another part of the enduring charm of that play, beyond its obvious meaning in Patriots history, was Butler's visceral, extraordinarily human reaction. One-hundred-and-fourteen million television viewers watched him go from anonymous, undrafted rookie to Super Bowl legend in an instant.
In the immediate aftermath, upon returning to the sideline, he burst into tears, like he knew and felt instantly the full context of what the interception meant and how it was going to change his life. Not much about the Super Bowl ever seems genuine. Butler's reaction was as genuine as it got, and it made you happy that it had happened to him.
Go back and watch that play now, and it still puts a smile on your face even though you know it by heart. But now, you can't help but dwell on the strange juxtaposition of what we saw in Minnesota six weeks ago.
There was Butler again, in tears on the Patriots sideline during a Super Bowl. We'd seen it before, but this time it was all wrong. It was not about joy in the outcome; he was crying before the game began. We thought it might be his appreciation for the moment, or maybe an emotional reaction to the national anthem.
Turns out it was something inexplicably bizarre; he'd been told he would not play on defense. "Malcolm, go,'' the order from defensive coach Brian Flores that sent him into the game right before the fateful play in Super Bowl XLIX, had become "Malcolm, go sit down. We're doing this without you.''
The Eagles, with Nick Foles in full command, picked apart the Patriots secondary at will. Butler played one play, on a punt. I'll never forget seeing this: When it was over and many Patriots lingered to congratulate the delirious Eagles on their victory, he was already headed to the tunnel and then to the dressing room. There he goes. Malcolm, gone.
All these weeks later, and we're not much closer to an explanation now than we were that night. Even if Butler had a terrible week of practice – and that seems to be a consensus opinion around the Patriots – do you know what he looks like, even after a bad week of practice? A much better option in pass coverage than Johnson Bademosi or Jordan Richards, that's what.
I will forever believe that they would have won a sixth Super Bowl and a third in four years if Bill Belichick had played Butler in the second half. Perhaps he would have had a rough day in coverage. But receivers rarely eluded him after the made a catch. And the Eagles ran free all day.
Butler's interception against the Seahawks could have been the only highlight he achieved in his career. But he was more than a one-play flash in the Arizona desert. He became a steady, sometimes stalwart cornerback who made one Pro Bowl and probably should have made two. One of the reasons he did so is because he never gave up on a play or the fight, even if it was against Antonio Brown, Odell Beckham or some other hot-shot receiver, and even after it appeared he had been beaten. He wouldn't have given up on the fight against the Eagles. He'd have made a play, perhaps one that would have been the difference between celebration and sadness. He'd have made a play, I'm sure of it.
It doesn't make sense. I'm not sure it ever will. But Butler, the one person who is justified in carrying the disappointment with him, has moved on. Part of that, I'm sure, is that he can exhale now, knowing that the Super Bowl embarrassment didn't cost him his chance at the first big contract of his career. Nevertheless, he was incredibly gracious when he explained to the Boston Herald earlier this week why he believes he was benched.
"I never got a reason,'' Butler said. "I feel like this was the reason: I got kind of sick. I went to the hospital. They probably thought I was kind of late on the game plan; I wasn't as locked in as I should be and could have been a matchup deal. It could have been anything. But Bill Belichick has been doing this for a very long time. He took a veteran out of Super Bowl XLIX and put in a first-year rookie [Butler replaced Kyle Arrington during Super Bowl XLIX], and that turned out right, so you could never question his decision.''
I'm not sure I know many people, let alone professional athletes, who would handle the situation with that kind of grace. Butler is a good cornerback, but he might be an even better diplomat. I suppose if he can let it go, we should at least try to do the same. These have been unusual times around the Patriots, with the Super Bowl loss and stories of Rob Gronkowski's discontent and weird Tom Brady stuff. The 24-hour stretch in which Butler, Dion Lewis, Nate Solder, and Danny Amendola departed started making it feel like the last days of disco around Foxborough.
But it's getting better. Acquiring Jason McCourty, mainstay safety and quintessential Patriot Devin McCourty's twin brother, feels like a coup. Danny Shelton, the former No. 12 pick, should help at the defense's center of gravity. Julian Edelman is coming back, and Dont'a Hightower too. They're still the best team in the AFC, and more quality additions will come.
Still, it's tough to see admirable and accomplished Patriots go, especially when their last game was such a disappointment. You bet it should have ended better here for Malcolm Butler. I hope he's brilliant in Tennessee. It's the least we can do for the player who four years ago gave us the most famous final scene of all.