Patriots
ESPN The Magazine ranked the most dominant athletes of the last 20 years, and Tom Brady barely made the cut
The New England Patriots quarterback is 17 spots behind Peyton Manning.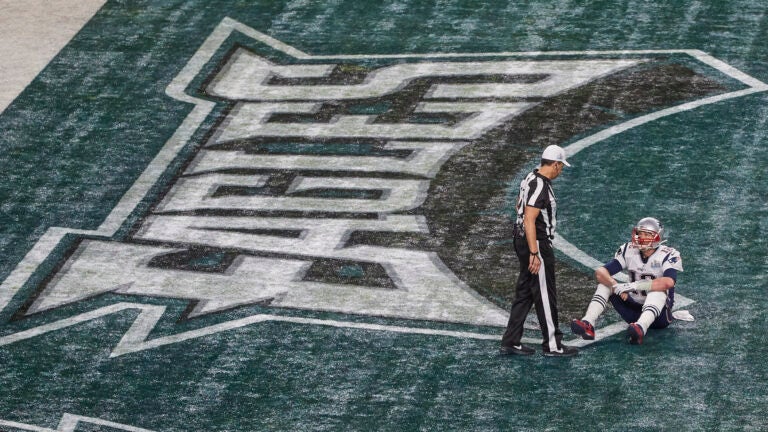 Tom Brady might be the greatest of all time when it comes to Boston's best-ever athletes. But in ESPN The Magazine's "definitive" ranking, he barely makes the list.
ESPN The Mag published their "Dominance Rankings," a cross-sport list of the 20 "most formidable, awe-inspiring and downright dominant athletes" of the last two decades, in honor of the magazine's 20th anniversary Tuesday.
Brady's spot on the list certainly won't quiet the always-vocal crowd of fans who think ESPN has an anti-Patriots bias. The five-time Super Bowl-winning Patriots quarterback came in just under the wire, ranked 20th, behind the likes of former Giants slugger Barry Bonds (17), Angels outfielder Mike Trout (18), and boxer Manny Pacquiao (19).
But it gets worse for Patriots fans. Brady is also ranked 17 spots behind longtime rival and fellow quarterback Peyton Manning, who placed third with a "dominance rating" of 12.7. Brady's dominance ranking was 6.3.
That faint sound you hear is fans across New England yelling "Rings!" at their phones and computer screens. But before Patriots nation gets too worked up over this perceived slight, it's worth taking a look at the "foolproof math" behind The Mag's rankings.
Here's how they described their methodology:
We used our unpatented five-step process to determine the most dominant athletes of the past 20 years. First we looked at the top league in every sport that has global annual revenues of $100 million or more and for which there are reliable annual overall rankings or ratings of individual athletes for all or most of the past 20 years. Then we rated those sports' athletes in each of the past 20 regular seasons by the best single performance metric available, adjusted these ratings to normalize athletes' scores in each sport across time, narrowed our focus to the top four athletes each year in every sport, then adjusted the data again to put these players, across sports, on a common baseline. Then we added up the results to achieve this list, in which one "dominance share" equals one standard deviation of performance by an athlete beyond the top four players in his or her sport for one season.
The gist: after narrowing down the pool to only the top leagues, the magazine looked at players' regular-season advanced statistics over the last 20 years and repeatedly adjusted them so that they could be compared across different sports.
One key phrase in that sentence, in the case of Brady, is "regular season." However, it wasn't the only reason he ranks so far behind Manning, according to Peter Keating, the ESPN writer who compiled the rankings.
Keating explained in an accompanying article, which anticipated that people may have a few questions, how Manning could possibly rank so far ahead of Brady.
For one thing, today's QB stats are steadily inflating. (There were 1.72 passing touchdowns for every interception in the NFL last season, up from 1.29 20 years ago.) For another, Brady wasn't really Brady-automatic Pro Bowler and MVP candidate-until 2007. Result: Manning considerably outpaces him when measured by yardsticks that don't depend on era, like MVPs (5-3), first-team All-Pro selections (7-3) and number of seasons throwing for 4 percent or more of the league's passing TDs (12-9, adjusted for number of teams).
Keating also emphasized that they only considered regular season stats because "there's no good way to compare playoffs across sports."
Of course, one needn't compare across sports to study Brady and Manning's relative playoff performances. Looking at yardsticks that don't depend on era, Brady has a better playoff record (27-10) than Manning (14-13), as well as more Super Bowl MVPs (4-1). That said, the former Colts-turned-Broncos quarterback does lead the all-time head-to-head playoff series against Brady, 3-2.
When all is said and done, it's unlikely that any statistic will convince any Brady or Manning fans to change their position. The Mag's Dominance Rankings will however re-stir the debate, which is likely what they were expressly meant to do.