Patriots
Morning sports update: Lawrence Guy runs an anime club in the Patriots locker room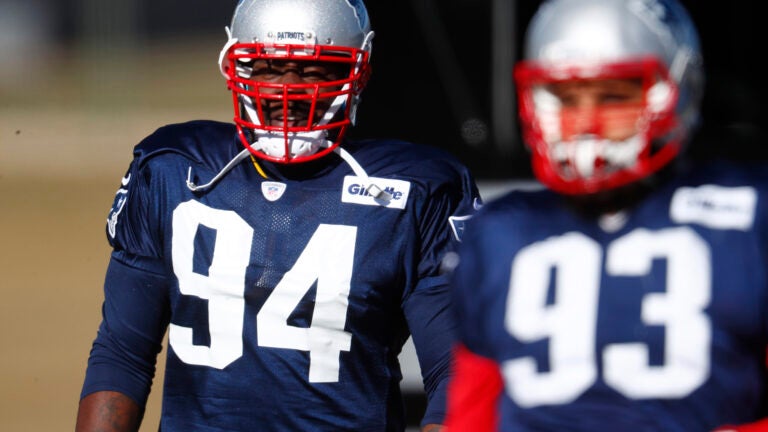 Ryan Donato scored a goal and added two assists in his NHL debut as the Bruins fell to the Blue Jackets, 5-4, in overtime.
Lawrence Guy runs an anime club in the Patriots locker room: On The Fandom Files podcast, Green Bay Packers defensive lineman Mike Daniels detailed his love for all things anime. Daniels told host Jordan Zakarin that he's a huge fan of the Japanese animation and even went to Comic-Con cosplaying as Raikage, a character from the Naruto series. He's not the only anime fan in the NFL ranks.
"The Patriots have an anime club and it's headed by one of my former teammates, Lawrence Guy, who's a huge anime fan," Daniels said.
The Packers' Pro Bowl lineman said players from across the league connect via direct messages or texts to discuss their fandom. He thinks the football stars see themselves in the stories.
"A lot of battles, a lot of aggression. It's very relatable," Daniels said. "There's a hero who has overcome some adversity, gone through a lot of rough pain, and put his body through the unthinkable so that he can save the world or do his task. His or her challenge is saving the world, our challenge is winning the game."
David Ortiz defended the city of Boston from its racist reputation: On the Glass Half Empty podcast with Ryan Glasspiegel, the former Sox slugger said it isn't fair to blame Boston for the actions of a 'couple of knuckleheads.'
"I never lived in any racial situations in Boston. Boston was a city that loved me, [and] I loved Boston," Ortiz said. "I don't think it's fair to blame the whole city of Boston when a couple of knuckleheads go out there and do something stupid."
"That's not fair. There's a lot of good people in Boston. I think that racial barrier is something that's far behind. I'm not saying that situations are not gonna be out there in cases where people feel that way. But Boston has been way over the racial statement. Me personally, I live in Boston, I lived in a neighborhood where the only black folk was me. Everybody was great to me. Everybody was wonderful to me. I think people need to start seeing and looking at Boston differently than what people say that it was back in the day." (WEEI)
MLB hopes for Yankees-Red Sox in London in 2019: Major League Baseball is working to finalize a two-game series between the division rivals at London's Olympic Stadium in June, 2019. The stadium was built for a 400-meter track so it can accommodate a baseball diamond. The series would be the league's first in Europe. (Boston.com)
LeBron James reportedly gained seven pounds during a game: ESPN's Brian Windhorst looked at the Cleveland star's ability to recover from injury, compiling a list of stories the Cavaliers tell about their teammate that included this gem.
"And the topper: the time James gained seven pounds during an Eastern Conference finals game. Some Miami Heat teammates saw the scale and attest to it in amazement. James himself just shrugs and calls it 'weird as hell.' The truly wild part is that it was from 271 pounds to 278 pounds, though James is much lighter these days." (ESPN)
Daily highlight:
https://twitter.com/NHLBruins/status/975919934193721345