Patriots
Boston College's Harold Landry: Would be a pleasure to play for the Patriots
At pro day, the BC defensive end worked with Pats defensive line coach.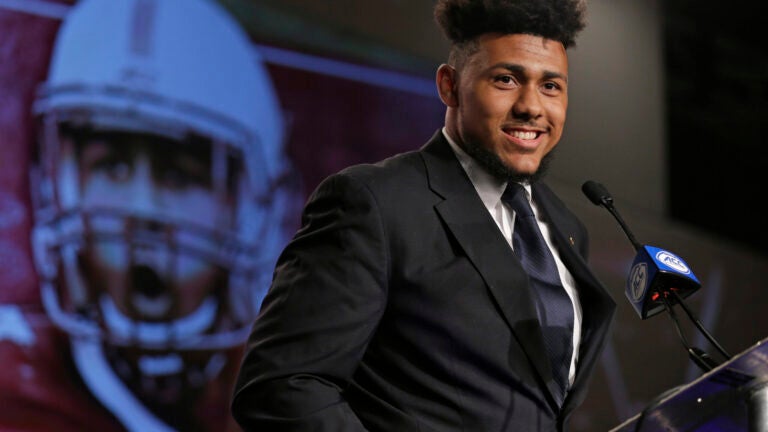 Harold Landry got a taste of the Patriots' intensity, and wants more.
At Boston College's pro day on Wednesday, the standout defensive end worked with New England's defensive line coach, Brendan Daly. Landry noted Daly's intensity, but it didn't faze him.
"He's a very intense guy, you can definitely see the culture of the New England Patriots within him," he said. "Honestly, it would be an awesome pleasure to go play for that guy and play in New England, but you could definitely see how intense he is and how hard he coaches."
CLNS Media's Mike Petraglia tweeted a video of Daly putting Landry through a workout at Alumni Field. The pair also reportedly spent two hours watching game film.
DALY INTENSE: Just sensational coaching up of potential first rounder Harold Landry @HAROLDLANDRY2 by #Patriots DL coach Brendan Daly pic.twitter.com/WOxCny2aoc

— Mike Petraglia (@Trags) March 21, 2018
As a junior, Landry set a BC record and led the nation with 16.5 sacks. He considered declaring for the draft after that season, but ultimately decided to return to Chestnut Hill. The 6-foot-3, 250 pounder's senior campaign was cut short by an ankle injury. He could potentially fall to the Patriots at No. 31, but most mock drafts have him coming off the board before then.
"With the way my senior year ended, I definitely have a chip on my shoulder," Landry said. "I definitely believe that I'm the best edge rusher in this class, and going into rookie mini-camp I'm just going to go in with my head down and go to work to earn the respect of my coaches and my teammates."
The 21-year-old said that no matter when he's drafted, he'll approach the game like an undrafted free agent.