Patriots
Robert Kraft seems to think the Gronk-Shaq dancing video is a good omen he won't retire
The Patriots owner said the footage "speaks well about his potential athletic moves this coming year."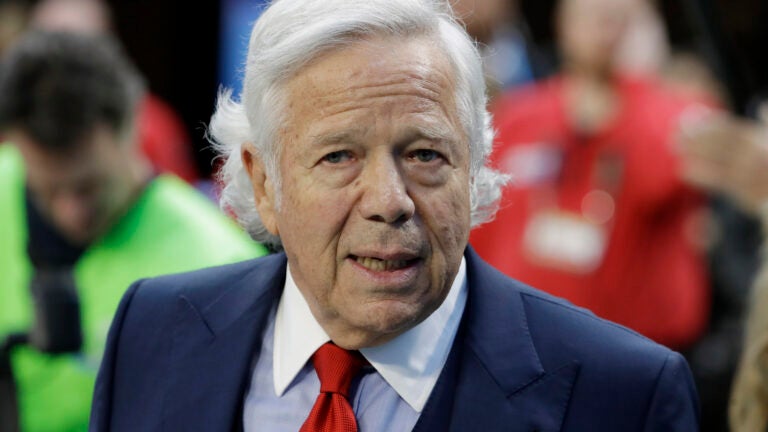 New England Patriots owner Robert Kraft says he was "excited" to see the video posted over the weekend of Rob Gronkowski competing in a dance-off with retired NBA legend Shaquille O'Neal.
According to Kraft, it's a good sign that the Patriots tight end, who was reportedly mulling retirement last season, will return to the team for the 2018 season.
"For a guy that size to be able to hop up on a 7-[foot]-2, or whatever Shaq is, it's pretty cool," he told reporters Monday at the NFL's annual league meetings in Orlando. "So that speaks well about his potential athletic moves this coming year."
Videos posted on social media, including by O'Neal, showed a shirtless Gronkowski dancing onstage early Saturday morning at the former basketball star's music festival in Miami, including with the 7-foot-1 big man himself.
The footage also showed Gronkowski — who was listed last season at 6-foot-6 and 265 pounds — jumping on O'Neal's shoulders, on which he continued to dance.
"I must say, I sorta got excited seeing him vault up on Shaq's shoulders," Kraft said Monday.
https://www.instagram.com/p/BgttZ-7lEGq/?hl=en
The Patriots owner didn't seem too concerned about his five-time Pro-Bowl tight end's purportedly uncertain future. Kraft said he saw Gronkowski come into the Patriots facilities after hours "a few weeks ago" and spoke admiringly about the 28-year-old's "carefree" spirit.
"I've met a lot of people in my life," Kraft said. "I've never meant anyone like him."