Patriots
Morning sports update: Rob Gronkowski reportedly 'pretty certain' he'll return to Patriots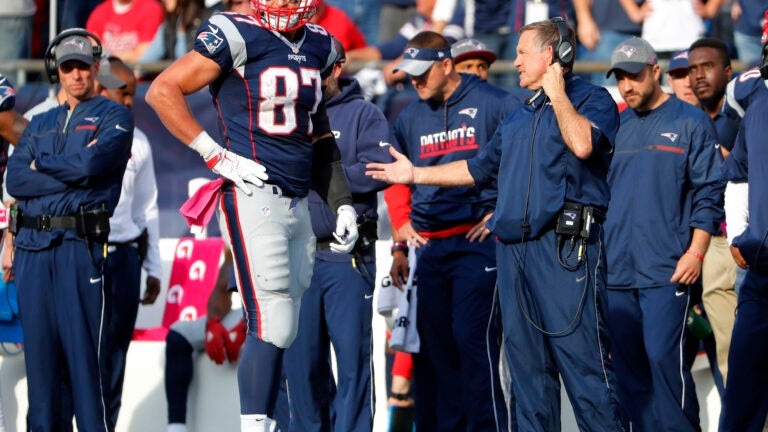 Patrice Bergeron scored an equalizer with 3.8 seconds left in regulation, but the Bruins fell to the Flyers 4-3 in overtime.
Rob Gronkowski reportedly 'pretty certain' he'll return to Patriots
Rob Gronkowksi is still weighing whether to return to football or retire at 28 years old, but the Patriots tight end is reportedly "pretty certain" he'll be back in Patriots colors next season as long as Tom Brady does the same. According to ESPN's Jeff Darlington, sources close to Gronkowski say he has yet to make a final decision in considerations spurred by the toll his mind and body have taken in New England.
"Gronkowski is truly considering retirement and was even in the regular season because of the physical and mental anguish that he was feeling as a result of the 2017 season," Darlington said. "But Tom Brady is the strong force in his mind right now. If Tom is committed, then Gronkowski feels that he is committed."
The relationship between quarterback and tight end is a good deal more secure than the one between tight end and head coach. Gronkowski's recent Instagram imploring Danny Amendola to "Be FREE, Be HAPPY" with the Miami Dolphins reportedly frustrated Bill Belichick as he questions whether the five-time Pro Bowler is still "all-in" as a Patriot.
There are lingering frustrations for Gronkowski as well, from both the physical pain that led him to talk about retirement late in the regular season and the mental fatigue of working in the Patriots culture. Darlington wrote that while the discord should not be discounted, it should not be viewed as irreconcilable. (ESPN)
Vegas Golden Knights retired No. 58 for shooting victims, clinched the division title: In front of 18,458 people, the largest crowd of its inaugural season, the Golden Knights beat the San Jose Sharks 3-2 to win the Pacific Division championship. In a pregame ceremony, the team raised a banner with 58 stars and the names of the victims of the Oct. 1 shooting. (USA Today)
The 58 will always be with us #VegasStrong pic.twitter.com/FwT0HOH3uS

— Vegas Golden Knights (@GoldenKnights) April 1, 2018
What to watch for in the NCAA title game: Villanova and Michigan meet with a national title on the line Monday night in San Antonio. The Wildcats are chasing their second title in three years, while Michigan's Moe Wagner hopes to lead the Wolverines to their first title since 1989. (Boston.com)
Snow could ruin the Yankees' home opener: The forecast called for one to three inches of snow ahead of New York's home opener against the Tampa Bay on Monday. Jordan Montgomery, slated to start for the Yankees, said he'd pitched in worse conditions.
"I've thrown in hail before," said Montgomery. "I think I'd rather snow." (Boston.com)
Daily highlight:
https://twitter.com/espn/status/980599818052685824