Patriots
Morning sports update: Matt Patricia tells Adam Schefter the Super Bowl losses will 'hurt forever'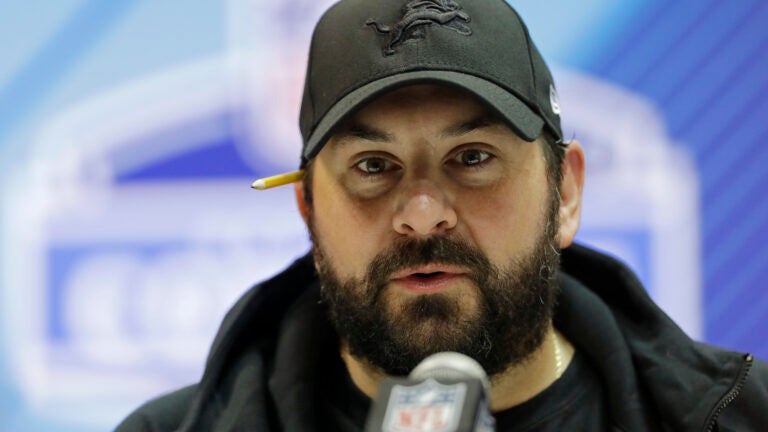 Donte DiVincenzo scored 31 points off the bench for Villanova as the Wildcats beat Michigan 79-62 in the NCAA title game. Hanley Ramirez and Mookie Betts both homered to lift the Red Sox over the Marlins 7-3.
Have a question about Boston sports? Email us at [email protected] or tweet us at @BDCSports.
Matt Patricia tells Adam Schefter the Super Bowl losses will 'hurt forever'
The move to the Motown did not erase Matt Patricia's Super Bowl memories. On "The Adam Schefter Podcast," Patricia told the ESPN reporter that the three defeats he suffered with the Patriots on the NFL's biggest stage still weigh heavily. The new Detroit Lions head coach was an assistant in New England for the Giants' Super Bowls in 2007 and 2011, and defensive coordinator during the Eagles' victory in February.
"The game still really bothers me. It always will," Patricia said. "The '11 game still bothers me. The '07 game still bothers me. Those three that you don't finish off the right way. They hurt forever."
He said that there is a lasting wrong from those defeats that he'd love to rectify. No, not Malcolm Butler's benching. Patricia said Junior Seau, the Hall of Famer who passed away in 2012, deserved to lift the Lombardi Trophy during that 'magical' year in 2007.
"You just wanted that for him more than anything because that's what he deserved," Patricia said. "He was a champion and he should've had that game. I always feel horrible that he didn't have that."
After this year's Super Bowl, Patricia said his then 6-year-old son was distraught, while his 4-year-old brother rolled around playing in the green-and-white confetti.
"He just wanted to grab the confetti," Patricia laughed. "I'm like, 'It's the wrong color, buddy.' It's not a good time."
Patricia also told Schefter about the famous pencil he keeps tucked behind his ear. He said he makes sure he has his wallet, his phone, and his pencil before heading out the door in the morning, but it doesn't come without its hazards.
"The problem with the pencil is, I'm Italian so I like to hug," Patricia said. "You gotta be careful because if I'm coming in on the right, and this thing's extra sharp sometimes, you might get it on the side of the head…It's dangerous."
Could the Patriots trade Rob Gronkowski?: Multiple teams reportedly plan to make an offer for the Patriots' Pro Bowl tight end. The longer Gronkowski takes to make up his mind about his future, the more likely he will be dealt, according to Boston Sports Journal's Greg Bedard. Possible destinations for the 28-year-old include the Los Angeles Rams and a reunion with Jimmy Garoppolo in San Francisco. (Boston.com)
For a marathon cheater, the biggest obstacle isn't in Boston: Derek Murphy, a 47-year-old financial analyst in Cincinnati, has made a name for himself exposing runners who try to cut corners. His investigations have resulted in hundreds of disqualifications, including 15 runners at last year's Boston Marathon. (Boston.com)
Reliving UConn's incredible 2011 championship run with Jim Calhoun, Jeremy Lamb, and Kemba Walker: Players and coaches from the Huskies' run to a Big East title and a national championship reflect on a historic 11-game stretch.
"Once we got it going, we were like a train whose wheels started to move," Jim Calhoun said. "Then they started to move quicker, and it seemed like we were going faster, and then it seemed like nothing could stop us. No matter what situation we were in, we were going to find a way to win. The train's going full speed and you can feel it." (Boston.com)
Daily highlight:
https://twitter.com/BleacherReport/status/981014314139045888