Patriots
3 things to know about new Patriots tight end Troy Niklas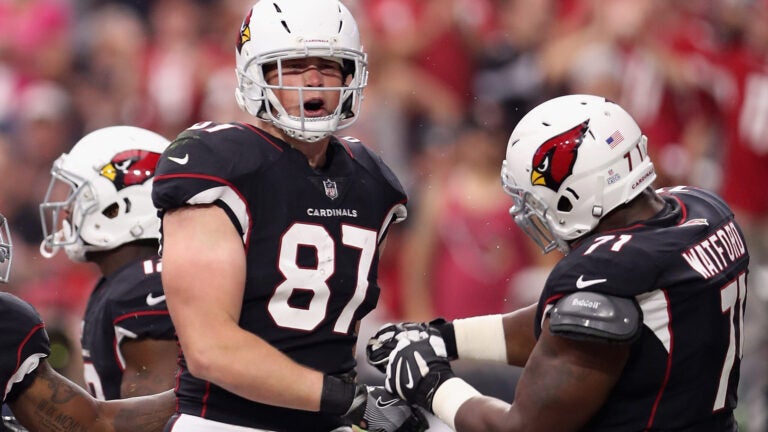 The Patriots added "Hercules" to their depth chart on Wednesday, agreeing to terms with Troy Niklas, a 6-foot-6, 270 pound tight end who earned that nickname in the Notre Dame weight room. Niklas signed a one-year deal with New England after four years in Arizona.
Bruce Arians, his head coach with the Cardinals, used a different moniker for the Niklas. After a few compliments from Arians were relayed to him in 2016, the tight end smiled and said it "awesome" to hear them because "he gets my name confused with 'dumb mother******' a lot."
Most of the time, the language Arians used to describe Niklas was less colorful and more appreciative.
"Love him. Great guy," Arians said in 2017. "He's a dawn-to-dusk worker. You're pulling for those guys."
Here's what you need to know about the Patriots' new tight end:
Niklas struggled with injury issues in his first four seasons
In the four years since Niklas left Notre Dame, he's undergone four surgical procedures: sports hernia, fractured finger, ankle and wrist. That number would rise to six if you include the two surgeries needed to remove hardware from the ankle and wrist procedures, per ESPN's Mike Reiss. The hernia and broken finger occured before his first training camp in Arizona and the ankle injury ended his rookie campaign after seven games. He dealt with recurring ankle and hamstring problems in the following year but appeared in all 16 games. In 2016, a wrist injury sidelined him for the season after just three games.
"I like to try and take ownership of it," Niklas said at the time. "That's the only way I can overcome it for myself. All the injuries, all that time not spent on the field, regardless of how you look at it, it's on me. I'm not doing my job. That's the way I look at it and that's the only way I feel I can grow from it is taking to steps to improve from there."
He played in 15 games for the Cardinals last season, finishing the season with 11 receptions for 132 yards and one touchdown.
He's part of one of football's greatest family trees
Niklas has plenty of people with experience in the NFL to turn to if he needs advice on joining New England. His uncle, Bruce Matthews, earned a bronze bust in Canton, Ohio after making 14 Pro Bowls during his 19-year career. Matthews's father, brother, three sons, and three nephews all played in the league as well. That list includes Green Bay Packers star Clay Matthews and Atlanta Falcons offensive tackle Jake Matthews. Bruce Matthews's wife is sisters with Niklas' mother.
"I grew up in Southern California. I was a very active kid," Niklas said ahead of the 2014 draft. "I played football, basketball, and baseball all the way up until college. I always had a burning desire to play football though. Ever since I was seven. Watching my uncle Bruce Matthews in the NFL inspired me to play and pursue football as a career."
He's moved from lineman to linebacker to tight end
Niklas led Servite High School to a 14-1 record as a senior, playing offensive guard and defensive tackle on his way to Los Angeles Times' lineman of the year honors. He was a linebacker during his first year in South Bend, then made the switch to tight end for his sophomore season.
At Notre Dame, team captain Manti Te'o slapped a few nicknames, including "Thor" and "Hulk", on Niklas but "Hercules" was the one that stuck. He displayed his strength for his teammates in the weight room, putting up 450 pounds on the bench press, and for the Fighting Irish fans. At a pep rally before Notre Dame took on Michigan, according to the student newspaper, "Hercules ripped his shirt off, then began to philosophize in the ancient Greek tradition, providing wisdom like, 'We are all organisms, fighting and striving to endure,' and 'You've got to love the pain!'"
The Southern California native, of whom it was once said that he looks like "a 12-year-old boy that swallowed a bear," declared for the 2014 NFL draft after his junior year and was selected 52nd overall by the Cardinals.