Patriots
What's going on with Rob Gronkowski and Bill Belichick?
There's reported friction between the pair.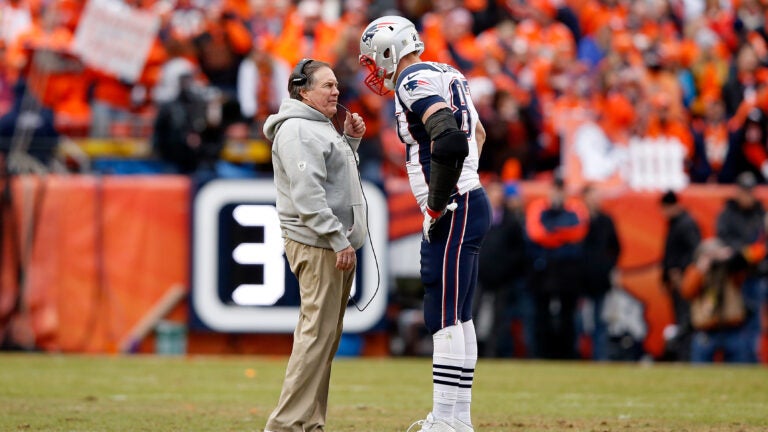 Ever since Rob Gronkowski told reporters he was going to "reflect on the season" after Super Bowl LII, the tight end has been making headlines for the uncertainty surrounding his future in the NFL.
Although multiple reports indicate Gronkowski is expected to return to New England in 2018, any reassurance has been quickly challenged by subsequent reports claiming he has yet to make a decision. Opting for early retirement as well as possibly getting traded have both been floated as potential outcomes for the two-time Super Bowl champion.
So will Gronkowski be at Gillette Stadium when the Patriots begin their offseason workouts next Monday? If yes, is he there to stay?
Neither Gronkowski nor the Patriots have formally addressed their respective plans — despite a series of cryptic tweets from the 28-year-old — and his attendance alone isn't going to put an end to the matter.
Should Gronkowski return for another season of football, the focus will soon turn to a different question: Will he be happy? A couple of reports have suggested some of Gronkowski's retirement ruminations have stemmed from discontent last season — and coach Bill Belichick reportedly may have contributed to his unhappiness.
Here's a breakdown of the situation:
Frustration was already brewing during training camp.
According to NBC Sports Boston's Tom Curran, Gronkowski's dissatisfaction began well before the Patriots lost Super Bowl LII in February.
"This started in training camp," Curran told co-hosts Michael Holley and Kayce Smith during a February edition of Boston Sports Tonight. "He seriously considered stepping away from the game in training camp. He kind of had it. At that point, his body wasn't responding. He wanted to train a certain way. The team didn't necessarily want him to train the way he wanted to train."
Curran didn't get into specifics on the disagreement, but Gronkowski is one of the Patriots who follows quarterback Tom Brady's TB12 method. At the beginning of May 2017, he started visiting trainer Alex Guerrero and the TB12 Sports Therapy Center regularly throughout the offseason.
Although Gronkowski ended up having a productive regular season — 1085 receiving yards and eight touchdowns on 69 catches — he told Curran his training camp experience was "embarrassing" and "humiliating."
"He couldn't play and he had difficulty convincing people that he should be able to go and train a particular way to get right," Curran said.
The regular season had its ups and downs.
The Patriots got off to a rocky 2-2 start to kick off their quest for back-to-back Super Bowl titles. While they would lose only one other regular-season game, against Miami in Week 12, the turmoil seemingly continued off the field.
According to the Boston Herald's Karen Guregian, Belichick — early on in the season — criticized Gronkowski in front of other players for being a TB12 client. As Guregian put it, "maybe that was Belichick's not-so-subtle way of trying to keep everyone from jumping ship on the team's training staff."
In December, however, Belichick reportedly reduced Guerrero's access to the team and prohibited players other than Brady from being treated at Guerrero's office. The Boston Globe's Bob Hohler reported Gronkowski and others who sought TB12 treatment were still allowed to visit Guerrero, but they would have to do so on their own time at his office in Patriots Place.
Even though Belichick still permitted players to receive treatment from Guerrero, ESPN's Seth Wickersham reported in January many players told coaches and staff members they were under the impression Belichick had banned them completely.
When asked whether Guerrero's reported limited access had affected his training, Gronkowski told reporters the change "hasn't impacted [his] preparation at all." He confirmed he was still working with Guerrero and called the treatment "very good."
Gronkowski's regular season featured three games with 100-plus receiving yards, including a career-high (168) against the Steelers. Curran said Gronkowski told him in December he's "never had this much fun on the field" — despite getting yelled at mid-season for talking about celebrations.
His comments during his Super Bowl postgame press conference were guarded, but telling.
Following New England's 41-33 loss to Philadelphia in Super Bowl LII, Gronkowski wouldn't give a firm indication about his plans for the upcoming season. When asked about a report that hinted at his potentially imminent retirement, he did not commit to returning to the field.
"I don't know how you heard that," he responded. "But I mean I'm definitely going to look at my future, for sure, sit down in the next couple weeks, and see where I'm at."
Some may have written off his uncertainty as an emotional response to the concussion he suffered in the AFC Championship against Jacksonville, but ESPN's Jeff Darlington reported Gronkowski's contemplation of retirement is not specifically tied to his concussion or the Super Bowl loss.
"Weeks before [the AFC Championship], Gronkowski was telling people around him the toll on his body was making him lean toward the potential that this was his last season," Darlington said on SportsCenter a few days after the Super Bowl.
According to Darlington, sources close to Gronkowski "truly believe the toll on his body is making him question his NFL future." Over the course of his career, he has missed over 30 regular-season and postseason games due to injuries.
Curran corroborated Darlington's report, adding that the physical and mental demands of playing football — including "the atmosphere in New England" — are starting to wear on Gronkowski.
"He didn't enjoy himself in 2017," Curran reported. "He did not have a good time — despite the fact his body was in a better situation than it's been in a long time, despite the fact he's one of the most dominant players at any skill position."
The offseason has been defined by continued uncertainty.
NFL Network Ian Rapoport's reported he expects Gronkowski will be present for the Patriots' offseason workouts, but does not anticipate an official announcement declaring his return. Rapoport also noted Gronkowski has been visiting the TB12 Sports Therapy Center and training throughout the offseason.
The Rob Gronkowski situation remains unchanged: The #Patriots TE is expected to return following what was a challenging season. pic.twitter.com/ztrFOpB6rT

— Ian Rapoport (@RapSheet) April 2, 2018
With the departures of Danny Amendola and Brandin Cooks, the Patriots will certainly value Gronkowski as a downfield threat. But Darlington reports Belichick has been questioning whether Gronkowski is "all in" as a Patriot. The Boston Sports Journal's Greg Bedard also emphasized how important being "all in" is to the coach.
Per Bedard: "A Bill Belichick-friendly source agreed with my thinking that once a player makes Belichick start to contemplate life without him, Belichick starts to warm to being without that player. 'He imagines you gone,' he said. The longer Gronkowski goes without saying he's all in, the chances of him being traded increases, the source said."
According to Darlington, the relationship between Gronkowski and Belichick is currently "disjointed," but "not irreconcilable." Darlington reiterated Gronkowski is "physically and mentally spent" and "doesn't think that's going to be any different this coming year."
In addition to challenging Gronkowski's overall approach, Belichick is also frustrated for things "as nuanced as" his Instagram farewell to Amendola. The 65-year-old took issue with the underlying message  — and capitalized words — of Gronkowski's caption, in which he wrote: "Be FREE, Be HAPPY."
Turns out Belchick might be on InstantFace, after all.
https://www.instagram.com/p/BgTw-ZMA_rX/?hl=en&taken-by=gronk